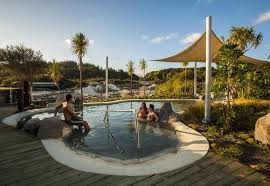 Event Details
To all latest and greatest Bed & Breakfast Hosts, you are all cordially invited to join us at this month's social meet at Hells Gate, NZ most unique Geothermal experience. You will experience all three of Hell's Gate's most popular attractions.
We will take part in the guided interactive geothermal walk as well as Maori carving, before indulging in the world-famous geothermal mud baths and soak in the sulphur spas and cool plunge pool. It's a Rotorua experience you'll never forget.
This is a free event, no entry cost as part of our guests. Incredible networking opportunity for hosts accommodating guests in their homes. Come and meet some of our experienced B&B members who have been in the Association for many years and can give you some expert advise on how to run a successful B&B operation. Many of our members are the top placed and best ranked on Tripadvisor and other accommodation sites such as BookingCom & Expedia.
For more information and to find out more about meeting please contact Vivien Cooper, B&B@The Redwoods at 027 270 3594.