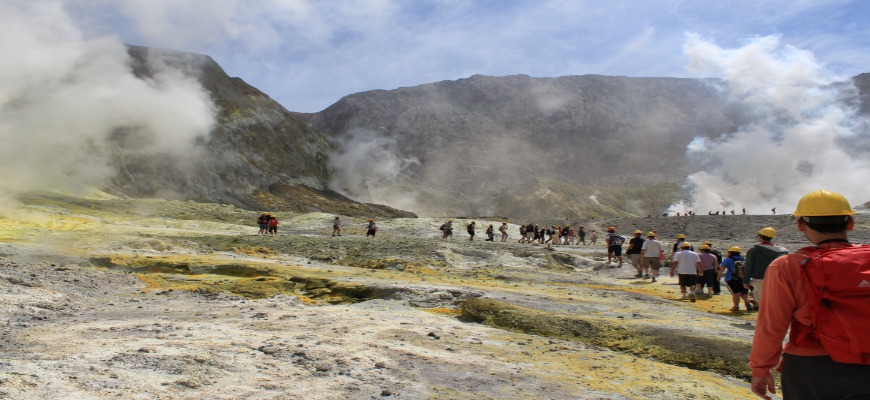 White Island
Our guide to the volcanic White Island which lies 50km off the coast of Whakatane
50km off the coast of Whakatane, is the volcanic island of White Island or 'Whakaari'. It's a circular island which climbs a thousand feet into the sky and is 2km across. White Island's Maori name means 'dramatic volcano', and the island certainly lived up to the moniker during its days as a site for sulphur mining.

A disaster in 1914, which saw 10 workers killed by a lahar (volcanic mudslide) after a crater collapsed, was the beginning of the end for any kind of industry on the island. Today, White Island is a popular day trip destination for tourists, who come to experience the unique, almost Martian landscape.

Guided tours to White Island leave from Whakatane (and Rotorua/Tauranga) by either boat or helicopter, and offer visitors the chance to stand next to sulphurous fumaroles, fly over the azure blue crater lake, and explore this active marine volcano.


The surrounding waters of White Island are famously abundant with fish such as Yellowtail kingfish, hapuka and marlin. Game fishing trips are easy to arrange, and can be day excursions or overnight expeditions. The island has also been designated an Important Bird Area, famous for its 3000 pairs of Australasian Gannets.
Other islands worth visiting in the vicinity include the marine and scenic reserve at Mayor Island (Tuhua), which has lots of walking tracks and wildlife.
Motiti Island has some private beaches worth exploring, and Mataka Island, accessible by barge from Tauranga, has some fantastic surfing beaches (but no facilities).