Rotorua Rafting
Our guide to the rivers, operators and tips for rafting in Rotorua
Rafting is one of Rotorua's most established adventure activities with the first rafting trips dating back over 30 years ago. Four rivers offer white water thrills varying from the gentler grade 3 to the rip roaring challenges of grade 5 rapids. The Tutea Falls, claimed as the world's highest commercially rafted waterfall is another strong draw for rafting enthusiasts.
Most of the Rotorua companies operate on a year-round basis on all of the rivers. The only exception to this is the Wairoa River which is only open for 26 days every year.
The Rangitaiki River: Grade 2 - 4
Around 45 - 55 minutes travel from Rotorua will bring you to the Rangitaiki River which covers a fairly wide variety of rafting experience possibilities from a family-friendly grade 2 through to a rather more bouncy and exhilarating grade 4.
The gentler side of things - suitable for those as young as 5 - starts right at the home of the beautiful Aniwhenua Falls amid the sheer rock walls of the Lower Rangitaiki. From here, you have a choice of climbing aboard your raft the traditional way or jumping into the water from one of a series of launching points.
You will then float, paddle, drift, roll over gentle rapids, stop for a shower under a waterfall and otherwise enjoy the stunning scenery of this scenic gorge of cascading waterfalls and lush greenery, safe in the knowledge there are no rapids ahead higher than a grade 2.
Although many rafting companies offer a Rangitaiki option not all of them offer the lower grade option. Operators which do, include the well-established and highly respected River Rats and Kaituna Cascades with their peak pedigree and rafting credentials.
If you want to ramp up the stakes and excitement a little, the Rangitaiki also dishes up some higher grade river sections, mostly of the grade 3 category. Fantastic scenery abounds and long sections of bouncy white water are what to expect along with some larger rapids. Many of the rafters here are first-timers looking for some action and perhaps to get the hang of things before taking on the more dramatic drops of the Wairoa or Kaituna.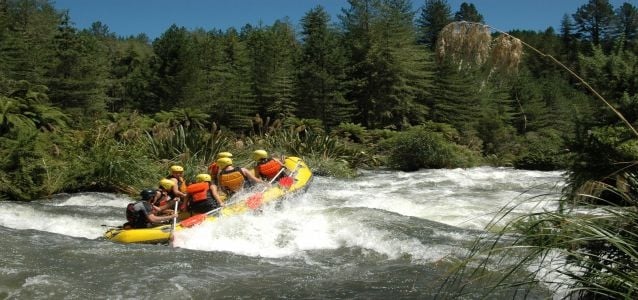 The Kaituna/Okere River: Grade 5
If you're intent on hunting down white water kicks of the hard-core kind this is the place to come. Just 20 minutes from Rotorua brings you to this river which - squeezed as it is between the walls of a very steep and narrow gorge - tumbles, spews and otherwise races at a furious pace in its upper sections.
The water is emerald tinted and the scenery gorgeous but there'll be times when you're unlikely to notice. Namely as you take one of 14 drops, 2 smaller waterfalls and the mighty 7m plunge of Tutea Falls, the world's highest commercially rafted waterfall.
However, due to a quirk of this river, each gut-wrenching drop is followed by a stretch of calm water which makes it something special in the world of grade 5 rivers and means beginners are welcome provided you dare! There are several operators here including all the major players mentioned earlier.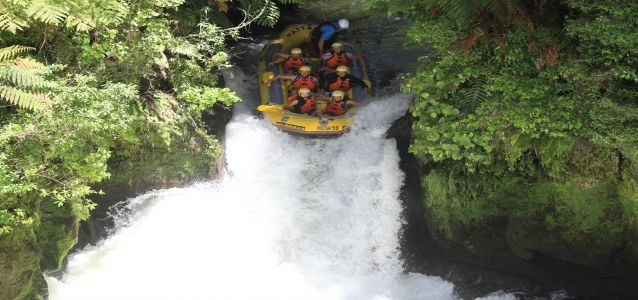 The Wairoa River: Grade 5
The Kaituna may feature the highest waterfall in rafting but the Wairoa River has its own extra-special claim to fame as rafting here is only possible 26 days in every year, typically on Sundays in the summer months. Why? Well most of the time there's a dam and a hydro-power station which control the river but this is opened at appointed times, releasing a torrent which charges down a canyon strewn with boulders and creating top-notch white water action full of turbulent rapids and adrenalin-pumping drops.
These conditions elevate the river's status to such an extent that it registers on the radar of the world's rafting cognoscenti. Several operators ply their trade on this river including Raftabout.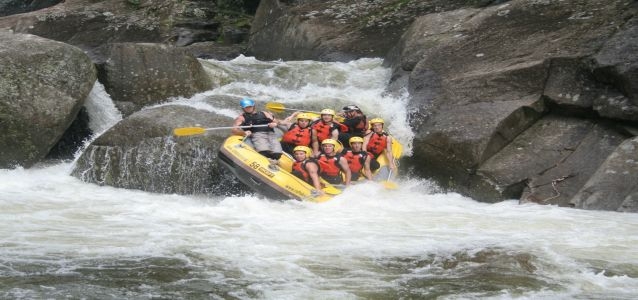 The Tongariro River: Grade 3
Thrills without terror and no experience necessary - this could sum up this particular experience. Crystal clear waters also feature, along with a mind-spinning total of 65 rapids and, just like every other Rotorua rafting experience, expect scenery of the lovely variety.
The two main operators here are both green-minded - River Rats and Tongariro River Rafting who have founded the conservation-themed Blue Duck Project. The former also offer the 'Tongariro Float Trip' which, because it is suitable for the very young, is aimed at families.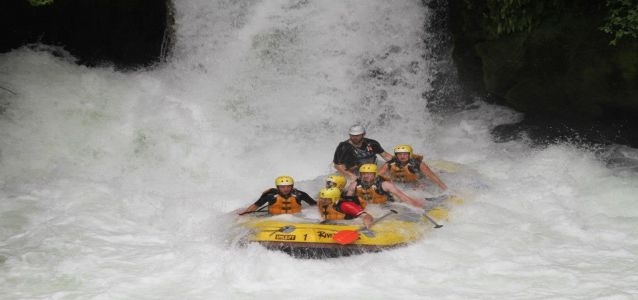 Operators:

Visit our 'Water Activites' section to see details of the rafting operators.
What to bring:
Quite what bang you get for your buck will vary from company to company but the typical inclusions are:
- wetsuits including booties
- fleeces
- wind-proof splash jacket
- safety equipment including buoyancy aids/life jackets and helmets
- pick up from your Rotorua accommodation, sometimes free Taupo pick-ups too
- hot shower after the trip
- food and drink but not with all companies and only on selected trips
- photographs and/or videos typically an optional extra