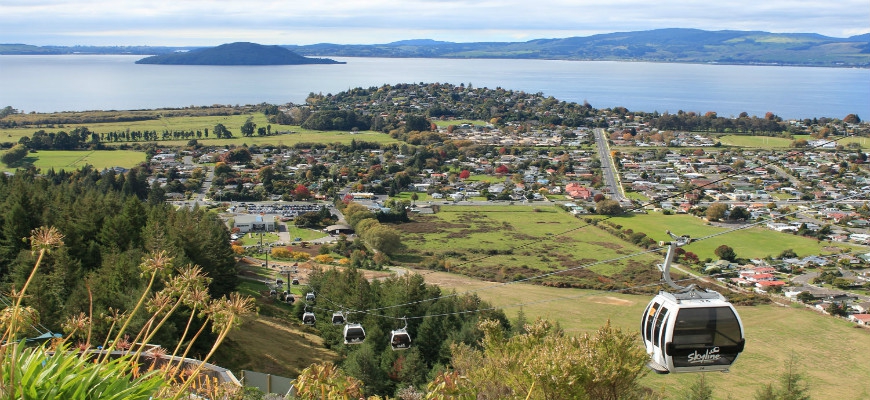 Rotorua
Rotorua is situated 230km southeast of Auckland and attracts visitors who are drawn to the sulphuric delights of the city's geothermal activity. Geysers and mud pools form the foundations of tourism here, thanks to the Caldera (dormant volcano) upon which Rotorua sits. Don't be put off by the pungent aroma that permeates the air here - a result of the hydrogen sulphide emanating from the tightly-packed sulphur deposits inherent in the area.

Downtown Rotorua
The city is nestled by Lake Rotorua, the epicentre of aquatic activity with jet boating, parasailing, scenic flights and the 'Lakeland Queen' - a traditional paddle-boat that combines breakfast/lunch/dinner with a cruise on the lake.

Rotorua is rich in history, with the architecture of the main streets warranting a closer look. Near to the centre, Government Gardens are spacious landscaped gardens that feature a bowling club, petanque, croquet and a golf course. It's also home to Rotorua Museum, the famous Polynesian Spa and the restored Blue Baths where visitors can enjoy a warm water dip in an architecturally stunning building.

Sulphur Bay is located at the southern end of Lake Rotorua and is a perfect example of Rotorua's geothermal environment. Silica flats, rocky terraces, and sulphur ledges sit alongside active boiling mud pools and steam vents. Fans of bird watching can spot around 60 different species here. Another free way to observe geothermal activity is to head to Kuirau Park, a public park situated off Lake Road and just 10 minutes walk from the city centre.
The Rotorua Walkway took ten years to complete and encompasses 26km of connected paths that are also able to be walked independently, in eight shorter sections. It's one way to see Rotorua's most scenic points of interest including local historic sites, geothermal activity and native wildlife.
Food & Shopping
Rotorua does not have distinct dining districts due to its relatively compact size. However, there are a number of streets and zones that offer a decent choice of restaurant options. The best starting point for visitors is to head to Tutanekai Street, better known as 'Eat Street', with a selection of different cuisines close to the lakefront. Read our Restaurants Guide for an overview of the different dining areas.
One of the biggest events in Rotorua's weekly shopping schedule is the Saturday morning flea market in Kuirau Park, while on Thursday evenings the Night Market brings out local restaurants selling freshly cooked food and art and craft stalls. Read our Shopping Guide for more details.

Lakes & Towering Redwoods
Rotorua is surrounded by16 lakes all of which are within easy reach of the centre. A good idea is to head south along State Highway 5 to enjoy Lake Tarawera and the Blue and Green lakes which offer some of the best views of the region. With four different species of trout, you may like to hire a fishing guide to catch your dinner.
Also just off State highway 5 is Whakarewarewa Forest and its towering Californian Redwood trees. The forest gives mountain bikers and walkers the chance to explore some of the best trails in New Zealand. The Visitor Centre includes a gift shop, café and details of the trails to explore.

Geothermal Attractions
The most popular reason for coming to Rotorua, is to witness first-hand the extraordinary, natural phenomenon of geothermal activity. Many of the attractions are within easy reach of the city centre. Our recommended visits include Waimangu Volcanic Valley, Wai-O-Tapu and Orakei Korako which is located further out towards Taupo.

Maori Culture
Rotorua is the place to experience a live Maori show. Most hotels and a number of smaller, family operators, will treat you to an evening of song, dance, haka, hangi (cooking) and humour, all in the traditional Maori way of 'Maoritanga'. Highlights include a visit to the Tamaki Maori Village, where you will gain a better understanding of Maori lifestyle and traditions and spending a few hours at the New Zealand Maori Arts and Crafts Institute, where many ancient artefacts are preserved. Read our 'Experiencing New Zealand Maori Culture' article to get a detailed insight of what's on offer.

Adventure Activities
Many of the family and adventure activities are situated just off State highway 5 as you head south - these include the Skyline Rotorua, Rainbow Springs, Agrodome and Agroventures. Rotorua is the birthplace of 'Zorbing' so it's also a chance to roll downhill at speed in a large inflatable ball! Back on the water, rafting is a popular activity with numerous operators on hand to take passengers down the Grade 5 Kaituna River, where the dizzy heights of the Tutea Falls await. Jet Boating thrills include speeding along the Waikato River and exploring the geothermal valley of Orakei Korako.

Spa and Wellness
After all that activity, you'll be wanting to take an indulgent soak in a thermal pool, treat your skin to a mud wrap, or get a massage to rub away the day. Mud treatments are sourced from the local mud pools, and well-trained Maori masseurs will have you feeling rejuvenated in no time. Most Rotorua hotels offer amazing packages to make sure your time in Rotorua is as relaxing as possible. The Polynesian Spa is the most well-known spa with 26 hot pools overlooking Lake Rotorua.

Activities Guide
Check our 'Things To Do' section to see details of all the activites on offer in Rotorua.