Rotorua Walkway
Our guide to the 26km of connected paths that take walkers past the most scenic spots of Rotorua
The Rotorua Walkway is a joint initiative from the Rotorua Council, Department of Conservation and the Rotorua Energy Charitable Trust. The walkway took ten years to complete and encompasses 26km of connected paths that are also able to be walked independently, in eight shorter sections.

Walkway users will enjoy Rotorua's most scenic points of interest including local historic sites, geothermal activity and native wildlife. A number of the sections pass through residential areas and are used by locals. If you are short on time, we'd recommend visiting sections 2,3,4 and 8 which are the most scenic.
1. Pukeroa Hill

Commonly known as "Hospital Hill", Pukeroa is a key historic site on the walkway. This area was used by local iwi (tribe) Ngati Whakaue for many generations as a fortified village and garden. The area was gifted by Ngati Whakaue as a sports and recreation reserve in 1881. In 1916 a military hospital was built to treat returning soldiers from WWI. The reserve holds significance for the local iwi as it contains Urupa (burial) sites though human remains were removed some time ago.
Walking time: 10 minutes. Getting There: Starts on Ranolf Street, along Hospital Hill, finishing at Tutanekai Street.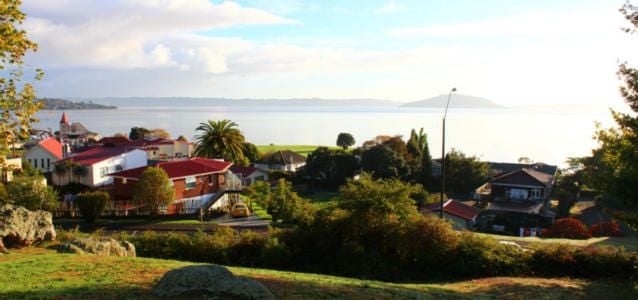 2. Rotorua Lakefront
Take a gentle stroll along the lakefront promenade with views out to Mokoia Island in the middle of Lake Rotorua. Mokoia Island is the site of a legendary love story between Hinemoa and Tutanekai. Interpretative panels dotted along the walkway give more information about Hinemoa and Tutanekai. You can also visit Mokoia Island by boat from the lakefront.
Walking time: 20 minutes. Getting There: Lake Rotorua Promenade.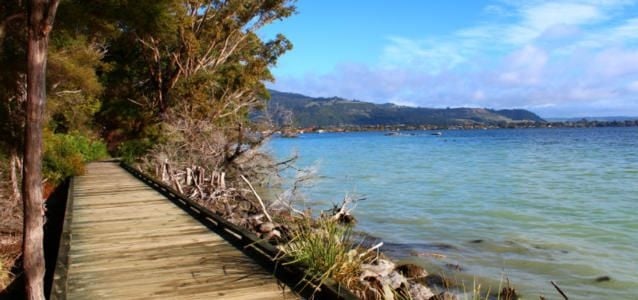 3. Motutara
Passing through Sulphur Bay, the Motutara section is a haven for many of the waterbirds that inhabit Lake Rotorua. In fact, Sulphur Bay achieved refuge status for wildlife in 1967. You may have guessed by its name that Sulphur Bay is a sulphurous area lying on top of a geothermal field. From the walkway you will see two islets: Timanga and Moturere. Timanga is mainly occupied by roosting and nesting birds, while Moturere was once used as a curative bath to treat illness. Further down the path you will arrive at Sulphur Point featuring geothermal activity such as mud pools and sulphur vents.
Walking time: 25 minutes. Getting There: Opposite Sudima Hotel rear car park off Eruera Street.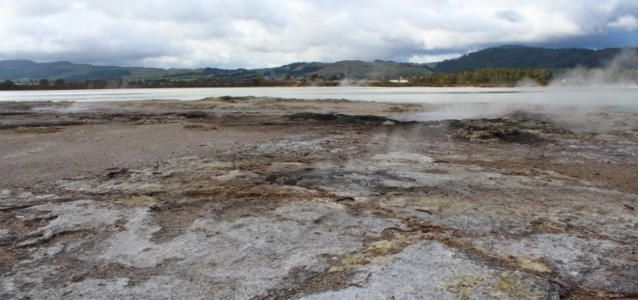 4. Te Arikiroa
An area of both historic and wildlife interest, Te Arikiroa was the site of a violent battle between warring tribes Ngati Tangaroa-mihi and Ngati Tama. The sandy beaches on which the tribes fought is now popular roosting habitat for Banded Dotterel birds. This area was also the landing spot for the first aeroplane to visit Rotorua in 1922 when the aircraft dramatically experienced engine failure and made an emergency touchdown.
Walking time: 15 minutes. Getting There: Starts just past the Polynesian Spa at the Sudima Hotel car park.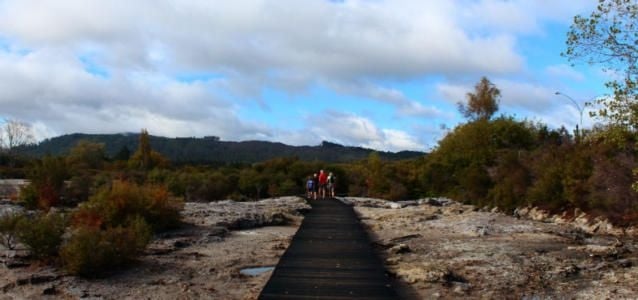 5. Puarenga Stream
This stream is another historic battleground and was also used as a route for travel for the people of Whakarewarewa on their way to the lake. The stream is fed by hot and cold springs and has patterns of sulphur particles floating on the surface. A remarkable feature of the stream is its banks which are home to silicified timber from the ancient kahikatea forest which once covered the Rotorua basin approximately 7,000 years ago.
Walking time: 45 minutes. Getting There: Starts in Paurenga Park, opposite Te Ngae Road.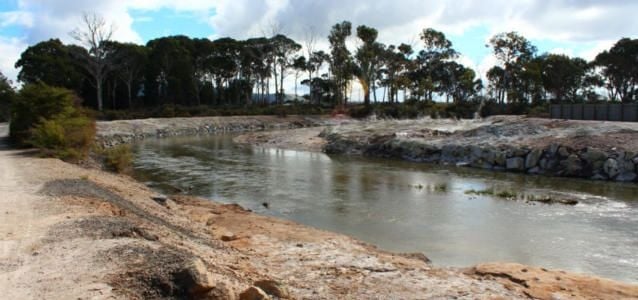 6. Rotorua Tree Trust
This section of the walkway passes through some urban streets before meeting the Rotorua Tree Trust area. The Trust was formed in order to provide opportunity for people to dedicate memorial trees to family members. You will also see the Soka Gakkai International Peace Monument in honour of promoting peaceful alternatives to war.
Walking time: 40 minutes. Getting There: Starts at Whakarewarewa Village on Tyron Street.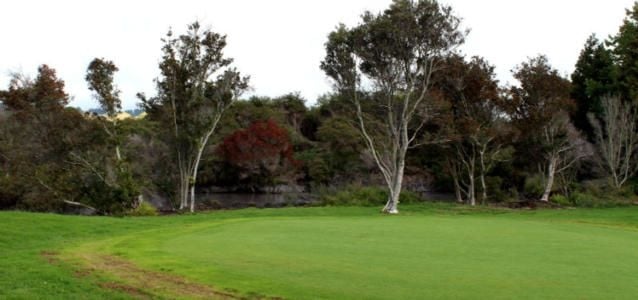 7. Utuhina
Continuing on from the Rotorua Tree Trust this part of the walkway passes through urban streets and reserves before meeting the Utuhina Stream section. You will pass through residential suburbs as you follow the stream. The water is stocked with trout and is therefore a popular spot to fish. You will pass by the Otamatea and Mangakakahi tributaries before coming to the Kuirau Park section.
Walking time: 2 hours 45 minutes. Getting There: Starts just before Kiwi Street close to Arikikapakapa Golf Course.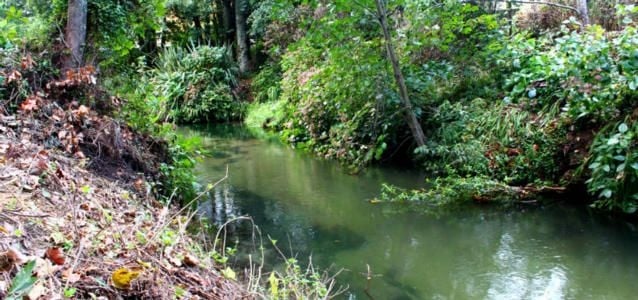 8. Kuirau Park
Until the 1930s some 30 hectares of this unofficial park was covered in manuka growth and it existed more as a swamp than parkland. These days it is possible to stroll along the walkway and admire the geothermal features from a safe distance. One of the geothermal features of Kuirau park is the boiling lake once said to be much cooler a long time ago. Maori folklore has it that the lake was made ferociously boiling by the gods to destroy the beautiful young Kuirau's kidnapper who lived in the lake and stole her away to his subterranean lair.
Walking time: 20 minutes. Getting There: Opposite Rotorua Hospital on Ranolf Street.