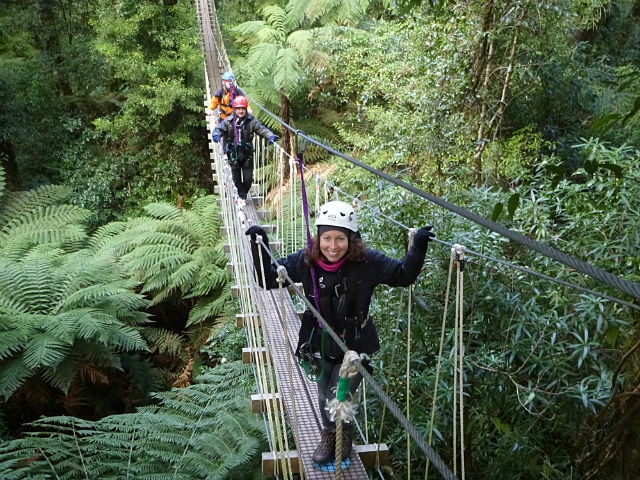 Ziplining in Rotorua
Adventure Family Fun
Our writer's thrilling forest canopy adventure in Rotorua
When you're about to go hurtling through the bush on a wire you really want to feel you're in safe hands. But from the moment we checked into the base office at Fairy Springs Road in Rotorua, to the aforementioned hurtling, the friendly Rotorua Canopy Tours team made us feel totally at ease. And for this group of professional outdoor enthusiasts it is just another day in the office. But what a day job!

Accompanied by two experienced Kiwi guides (some guides have clocked up over 1,500 tours), groups of approximately 10 people traverse by zipline through the native bush at Dansey Road Scenic Reserve. The tour takes around three hours and involves six ziplines of varying lengths - the shortest zipline is 40 metres and the longest is 220 metres. The platforms at each tree station are also varying heights - the lowest platform is 9 metres and the highest is 22 metres. But as you're clipped on at the platforms by a lead there's no danger of taking a tumble.

All this was still to be discovered however. Firstly, we had to get rugged up in complimentary jackets, beanies and gloves. Our guide Rebecca encouraged us to layer up and said that it would be cold in the bush. Then we were each securely fastened into harnesses with two leads and a pulley and lastly plopped helmets on our heads. All the gear certainly added to the coolness factor of the experience.

We piled into the van that took us up the road to the reserve. On the way we had a meet and greet with the others in the van, saying who we were, what we liked to do and our dream job beginning with the first letter of our name. At this stage, surprisingly, my nerves about ziplining weren't really showing themselves, even when we reached the first platform I was still calm. This boded well.

Apparently the oldest person they've had on the tour was a 93 year old man (and in a suit no less) which I kept reminding myself. Chris, our other guide, zipped off to the adjacent platform and Rebecca gave us a safety rundown, telling us not to touch the pulley or the wire if we valued our fingers. One by one we stepped up for our pulley to be attached to the wire with a lead and another back up lead. "Because we like you," joked Rebecca.
Then all too soon it was my turn to be attached, and with some trepidation I was off, whizzing above the trees through the fresh forest air before touching down on the ramp on the opposite side and helped up to the platform by Chris. What a buzz! The first four ziplines are relatively short practice runs to build your confidence, and at 70m, 50m, 40m and 49m they're over pretty quickly.

So by the time we reached the highest platform, 22m, and the longest zipline, 220m, named the Tui Song, we were ready for it. This is the highlight of the tour and it definitely delivers a thrilling ride. After posing for a photo, you gingerly climb backwards down the steps and push off into a green void filled with birdsong and the comforting thrum of the wire above your head. Tucking your legs up into a cannonball makes you go faster, so naturally most people opted for that position.
After this zipline we headed off on the Conservation Trail, learning about the trapping programme that's been in place since 2013. Possums, rats and stoats were running wild and killing large numbers of native birds when the organisation first set up the tour, but since then they have achieved remarkable results with a variety of trapping methods. It is hoped that one day the whole 500 hectare DOC owned reserve will be pest free.

A sign that this is happening is the encounter we had with a friendly North Island Robin who flew down to eat meal worms from our hands. It's also nice to know that a percentage of your ticket goes into conservation efforts.

We learn more about the native birds found in the forest on the penultimate zipline 'Plight of the Kakapo' where Rebecca goes into more detail about each bird including the Whitehead, Longtailed Cuckoo, Morepork and Bellbird. For overseas visitors, and we had US and Australian on our tour, it's a great way to educate them on the special environment we have here in New Zealand.

After completing this zip we spend a bit of time doing some fun photo poses on the swing bridge attached to the next platform (there is another bridge earlier on which is 50 metres long). We attempt leaning out with no hands (easy) and after Chris shows us his impressive backwards handstand (hard), of course everyone wants to give it a try. Some attempts are more successful than others. Mine turns more into a yoga pose than a handstand. Oh well, I gave it a go!
All the photos taken on the tour are free and available to download the next day on the website. While you can take a Smartphone with you as I did, you have to keep it zipped securely into a pocket or as Rebecca jokingly said to one zipliner "If you do drop it let me know as I need a new phone".

The price of the tour, currently $139 for an adult and $95 for a child, includes a courtesy pick up from any central Rotorua accommodation, safety equipment and additional clothing. Tours depart 7 days a week in all weathers, though they do reserve the right to close a tour if the weather is too bad.

Apparently, according to many Tripadvisor reviews (where Rotorua Canopy Tours is #1 outdoor activity in New Zealand) when it's raining the experience is just as exhilarating, and can be even more magical. But don't worry about getting sopping wet, you're sheltered by the forest and waterproof gear is supplied.
Angela Pearse was kindly hosted by Rotorua Canopy Tours.