Tuhua: The Must Visit Island of The Bay Of Plenty
Adventure
When I take a trip to Tuhua I feel like I am taking a journey to remind me of all I have been given
Our Top Experiences and Tours in Rotorua:
If youʻre booking your trip to Rotorua last minute, we have you covered. Below are some of the top tours and experiences!

Tuhua is a small island located 35 kilometers north of Mount Maunganui. The island is not only visually stunning but armed with a special Maori history and a mysterious volcanic core. This island has been a part of my life for 20 years and it's the only place I make an effort to go back to every single year. When I take a trip to Tuhua I feel like I am taking a journey to remind me of all I have been given.

Arriving at Tuhua

The arrival point of Tuhua is a beach known as Opo Bay. This translates simply as South East Bay, which is of course, exactly where it is. The beach is idyllic and is the perfect spot for swimming and snorkeling. The sand is white and the backdrop is the cool dark green of a forest untouched. The moment you step away from the beach and into the trees, you'll notice the deafening sound of the birds. The sound is the beautiful chaos that comes with the mismatched harmonies of multiple scores.

Tuhua Wildlife

Tuhua is special for what is not there, as much as for what is there. Tuhua is a wildlife sanctuary completely free from the rodents that have decimated the numbers of some of New Zealand's native birds. The Kiwi is undergoing a successful breeding program raising the numbers of New Zealand's most endangered bird.

Diving and Snorkeling at Tuhua

For divers and snorkelers alike, Tuhua is an absolute jackpot. The marine reserve at the Northern end of the island is a sea life paradise. There is something about the water surrounding Tuhua. It's not that it is sparkling blue and clear, or the constant sound of it lapping around the island, but I have always felt that it is more energetic than coastal sea water. It's almost electric and feels medicinal to me.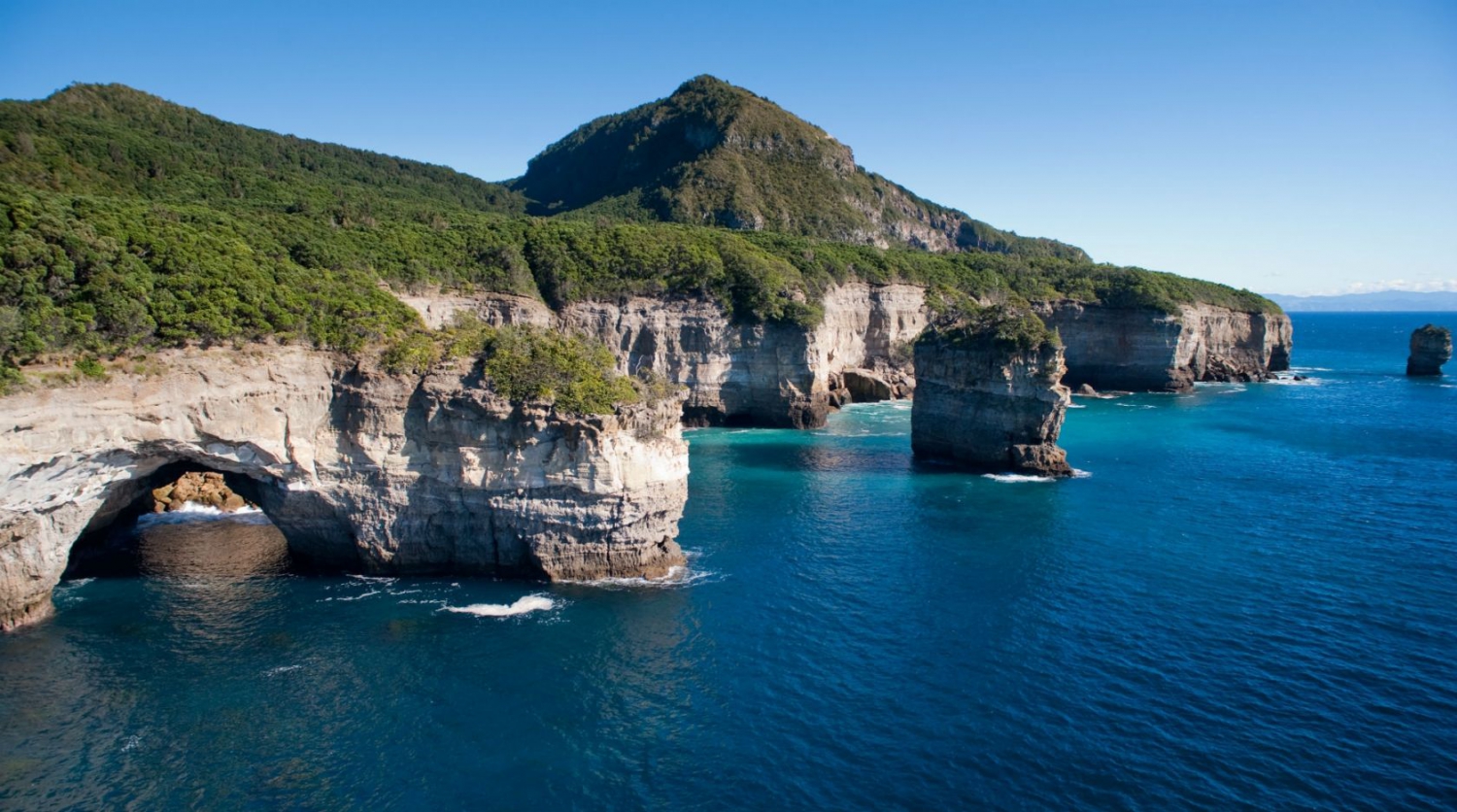 There are a few choices for the snorkelers and divers on a trip to Tuhua. The marine reserve at the northern end of the island provides a goldmine of life and experience under the water and offers three vastly different marine landscapes. There are also three beaches to choose from:
Opoupoto Bay - Also known as Cathedral Bay. This beach has a sandy bottom and is characterized for the huge boulders that form columns that really do resemble the pipes of an organ, hence the English name of Cathedral Bay. The kelp forests are continuous and dense providing a home for many colourful forms of sea life.

Orongotea Bay - A shallow rock platform that is just perfect for snorkelers. There are bubbly spots as well for a bit of fun which come from the underwater hot springs. Further offshore there is a drop off into deep water to a reef known as Two Fathom Reef. Diving out here is for the experts though as the currents are very strong.

Turanginui Bay - Also known as Elephant Bay this area is sheltered and the water is around 15 to 20 metres in depth. Remember though, this is a marine reserve, so no grabbing at the sea life for a snack!
Tuhua on Foot
On Tuhua there's many ancient tracks and trails all with important history. Take the easy fifteen-minute walk to meet the Giant Pohutukawa tree. This tree is so special it actually has to be greeted in the traditional Maori way. Along the way you will see the blazing red fire appearance of the trees and hear the birds at very high decibels. If you have a guide, and I do highly recommend that you get one, they will tell you the vast and almost unbelievable history of the island. There is nothing like hearing the stories of battle and warfare about the very place you are standing on.
For a longer walk, and for the fit and healthy, The Devils Staircase awaits. This walk usually takes me about an hour and a half but there are plenty of rest stops and great photo taking opportunities along the way to allow you to catch your breath and soak up the amazing air of the island.
The Devils Staircase gets its name from the black obsidian rock that is visible. It's considered very bad luck to remove obsidian from the island, and I often hear stories of tourists desperate to return to the island to give back obsidian they had taken from the island. A run of bad luck comes with taking obsidian so as beautiful as it is, I have always left it just where I have found it.
Getting There
You can fly in via helicopter, which is always my first choice. The flight will take you around 20 minutes from Tauranga airport and gives you a spectacular view of the Bay Of. Some flight companies will include a scenic lap of the island as well, so be sure to ask your pilot to do this for you! You can take a boat trip to the Island but I don't have the best sea legs so it's never my first choice.
Whichever form of transport I take, I am always aware that visiting Tuhua is a privilege.