Whakarewarewa Forest
Our guide to the 288 hectares of native and exotic forest 5 minutes from the city centre
Only a 5 minute drive from the centre of Rotorua, Whakarewarewa Forest (fa-ka-re-wa-re-wa) is a must on your Rotorua itinerary. With over 170 species of trees, the towering Californian Redwoods prevail as the dominant species in the forest with Japanese Larch, Douglas Fir and Mexican Pine making up some of the other tree life.

Whakarewarewa Forest is 288 hectares of native and exotic forest and is teeming with opportunities to walk, bike, horse ride and linger over panoramic views of Lake Rotorua and Rotorua City.

Walking, running and swimming
Tracks range from a leisurely half-hour 2km stroll to full day 34km tramping featuring the Blue and Green Lakes. Other walks in between will reward you with views of erupting geysers (if you time it right) and an ancient Maori pa (fortified village). Some of these tracks are suitable for off-road running with many local athletes using it as a training ground. Most walks begin at the Redwoods Gift Shop & Visitor Centre where maps, information and displays are available.
Swimming is also possible in the Blue Lake but not the Green Lake which is sacred to local Maori people. Walking tracks around the Green Lake do exist so some activities, along with picnicking are permitted but please remain dry.

Tree Walk

In 2016 the TreeWalk was introduced to the forest, giving visitors a thrilling way to explore the beauty of the forest. The half kilometre walk features 21 suspension bridges that pass through 22 towering 110 year old Redwood trees. The sections incline from 6m to a stunning 12m in height at its peak.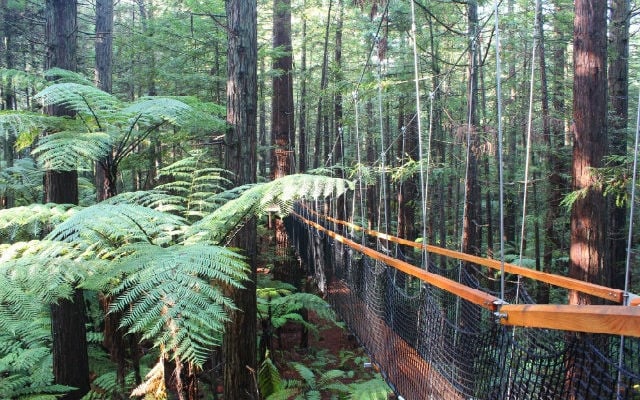 Mountain Biking
One of the major attractions in Rotorua is the 90km of mountain biking trails carved into Whakarewarewa Forest. This is an on-going project run by local groups such as Rotorua Mountain Bike Club and Rotorua Council along with legions of volunteers who come together to actively upgrade and maintain these trails to ensure their readiness for riding.
All ages and levels are catered for from the family taking the little ones out for a gentle bike ride to the hardcore downhill bikers who live to go steep and deep and get the adrenalin pumping. Many world championships and prestigious competitions have been held here with Whakarewarewa's reputation as a location for world-class mountain biking spanning far and wide. For more information, read our Rotorua Mountain Biking Guide.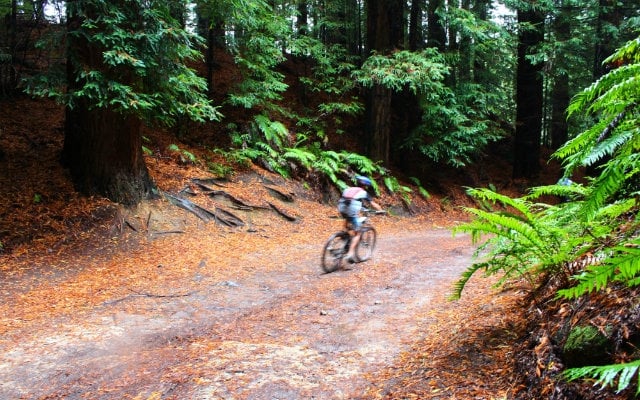 Horse Riding
Horse riding is possible on designated tracks (look out for horse trail markers) and forestry roads. It is possible to park horse floats on a grassy area in the shade near the Redwoods Gift Shop & Visitor Centre. Trails include a short 10 minute loop, a ride to the lower Pohaturoa lookout and along the Tokorangi Pa road for sweeping views of the city and Lake Rotorua. Horse riding companies don't operate out of Whakarewarewa so this is a bring your own operation.
Picnics
The Redwoods Gift Shop & Visitor Centre can supply you with information and a map pointing out picnic areas. Whakarewarewa Forest has an abundance of official and unofficial picnic spots, many of which are in the shade of the magnificent canopy of trees above. The Green and Blue Lakes are both stunning picnic spots with the Blue Lake available for swimming, providing refreshment of a different kind. Picnic tables are available for use throughout the forest and hot and cold snacks can be bought from the Redwoods Gift Shop.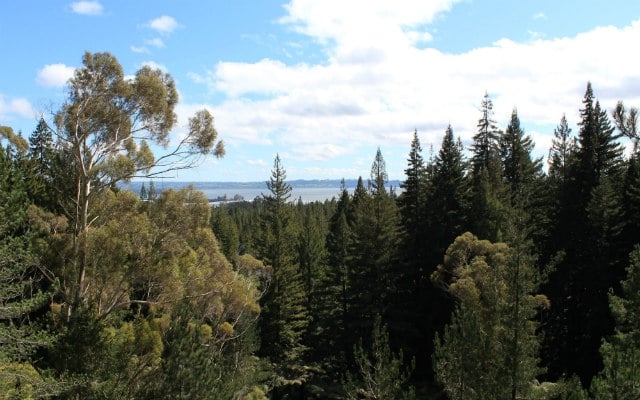 Families
Families with young children and teenagers will find opportunities to bond, exercise and enjoy the outdoors together. Orienteering is a fun challenge suitable for all ages. All you need is a map (from the Visitor Centre), some clues and a sense of adventure. Orienteering Bay of Plenty has created several permanent courses for beginners and experienced orienteers and this is a great activity for the whole family to enjoy together.
Kids Discovery Packs are also available from the Visitor Centre and are packed with puzzles, goodies and art as well as a Junior Explorer Trail for young children to encourage their innate thirst for discovery.