Rotorua Zorbing
Adventure Family Fun Sports
Jet Propulsion Laboratories requested a Zorb to research NASA Mars landings
You have probably considered most of the traditional options of how to see the sights of New Zealand by cycling, tramping, by bus, even hitch-hiking. But I bet you've never thought about viewing them from the inside of a plastic transparent ball! The truth is that you wont actually get to see much of the landscape from this vantage point. But you will get an exhilarating, adrenaline pumping wild ride. It's called Zorbing and Rotorua is where it happens.
Rotorua Zorbing - Where It All Started
Andrew Akers and Dwayne van der Sluis were the type of kids who just loved rolling around on hills. When they grew up, their obsession didn't fade, it simply got an upgrade. In 1994, Andrew and Dwayne designed and built a big inflatable ball that they could roll around in. Initially built to walk on water, Andrew and Dwayne found that rolling down hills was a far bigger buzz.
Calling their brainwave a Zorb, they set up the world's first permanent site in New Zealand's tourist mecca, Rotorua, in 1997. Since then, the art of Zorbing has made its way around the world. Zorbing can be experienced in as far flung locations as Chengdu, China, Seaworld, San Diego and Kochi, India. The original and largest operation, known as OGO, however, remains in Rotorua.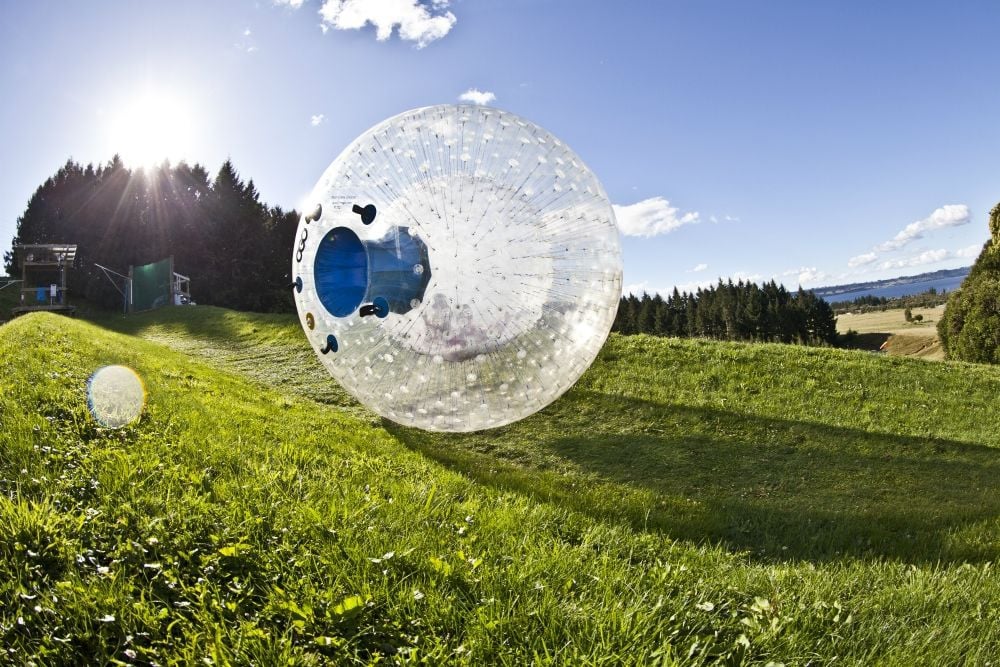 The Art Of Zorbing
Zorbing involves willingly transforming yourself into a human hamster. It's a mixture of sport, fun and extreme sport in which people step inside a huge plastic bubble and go for a ride usually down a hill, sometimes on water.
Zorbing is a great fun activity for all the family which, unlike other extreme sports, does not impose any age restrictions on participation. One reason for this, apart from the fact that all ages love the experience is that its providers place a premium on safety, making Zorbing a relatively risk free way to get in your adrenaline rush.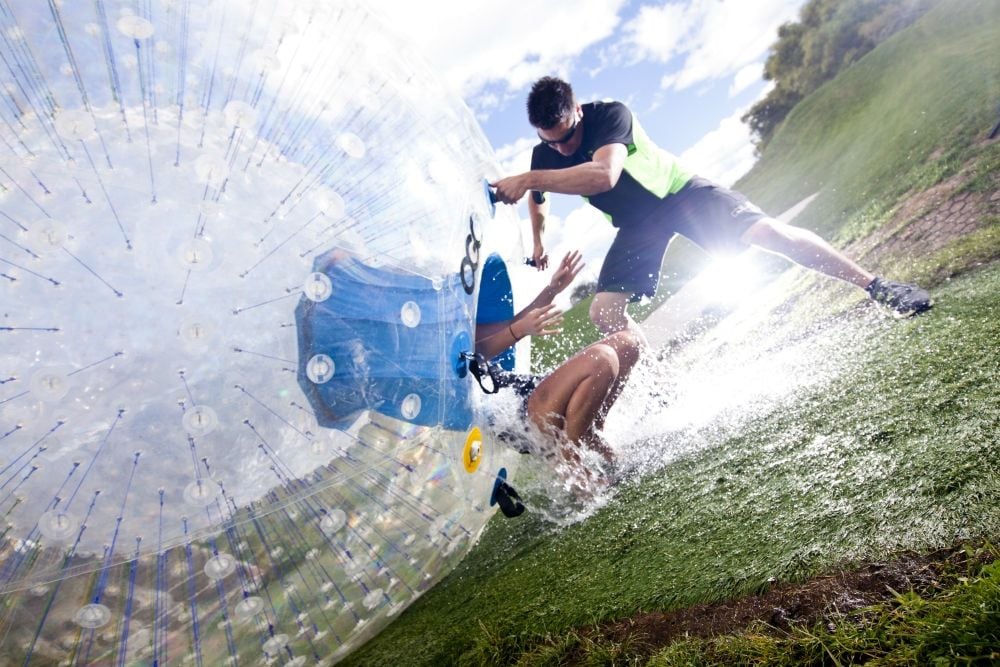 OGO Rotorua
Located on the edge of Mount Nogongotaha at the western end of Rotorua, OGO is run by the guys who invented zorbing back in the early 90s. Their venue provides spectacular views over Rotorua and Mokoia Island. OGO are constantly innovating in order to provide new and exhilarating experiences for their customers. They boast the longest rides in New Zealand, with 250m straight tracks and 350m sidewinder tracks that include some heart pounding zig zags. OGO also offer dual straight tracks that allow you to race your family and friends.Â
Andrew Akers, the original inventor of the Zorb, is hands on at OGO. He and his staff are committed to providing an exhilarating service for visitors. According to Andrew, Visitors to OGO Rotorua receive the full experience of rolling down hills in a giant ball with the inventors of this iconic kiwi activity. Visitors can relax in our hot tubs before, during and after their ride down the longest tracks in the world with 1, 2 or 3 people inside the OGO together.
A recent addition is the Fishpipe, which is a gigantic fixed position barrel which spins in place. The Fishpipe can be infused with water for a wet n wild experience. In fact, all of the OGOs have the potential for a water infusion.
Zorbing Trivia:

- In 1998, the Zorb made an appearance on British TV show Top Gear
- In 1999, Jet Propulsion Laboratories requested a Zorb to research NASA Mars landings
- In 2001, OGO offered nude rides for free until the practice got banned!
- In 2003, Peter Gabriel sang from inside a Zorb on stage as part of the Growing Up Live tour of Europe and the USA
- In 2004, the Zorb featured as an activity on the New Zealand chapter of The Amazing Race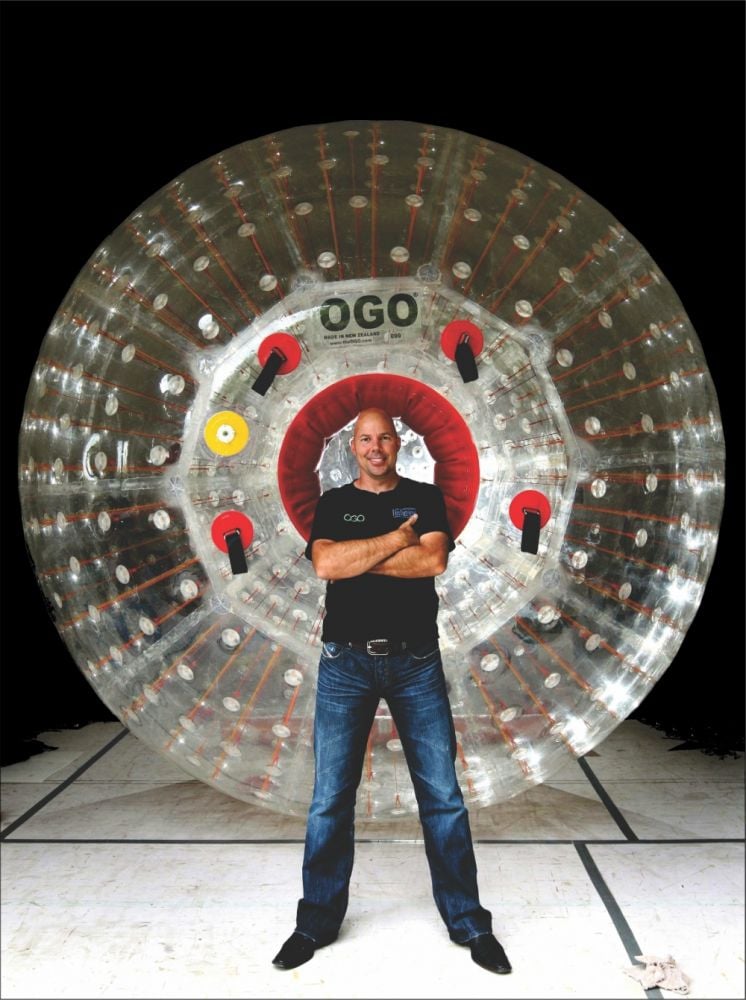 Zorb Rotorua
The other main operator is Zorb Rotorua, situated across the road from the world famous Agrodome Leisure Park in Ngongotaha, just 15 minutes from downtown Rotorua. They offer a range of straight and winding track options, along with a rather daunting ride that is known as The Drop. Both wet and dry rides are available. Â
The Zorbit has riders securely secured inside the ball, allowing them to see the sky and ground spinning in front of them. Other options include the Zydro, which allows the riders to slip, slide and spin all over the ball, while also dealing with a whole lot of water, which is sharing the ride with you.
OGO Photo Credits: www.ogo.co.nz