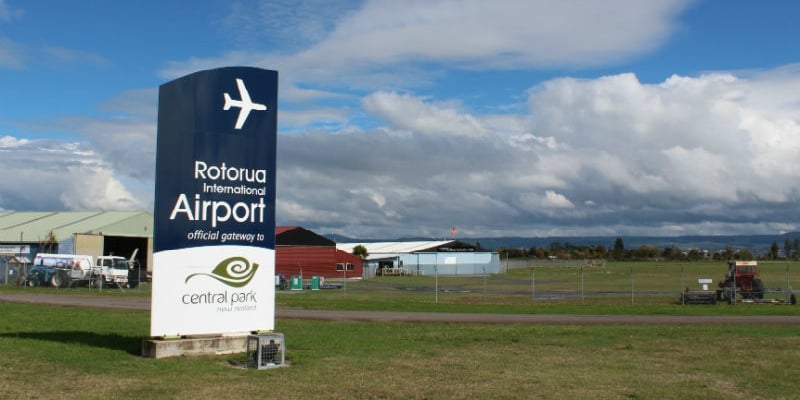 Rotorua Airport
A quick guide to the basics of Rotorua Airport
Rotorua Airport has daily flights with Auckland, Christchurch, Wellington and Queenstown. There are flights to Sydney twice a week. Allow 15 minutes drive from downtown Rotorua to the airport.

Car Rentals:
A number of the major car rental companies operate at the airport including Avis, Budget, Thrifty and Hertz.
Parking:
There are over 400 car parking spaces in both short-term and long-term car parks at Rotorua International Airport. No advance booking is required.
Short Term - The first hour is free, followed by a rate of $2 per hour. The maximum fee is $16 for 24 hours. Parking is capped at $80 for 7 daysa week.
Long Term - The first hour is free, followed by a rate of $2 per hour. It's a maximum fee of $16 per day for the first 3 days followed by a maximum charge of $10 per day. The weekly rate (7 days) is $50 while the monthly rate is $100.
Disabled Parking - Disabled car parks are well signposted and available in both short term and long term parking areas. Disabled car parking permits must be displayed when using these spaces.
For more details check the parking page on the Rotorua airport website.

Taxis:
To order a taxi, try Rotorua Taxis on 07-348 1111.
Airport Shuttle:
The Super Shuttle is a shared passenger service, holding up to 11 passengers. For a single fare into downtown Rototua, it will cost around $36 for a 1 person or $44 for two persons. Check SuperShuttle for an accurate quote.
Internet Access / Wi-Fi:

Free Wi-Fi is available for travellers and visitors to the Airport. All you need to do is search for the 'Free Airport Wi-Fi' network on your device.

Cafe:

A cafe serves a range of hot and cold drinks, snacks and meals. Opemn every day, the cafe closes just after 5.00pm.

Shopping:

There is a newspaper & magazine shop also offering books, travel essentials, convenience products, snack foods, sweets and drinks.

Departure Tax:
Passengers departing from Rotorua Airport must pay a NZD$5 departure tax after check-in and before boarding your flight. Payment can be made at the Airport Development Levy counter and is attached to your boarding pass.
Airport Address:
Rotorua International Airport Limited, State Highway 30, Rotorua.