Rotorua To Hobbiton
Arts & Culture Editorial Family Fun
Our guide to visiting the famous Lord of The Rings and Hobbit movie set from Rotorua
Our Top Experiences and Tours in Rotorua:
If youʻre booking your trip to Rotorua last minute, we have you covered. Below are some of the top tours and experiences!

Hobbiton Movie Set remains one the most popular attractions in New Zealand drawing fans of the Lord of The Rings and Hobbit film trilogies, from all over the world. Nestled in the Waikato countryside, it's a convenient tourist spot to visit from Rotorua, approximately an hour's drive away.

The nearest town of Matamata has thrived on the tourism business this attraction has generated since the first Lord of Rings exploded on the screens back in 2001. You'll soon realise this and appreciate you're in 'Hobbit Country' when you see the Hobbit themed Tourism Office standing proudly at the top of Matamata's high street.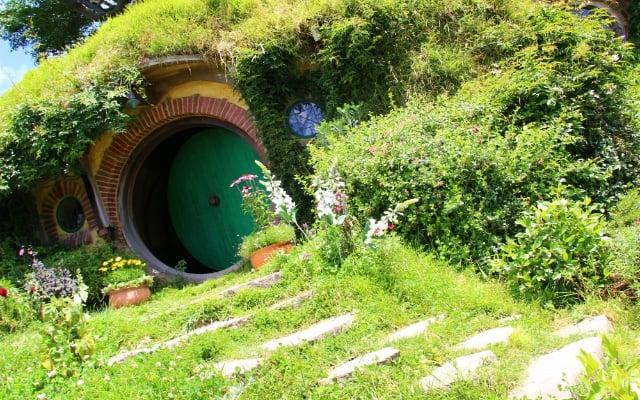 Visiting Hobbiton - What to expect:

A visit to Hobbiton will feature a guided tour around the 12 acre site. You will see the submerged Hobbit Houses that are dotted on the hillside and stroll along rambling paths. Your guide will point out fascinating details about the set and all its intricate detail, and elaborate on how movie magic was created with the Lord of The Rings and Hobbit films. The added bonus is that you'll ticket will include a complimentary drink at the Green Inn. There's also a gift shop and cafe to explore.

Tours typically take around two hours. A bus will transport you from the Hobbiton reception centre to the movie set. There are also pick-up and drop-off options from the I-Site Tourist Office in Matamata and from Rotorua. As of writing this article (June 2019) the price is from NZ$84 for and adult and NZ$42 for a child (9-16 years). The transfer from Rotorua will be approx NZ$35 extra per perosn. Check the Hobbiton website for the latest pricing.

Rotorua to Hobbiton - Travel Options:

By Car:

The actual movie set is located about 5 minutes drive outside the town of Matamata. If you're driving from Auckland you will pass through the town so it's a good place to stop for a bite to eat. It's a 72km drive from Rotorua and is fairly direct along State Highway 5 heading towards Tirau. It's then onto State highway 27 then 29. Look out for the right turn off just past a gas station and head along Puketutu Road and onto Buckland Road - you will then reach your destination. Allow 1 hour travel time.

If you're looking to rent a car you can use our My Guide Car Comparison tool to find the best deals on car rentals in Rotorua - Search, Compare, and Save up to 70%!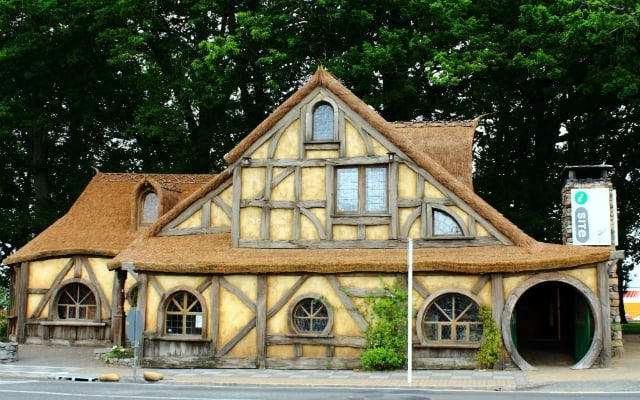 Guided Coach Tours:

A convenient and easier way is to book a day trip guided tour from Rotorua. Sit back and relax and let someone else do the driving and navigating for you. The tours will pick-up and drop-off at selected hotels.

Half Day Tours typically include:
Round-trip coach transfers from Rotorua.
A Hobbiton Movie Set guided tour plus entrance fee.
Complimentary beverage at the Green Dragon.
Round-trip coach transfers from Rotorua.
Full Day Tours typically include:
A visit to a few of Rotorua's popular attractions. This usually includes a geothermal/Maori cultural attraction.
A Hobbiton movie set guided tour.
Entrance fee to Hobbiton and all included attractions.
Lunch and beverages.
Round-trip coach transfers from Rotorua.
Custom Tours:
If you prefer to be in more control of what you see and do, you can opt for a tailored tour aimed at smaller group sizes. This type of tour allows you to see what you really want and gives greater flexibility.
FlexiTours NZ
offers a range of tours to Rotorua's best attractions. Visitors can choose from a package option or customise their own tour by choosing from multiple options.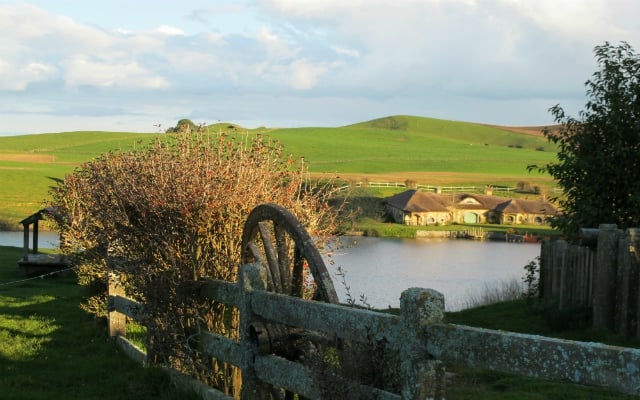 Auckland to Hobbiton:
If you are visiting from Auckland, it's just over a two hour drive to Hobbiton. It's a good option, to combine a visit to Hobbiton then drive to Rotorua and stay as part of a larger itinerary. However, there are a number of day trip tours that combine a trip to Hobbiton Waitomo Caves and its spectacular glow-worms, along with a tour of Rotorua's attractions.
Useful Info:
Book Rotorua to Hobbiton Tours
Book
Auckland to Hobbiton Tours
Book
Custom Tours to Hobbiton
Auckland to Rotorua Drive Guide