Rotorua To Waitomo Caves
Adventure Family Fun Inspiration
Our guide to exploring one of New Zealand's most famous attractions from Rotorua
At just under two hours drive, Waitomo Caves is a good day trip destination from Rotorua. After driving though the rolling hills of Waikato, you will arrive in the small town of Waitomo and home to one of New Zealand most famous attractions.

First discovered in 1187, the caves were formed from limestone more than 30 million years ago. On a guided tour, visitors explore subterranean caverns and hear all about stalagmites, stalactites and other spectacular rock formations.

Three Waitomo Caves

Visitors can explore three caves by foot; the Waitomo Glowworm Caves, Ruakuri Cave and Aranui Cave. Each cave is unique and comes with its own history and culture.
The Glowworm Caves (45 minute tour) are the most famous of the Waitomo caves, attracting tourists for over 130 years. Wonder through the cave and marvel at the Cathedral, the taeest chamber before embarking on a boat ride where you'll sit in silence (glow worms don't like noise) and be able to take in the magical creatures lighting up the cave above.
Ruakuri Cave (1.5 hour tour) is the largest cave in the Waitomo area, discovered between 400 and 500 years ago. You'lle enter the cave through a spectacular man-made spiral entrance, which opens up onto an extensive system of limestone formations and crystal tapestries. Learn about the rock formations and see glow worms up close and personal.
Aranui Cave (1 hour tour). Although Aranui isn't home to any glow worms, due to the absence of any water, it's home to some of the most spectacular pale brown, pink and white stalactites and stalagmites. The cave is adorned with fragile, sparkling formations, which create an enchanted and intimate experience.
Single or, multi-cave combo
tickets
are available if you want to visit more than one cave which come at a discounted rate.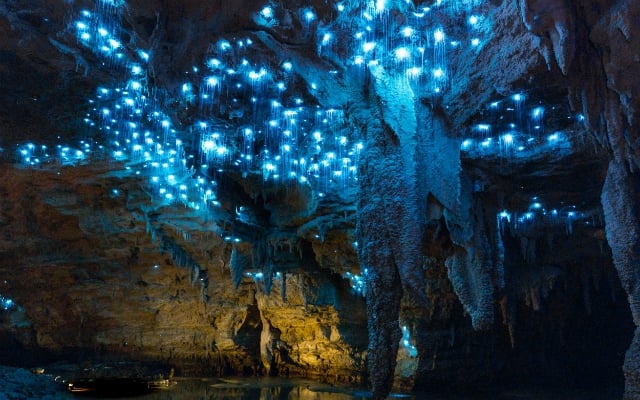 If you're driving to the caves and like a bit of adventure, you can try your hand at 'black water rafting' with the 'Legendary Blackwater Rafting Company'. Float along an underground river and leap off subterranean waterfalls within the glowworm-studded interior of Ruakuri Cave. Or, choose to abseil and zipline into the seemingly bottomless depths of Ruakuri Cave.

Rotorua to Waitomo Caves - Day Tours

Day tours will either focus on a return trip to the Waitomo Glowworm Caves or, combine with a visit to a couple of Rotorua's attractions. Typically, this will include a 4WD tour of a working farm and sheep shearing show at the Agrodome and a visit to a geothermal and Maori cultural attraction to see geysers, mud pools and a Maori live show. Check the latest tour deals in our 'Rotorua Experiences' section.

Waitomo Cave Tours typically include:
Return coach transfers from Rotorua
Official 45 minute tour of Waitomo Caves
Tour guide insights into history and geology of the caves
Glowworms boat tour
Tour and entrance fees to all attractions
Lunch
Hotel pickup and drop-off, if booked
Coaches with free Wi-Fi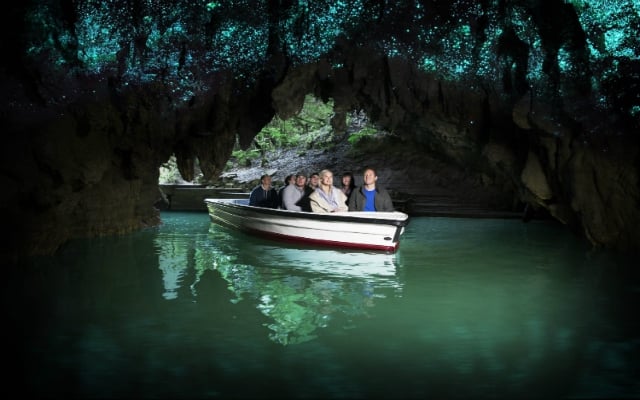 Custom Tours:
If you prefer a tour with more flexibility, you can opt for a custom tour aimed at smaller group sizes. This allows you to visit the places that you really want to see rather than following the larger set tour option. FlexiTours NZ allows visitors to choose from a package option or customise their own tour by choosing from multiple options.
Auckland to Waitomo Caves:
If you are visiting from Auckland, it's just over a two and a half hours drive to Waitomo Caves. Day tours can focus on Waitomo or combine with a visit to Hobbiton and/or Rotorua.
Useful Info:
Rotorua to Waitomo Caves Tours
Custom Tours to Waitomo Caves
Auckland to Waitomo Caves Tours