The Rotorua Luge Ride
Adventure Family Fun
The essential info on riding the Luge at the top of the Rotorua Gondola
A popular activity with families visiting Rotorua is heading up the Skyline Gondola and its host of activities 180 metres up Mt Ngongotaha. With the gondola ride itself, the SkySwing, Ziplines, Stargazing, there is plenty to do. However, the firm favourite is the Luge Ride.

Opened in 1986, visitors can select three separate tracks which span a combined distance of more than 4,000 metres. The tracks range from the fast paced advanced track that drives travellers past hairpin bends and low-lying tunnels, to the relaxing scenic track that allows luge riders to stop for photos along the way.

The part go-cart and part toboggan is fuelled by gravity with riders in control of their speed and direction with and easy to master braking and steering system. It's as simple as pulling back the handlebars to slow down or stop, and releasing to accelerate and enjoy the ride.

The Luge is not just enjoyed by children but all ages, with the oldest rider being recorded at 101!

The Luge Tracks:

Scenic Luge Track - 2km journey through a Redwood Forest with viewing bays at locations to enjoy the panoramic views.
Intermediate Luge Track - 1.7km track that features a tunnel, chicanes and eye-catching views of the city and Lake Rotorua.
Advanced Luge Track - 1km fast paced track of dips, tight bends and a tunnel for more experienced luge riders. Must be over 10 years and at least 135cm tall.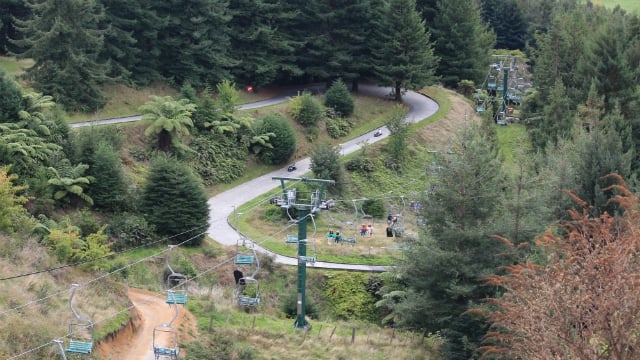 Night Rider Option:
All three tracks can be enjoyed under the stars with the tracks lit up with colourful LED lighting as you navigate the twists and turns. The Night Luge option typically starts from 5.00pm onwards.
Opening Hours:
From 9.00am - 8.00pm. Visit the
Skyline Rotorua website
for up to date times and check if the tracks not closed due to an event.
Pricing:
Gondola & 1 Luge Ride = Adult: $45 / Child: $29.50
Gondola & 3 Luge Rides = Adult: $52 / Child: $42
Gondola & 5 Luge Rides = Adult: $62 / Child: $51
Check the
Skyline Rotorua website
for full pricing details.