Rotorua Buses
Our guide to getting around Rotorua by bus
Our Rotorua Buses Guide provides a quick overview of the airport buses, city buses and the nationwide buses that travel to the city. For guided bus tour operators please visit our 'Bus and Coach' section.

City Buses:
Baybus is the public bus network throughout Rotorua and the Bay of Plenty region. They run a number of routes from Rotorua, Tauranga, Katikati, Murupara, Te Puke, Kawerau, Whakatane and Opotiki.

The Rotorua Cityride urban service that gets you around the downtown area costs approx $3 for an adult single fare. For full route information, view the Rototua Urban Bus Routes and view the latest pricing information.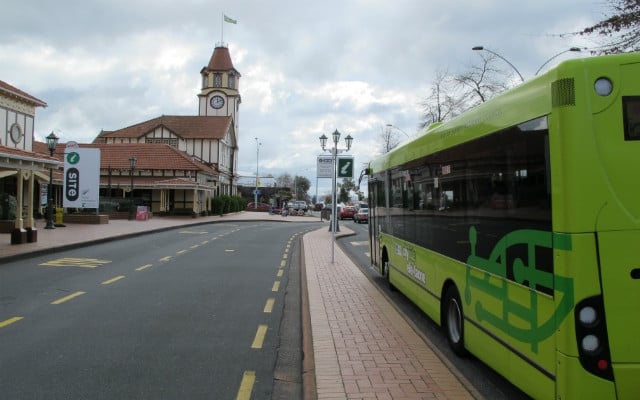 Smartride Card:

Smartride is the cash-less top-up card that saves you 30% on a standard Cityride fare. The discounted fare will be deducted from the credit on your card each time you take a trip. For the Rotorua Cityride route, Smartride cards must be purchased from the bus driver. The cost is $10.00 (cash only) and will have $10 credit loaded ready to use.
Airport Buses:
Baybus departs the airport every hour until 5.53pm. View the route map here. Please note that the buses have no eftpos or credit card facilities so you'll need cash or use a Smartride card. Smartridecard is a reusable prepay smartcard saving you the hassle of carrying cash. Smartride card users also receive a discount on the regular cash fares.
Intercity:
Intercity is New Zealand's largest coach transport network working under the brand names of InterCity Coachlines and GreatSights New Zealand. They connect to more than 700 destinations. Buses from Auckland to Rotorua depart from the InterCity terminal at 102 Hobson St or from Manukau City. A number of tickets are available are just $1! View the Intercity Bookings page for the latest fare information.
Naked Bus & ManaBus:
Naked Bus was set up in September 2006 and provides a nationwide low cost bus network. ManaBus is another city-to-city express coach service now operating in New Zealand.
Bus Operators: