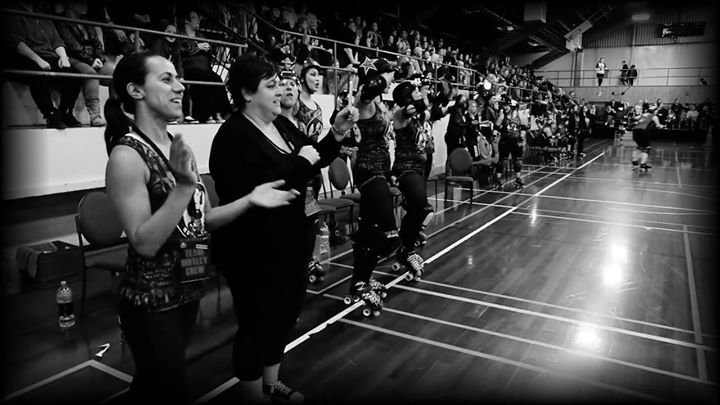 Hell-O-Wheels Live Roller Derby Spooktacular 2017
Sportsdrome Rotorua
Sat Oct 28th 2017 at 06:00 until 09:00
---
Rotorua
,

Queens Dr

,

Rotorua

Rotorua
https://www.myguiderotorua.com/events/hell-o-wheels-live-roller-derby-spooktacular-2017
BOOK NOW
Event Details
TRICK OR TREAT!

The Sulphur City Steam Rollers and Wildside Promotions present SCSR's annual Halloween Skate Spooktacular ... HELL-O-WHEELS! A fun themed event for the whole family!

TICKETS ON SALE NOW:
Phone: 07 928 4500
Counter: Sir Howard Morrison Performing Arts Centre
Ticketmaster New Zealand
The Sulphur City Steam Rollers' Motley Crew will be facing off against Northland Nightmares Roller Derby's Hell's Wives, as the Whangarei team venture south in the hopes of crushing our rockers' souls on home ground! But the local team live and breathe air from the depths of Hell and will have their soles firmly planted in their skates! ;-)
This game is part of the New Zealand Derby Top 10 Champs!
The Lakes Performing Arts Company will be channeling their inner Rocky Horror as they perform a Time Warp inspired dance at half-time. We'll then invite members of the crowd to the floor to show us your best Time Warp, giving you a chance to win the inaugural Hell-O-Wheels Time Warp Champion title! So get practicing!
Prizes will be given to the Best Dressed Adult and Child Halloween Costumes, as well as those with the Best Supporter's Sign for their favourite team or skater.
ArtfulAddiction Rotorua will be doing FREE Halloween themed face painting from 6pm - 8pm as well!
Team merchandise will be available for sale and we ask that you bring cash to purchase this.
Food, non-alcoholic and alcoholic beverages will be available for purchase.
In most of the Sulphur City Steam Rollers' events to-date, tickets have sold out up to a week prior to the event. So the organisers recommend that you purchase your tickets well in advance. We're not even kidding!
In the game of roller derby, which is full contact and has been likened to 'rugby on skates', players skate around an oval track in a pack made up of eight skaters, four from each team, who hold the position of blockers. Blockers must remain within a certain distance from each other at all times. Also on the track are jammers, one from each team who are the point scorers. It is the jammers' role to attempt to 'break' through the pack and score points for each opposition player they pass.
Following an extensive rule set, modern roller derby also includes a large group of officials who keep the players in line and track game statistics. There are up to seven referees required during a game, each with individual responsibilities. Up to 14 Non-skating Officials are also required, and generally include newer skaters, or in Steam Roller terminology, Groupies.
Doors open at 6pm with game formalities commencing at 6:45pm.
DOORS OPEN: 6:00pm
GAME START: 6:45pm
EST. END TIME: 8:45pm
For sponsorship enquiries, please contact: sc.steamrollers@gmail.com