White Water Rafting In Rotorua
Adventure Sports
Rotorua rafting truly takes things to the pinnacle of white-water adventure
Rotorua is without doubt the nation's centre for geothermal related phenomena as well as a front-seat location for Maori cultural experiences but it can also lay claim to being the North Island's prime location for fun and adventure activities.
Some of the adventure menu items are relative newcomers but not so rafting. Dating from the early 80s, it is one of Rotorua's first adventure activities and with such a lineage it means the many companies offering the thrill of a lifetime have had plenty of practise at getting it just right; some - such as River Rats - have been around for more than 30 years.
Another Rotorua rafting bonus has to do with the diverse range it covers. As with so much else in New Zealand white water rafting in Rotorua can be anything you want it to be whether that's a terror-free scenic day out along the river with a young family in tow or something rather more challenging.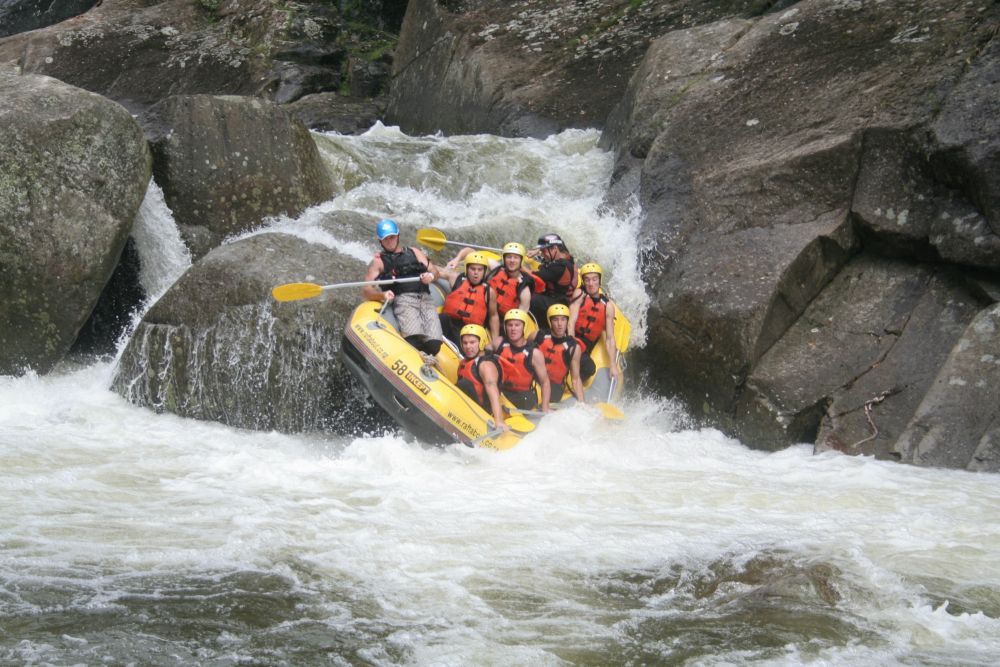 Rotorua rafting truly takes things to the pinnacle of white-water adventure too, if that's the way you want it. Prepare to be shaken silly on a jaw-clenching adrenalin-fuelled ride which fires you cannon-ball style through gorges, rapids and then drops you down the highest commercially rafted waterfall on the planet.
History and adventure-related pedigree aside, a quick glimpse at the region's geography will explain the rest of the rafting tale. Not only are there rivers aplenty but there are rivers of all varieties from the plunging and frothingly turbulent to calm, meandering waterways and everything in between. There is even a river - the Wairoa - which is only raft-able 26 days a year when the hydro plant dam located there allows it.
Many Rivers, Many Moods
There probably aren't many places in the world where, within a relatively small radius, you can have white-water rafting experience which range from a chilled grade 2 rating right through to the highest commercially rafted grading of 5. But that's exactly what you get with Rotorua rafting. Here's a rundown of the rivers.
The Rangitaiki River: Grade 2 - 4
Around 45 - 55 minutes travel from Rotorua will bring you to the Rangitaiki River which covers a fairly wide variety of rafting experience possibilities from a family-friendly grade 2 through to a rather more bouncy and exhilarating grade 4.
The Kaituna/Okere River: Grade 5
Just 20 minutes from Rotorua brings you to this river which - squeezed as it is between the walls of a very steep and narrow gorge - tumbles, spews and otherwise races at a furious pace in its upper sections. The water is emerald tinted and the scenery gorgeous but there'll be times when you're unlikely to notice. Namely as you take one of 14 drops, 2 smaller waterfalls and the mighty 7m plunge of Tutea Falls - the world's highest commercially rafted waterfall.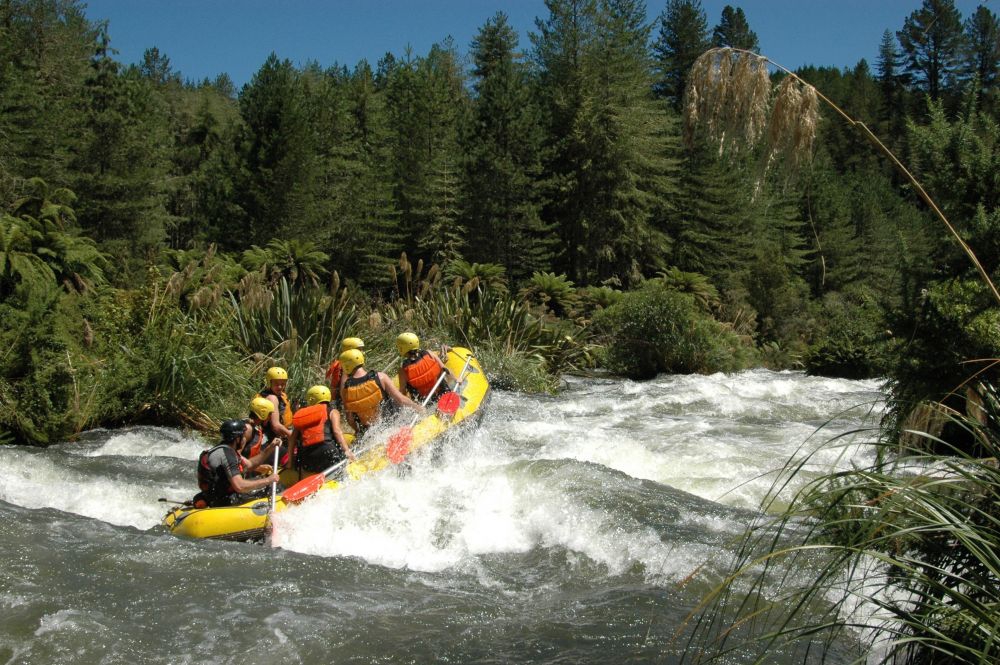 The Wairoa River: Grade 5
Wairoa River has its own extra-special claim to fame - rafting here is only possible 26 days in every year, typically on Sundays in the summer months. Why? Well most of the time there's a dam and a hydro-power station which control the river but this is opened at appointed times, releasing a torrent which charges down a canyon strewn with boulders and creating top-notch white water action full of turbulent rapids and adrenalin-pumping drops. These conditions elevate the river's status to such an extent that it registers on the radar of the world's rafting cognoscenti.
The Tongariro River: Grade 3
Thrills without terror and no experience necessary - this could sum up this particular experience. Crystal clear waters also feature, along with a mind-spinning total of 65 rapids and, just like every other Rotorua rafting experience, expect scenery of the lovely variety.
Rafting Operators
There are several companies who can whisk you off on a white-water adventure. Here are just three of the most respected leading players.
River Rats:

Not only will fun, safety and adventure feature highly on any River Rats Rafting trip, but the environment and conservation conscious can also get their kicks guilt-free. This rafting, kayaking and white-water sledging company, which dates back over 30 years, are proud holders of a Qualmark Enviro Gold Award - the first company of their kind in the country to receive such an honour.
Rafting trips offered: All 4 rivers listed here along with a 2-level offering on the Rangitaiki River. Also offered is kayaking self-hire or guided - and packages which combine rafting with other adventure activities.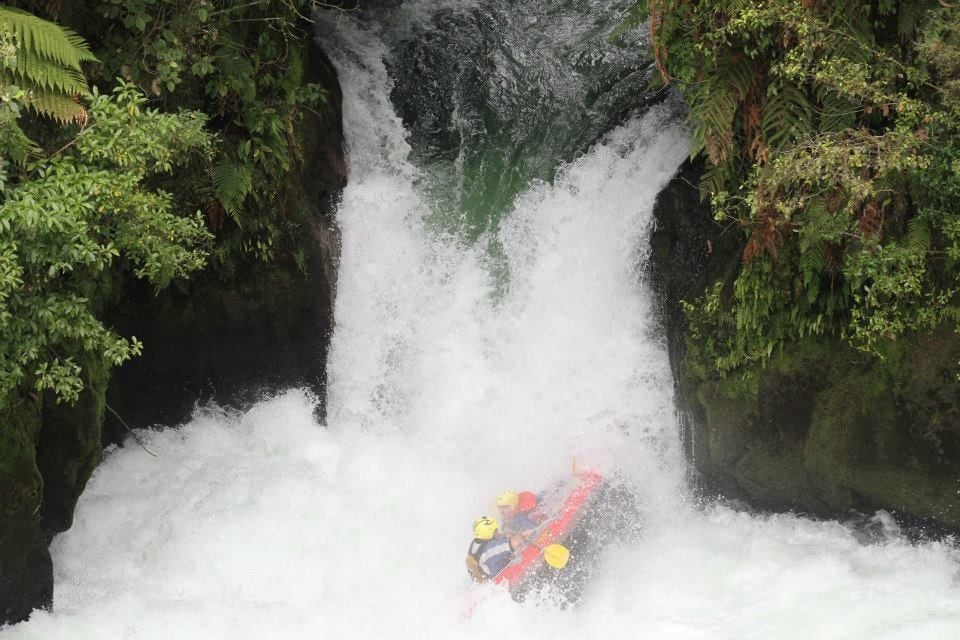 Raftabout:

Sister company of River Rats, Raftabout was the first company to single guide the challenging Kaituna River and were also responsible for the first opening of the section known as 'Awesome Gorge'.
Rafting trips offered: Rangitaiki (grade 3-4), Kaituna and Wairoa Rivers. Also offered is white-water sledging on the Kaituna River and a range of adventure+ rafting combos.
Kaituna Cascades

Keith of Kaituna Cascades was the first paid raft guide in Rotorua and started his company 24 years ago. They were the original pioneers and responsible for both the river's original rafting explorations and first opening it up on a commercial basis, naming the now-famous rapids as they went.
Rafting trips offered: Kaituna, Wairoa and both levels of the Rangitaiki. Also offer combos of Kaituna River plus either Wairoa River or Rangitaiki River.
Rafting Need To Know
Besides a sense of fun and adventure you'll need to bring very little except for the following:
- A swimsuit and towel.
- A reasonable level of fitness is required for all of the higher grade river trips.
- Age minimums apply to some of the river runs. For the Wairoa, Tongariro, Waituna and (Upper) Rangitaiki this is 13 years age minimum. Younger children can sometimes be included but conditions will apply in such instances. There is a lower age limit of 10 on the shorter Waituna trip while the Lower Rangitaiki and Tongariro 'float' are suitable for all ages.
- Many of the trips have no specifically required level of swimming ability but where applicable these are stated on a company's website and range from basic to advanced skill levels.
Conclusion

Totally individual each river experience may be, but there is one common thread which runs through each; if you are looking for scenery of the breathtaking, beautiful and awe-inspiring kind complete with tumbling waterfalls, native forest-clad land and spectacular rock gorges you've come to the right place.
Photo Credits: Rotorua Adventures Ltd - Raftabout on the Wairoa River, The Rangitaiki River, River Rats over Tutea Falls. Kaituna Cascades image - Kaituna Cascades.