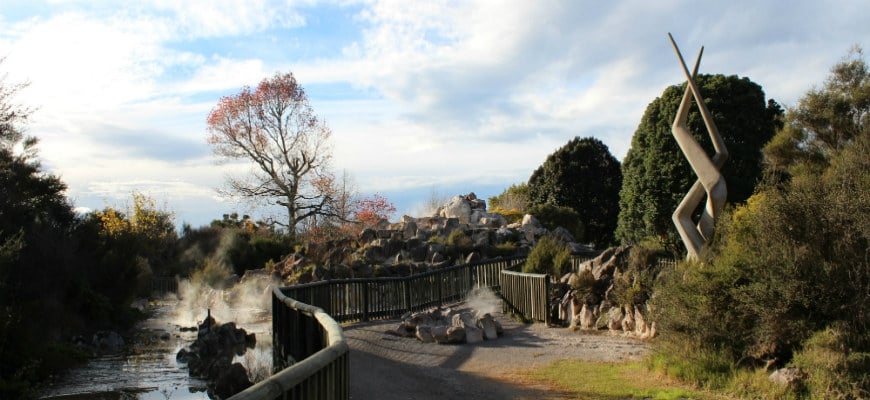 Free Things To Do In Rotorua
Our guide to the best free activities in Rotorua
Rotorua is the 'adventure capital' of New Zealand's North Island, with a huge array of activities that offer amazing experiences but at a price. However, for the budget conscious visitor there are a variety of experiences that won't cost you a penny. So, we've compiled our best 'Free Things To Do In Rotorua' guide.

Kuirau Park

Located close to the town centre on Ranolf Street, Kuirau Park is a public park which offers the opportunity to observe geothermal activity for free. The park includes numerous steaming vents and mud pools protected by fencing so it's family friendly. The park also includes the steaming waters of Taokahu Lake, heated foot pools and a paddling pool for younger children. View Kuirau Park video.

Whakarewarewa Forest

Over 90 kilometres of superb tracks lay in wait for mountain bikers at Whakarewarewa Forest, a short five minute drive from Rotorua city centre. Visitors can hire a bike from $45 for a half day's ride from Mountain Bike Rotorua, just outside the forest entrance on Waipa State Mill Road. Another option is to head to 'The Redwoods on Long Mile Road to enjoy walking tracks through towering Californian Redwoods. It's a must do attraction and free! Most of the walks lead from the visitor centre where you can pick up trail maps. View 'The Redwoods' video'
The Rotorua Walkway
The Rotorua Walkway is a 26 kilometre route around Rotorua city taking in many of the most unique aspects of the city. Along the eight sections, the pathway leads to geothermal hot spots, beautiful lake views, historical sites and protected wildife. The walkway includes Sulphur Point, Lake Rotorua and Kuirau Park.
Government Gardens

Centrally located on Hinemaru Street, close to the town centre, the 50 acres of beautifully maintained gardens include the 1927 Arawa Soldiers Memorial, various geothermal features and the Kwaqiulth Totem Pole. The Rose Garden and the boiling waters of Rachel Pool are well worth a look. Although not free, the park includes good value attractions with the Rotorua Museum and the restored Blue Baths. For more insight, you can view our Government Gardens video.
Ohinemutu Maori Village

On the corner of Hurunga Street and Tunohopu Street, visitors can gain an insight into the Maori culture with the village of Ohinemutu. Although members of the Ngāti Whakaue tribe still live here, visitors are free to wander around and observe how cooking techniques utilise the hot water vents, see intricate carvings on the Marae (meeting house), and visit St Faith's church which was completed in 1914.
Sulphur Bay
A short walk from Government Gardens on the corner of Queens Drive and Eruera Street, Sulphur Bay is a free to visit geothermal attraction. The milky lake colour caused by sulphur deposits suspended in the water, silica flats, steaming vents and boiling mud pools, create a mystical feel to the place. Bird watching enthusiasts will also appreciate the 60 plus species of native birds present. View Sulphur Bay video.
Kerosene Creek
Located approximately 30 kilometres from Rotorua, Kerosene Creek is a natural hot spring that flows through the bush of Rotorua. The hot springs includes a two metre waterfall that flows into a hot pool where bathers gather to enjoy the warm waters. If you fancy a thermal drip for free, head along State Highway 5 towards Taupo and turn off along Old Waiotapu Road. View Kerosene Creek video.


Okere Falls Scenic Reserve
Turning off State Highway 33 into Okere Falls Road, the Okere Falls Scenic Reserve is an 11 kilometre stretch of the Kaituna River that features a series of four stunning waterfalls before opening out to the Okere Trout Pools. The reseve includes a riverside trail through the bush, with a number of viewing platforms to view the beautiful waterfalls. These include the mighty seven metre Tutea Falls, the highest commercially rafted waterfalls in the world.

The scenic reserve also offers the chance to see the remains of New Zealand's fourth ever built hydroelectric power station and the Tutea Cave which were carved in 1907 by the engineer of the power station.