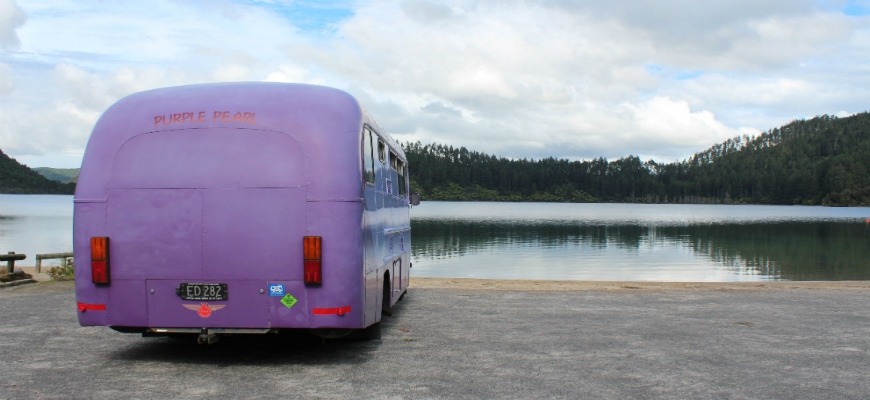 Rotorua Camping
The city of Rotorua is blessedly close to, and surrounded by, masses of native bush and scores of deep, beautiful lakes. As well as its rural setting, Rotorua's geothermal activity means that campsites are never too far from a unique thermal feature or aspect of nature.

Department of Consevation (DOC) Camp Sites
The Department of Conservation is a branch of government tasked with preserving and conserving natural areas of New Zealand. Campsites run by the DOC are always in rural and sometimes extremely remote areas of natural beauty. Advance bookings are required for serviced and some scenic and standard DOC campsites during peak season.
You can either book online or at a DOC visitor centre. Where advance bookings are not required campsites operate on a first come first served basis. This means small campsites can fill up quickly over summer so always have a back up plan or book in advance where possible. Payment is taken at the time of advance bookings, or if you haven't booked in advance, you can either pay at the self-registration stand of your campsite or to the campsite warden as he/she does the rounds.
Most DOC campsites welcome campervans but dump stations are not present at all sites. You may find that you need to offload campervan waste at facilities in nearby towns and some petrol stations. Campervan fees at DOC campsites are charged the same rate for those staying in tents, e.g. per person, per night. It's a good idea to check beforehand that the campsite you wish to stay at does accept campervans. It's also worth noting that not every DOC campsite is accessible by vehicle. If you're unsure, check the DOC website for details of each campsite.
There are three Department of Conservation (DOC) Campsites in Rotorua with more in the outer Rotorua Lakes area and the Bay of Plenty.
Hot Water Beach Campsite - Te Rata Bay, Lake Tarawera
This campsite is accessed only by boat. Tourism providers in the area can take you by boat or helicopter but you cannot drive or walk to the campsite from Rotorua. It is essential to book ahead as spaces are limited. The Lake Tarawera scenic reserve has numerous opportunities for walking, kayaking and exploring the Tarawera Falls.
Lake Okareka Campsite - Northern shores of Lake Okareka
This campsite is only 15 minutes from Rotorua city and allows budget camping in a secluded, lakeside setting. Facilities include toilets and a cooking shelter.
Lake Tarawera Outlet Campsite - Eastern shore of Lake Tarawera
A large lakeside campsite with toilets, tap water and picnic tables, this site is also linked to several walking tracks by a bridge. Summer time brings the crowds to this campsite for trout fishing and watersports.
Please visit the DOC website for full listings of campsites in regions surrounding Rotorua and the Bay of Plenty.
Top 10 Holiday Parks

Top 10 holiday Parks offer a range of camping options. A night with your tent with shared cooking and washing facilities typically costs about $40 per night. At the other end of the scale a fully serviced, two bedroom self contained motel unit will cost NZ$280 per night.

Blue Lake Top 10 Holiday Park
Lake Tikitapu, 723 Tarawera Road, Rotorua 3040, Telephone: 07 362 8120

The location of the Blue Lake Top 10 Holiday Park is very special. Nestled in among native bush and at the foot of Lake Tikitapu a.k.a. The Blue Lake, campers get to wake up in the morning to the gentle sound of birdsong and the sight of the bush-clad hills fringing the beautiful lake. As you might expect, there are numerous activities to enjoy on the lake including kayaking, boating, waterskiing, fishing, swimming and the 14 acres of grounds within the holiday park also contains a children's playground with trampoline.

The holiday park is only a ten minute drive from the centre of Rotorua and therefore an appealing choice for those wanting to have access to the amenities of a city but rural enough to embrace the ambience of camping in the great outdoors. The Blue Lake does host yearly sporting events so book ahead early or make sure you are not clashing with any major event. Opportunities to walk around the lake, visit other lakes such as Okareka and Tarawera and mountain biking in the Whakarewarewa Forest are all available nearby.
For more information check out our guides to Rotorua Lakes, mountain biking in Rotorua and the Whakarewarewa Forest.


Waiteti Trout Stream Holiday Park
14 Okona Crescent, Ngongotaha 3010. Telephone: 07 357 5255

Fishing enthusiasts will find the Waiteti Trout Stream Holiday Park a dream. Located right on the banks of the Waiteti stream, campers can fish metres from their tents in a tranquil setting among 2 acres of mature trees and gardens. The stream is teeming with Brown and Rainbow Trout and for novices, tuition is available courtesy of the "Trout Man". The site is only a ten minute drive from the centre of Rotorua and fortunately free of the sulphur smell that plagues the rest of the region.

Excellent value for money is offered with the inclusion of lots of freebies in the way of kayaks, trampoline, dinghy and hot spa. For more information on fishing in Rotorua see our guide.
Rotorua Top 10 Holiday Park
1495 Pukuatua Street, Rotorua 3010. Telephone: 07 348 1886 / Freephone 0800 223 267
The most central of Rotorua campgrounds, Rotorua Top 10 is also next to the Kuirau Park Geothermal Reserve where you can visit for free and experience the unique thermal activity of the region. The holiday park is immaculate and modern with top notch ablutions blocks and neat grounds. The mineral pool complex is fed by geothermal waters, providing campers with a luxurious restorative way of unwinding. Further value is added with the heated swimming pool and children's playground.

Cosy Cottage Thermal Holiday Park
67 Whittaker Road, Rotorua 3040. Telephone: 07 3483 793 / Freephone 0800 22 24 24
Cosy Cottage has an abundance of quirky, very Kiwi features. The site is accessed by a short walk through a geothermal reserve (thermal activity but no sulphur smells!) and is located on the shore of Rotorua lake. The site has a private beach with geothermal waters running underneath. Grab a spade from the office and dig your own hot water pool. The Utuhina Trout stream also runs by the park, making it a prime fishing spot. Your hosts then welcome you to cook your fish in the onsite Hangi oven – an authentic Kiwi experience. Also available for use are hot mineral pools, a heated swimming pool, a playground and legendary heated tent sites!