Lake Okareka Walk
Editorial Family Fun Inspiration
Our guide to the Lake Okareka Walkway
Our Top Experiences and Tours in Rotorua:
If youʻre booking your trip to Rotorua last minute, we have you covered. Below are some of the top tours and experiences!

On a sunny morning in March, we went for a walk on the beautiful and serene Lake Okareka Walkway. Here's what you can expect if you do the same….

Created in 2002, Lake Okareka Walkway is an easy 5.5km return walk around the small but perfectly formed Lake Okareka. At a gentle pace, the walk should take around 90 minutes to complete.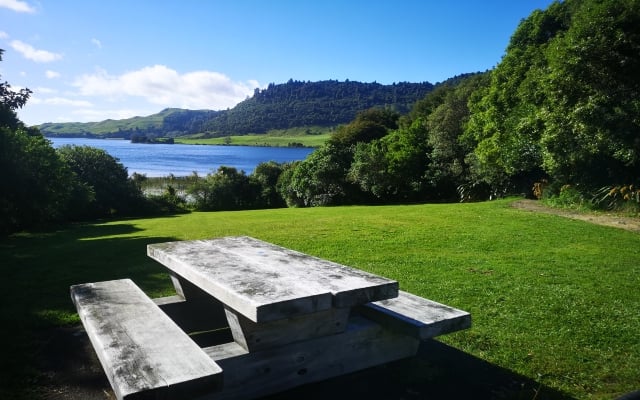 To find the start of the walk, turn off into Tarawera Road, drive past the Redwoods for just over 4km and turn into Okareka Loop Road. From here, it's a couple of kilometres until you reach the Acacia Road turn off which leads to a car park and jetty area. Continue along Acacia Road for a few hundred metres until you reach a small car park and picnic area. This is your starting point.
The first section of the walkway is a boardwalk, providing wheelchair access over the wetlands with a birdwatching hut and the occasional seating area. It's a lovely setting with the calm waters of the lake framed by Mount Tarawera in the distance.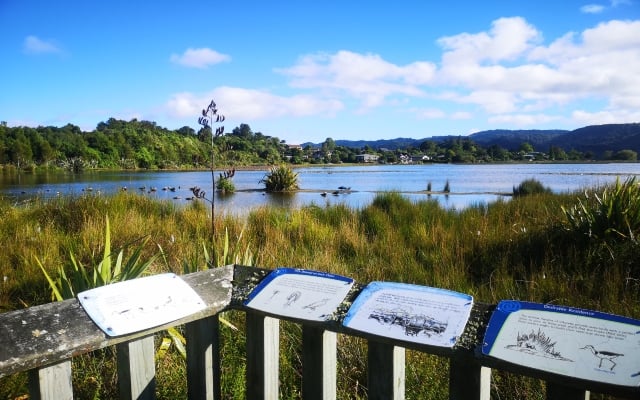 For bird watching, it's probably the best lake to visit, with many species making this spot their home due to the sheltered waters. For those paying attention, NZ Kingfisher, Red-Billed Gull, Goldfinch, Redpoll, Chaffinch, Yellowhammer and Welcome Swallows can all be spotted. A birdwatching hut is accessed from the boardwalk.
Continuing on from the boardwalk, a gentle pathway winds around the lake passing by a farm on your right. You'll enjoy sweeping views of the rolling hills and plenty of opportunities to observe the birds enjoying the lake.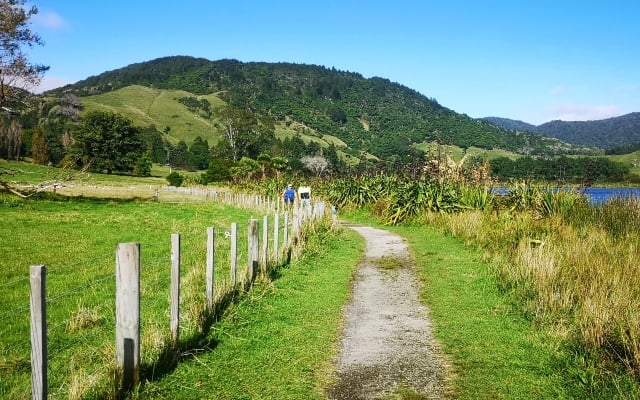 During the walk there are a number of seating benches to take a break and just take in the scenery. For keen anglers, the lake is also home to seven species of fish with four are native to the lake - Koaro, Common Smelt, Common Bully and Long finned eel, with the other three introduced into the lake – Rainbow Trout, Goldfish and Mosquito Fish.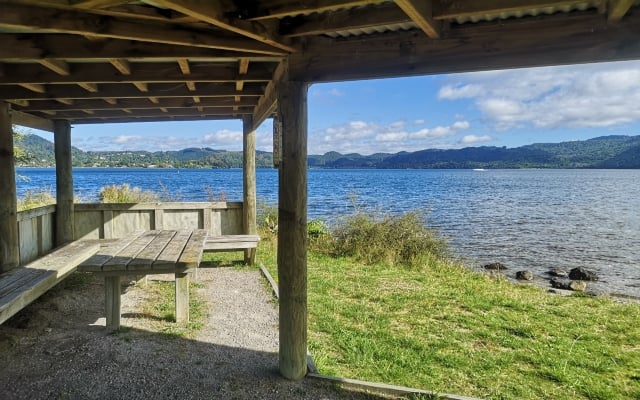 The next noticable landmark is a small beach area. If you're thinking of a picnic, the beach would be the spot with a a number of picnic tables and a toilet.
From the beach, it's a short and steep walk up and down through forest to the Okareka Outlet which is as far as you can go before turning back.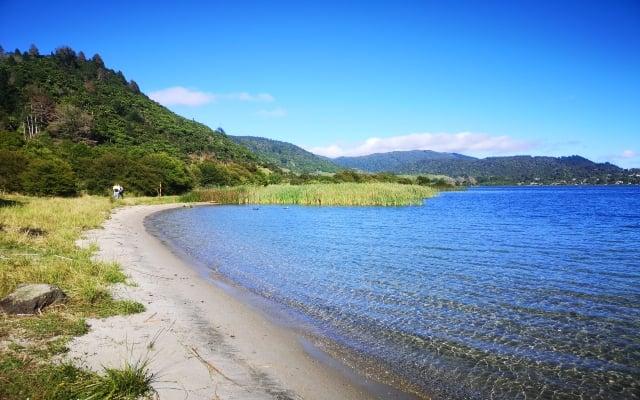 Given the secluded and quiet setting, the lake can be called 'home' for a small number of residents, with a few accommodation options for visitors to the area including homestays, B&Bs, and a couple of small campsites. It's certainly a lovely setting for a walk!