Rotorua Sculpture Trail
Arts & Culture Family Fun Inspiration
Discover The Unique Art & Sculptures In Rotorua
One thing you'll notice when walking around
Rotorua
, is the number of unique public art that acknowledges and celebrates the city's heritage, stories and aspirations.
Having began back in the late 19th century, public art has been used to tell local stories for decades. Today, art works take many different forms and are found in diverse locations including down alleyways, the walls of buildings, and overlooking Lake Rotorua.
The city also hosted its first 'Sculpture Symposium' back in 2014 when 17 artists from New Zealand and around the world were invited to create pieces of artwork that were then displayed around Sulphur Lake in the city's
Government Gardens
area. Every two years, the trail of artworks takes a different theme with artists creating artworks from either wood or stone.
Follow The Sculpture Trail:
The biggest concentration of artwork is located around Sulphur Lake, located opposite the
Polynesian Spa
on Hinemoa Street and just behind Government Gardens. The short walk around the lake takes in close to 20 temporary 'Sculpture Symposium' pieces.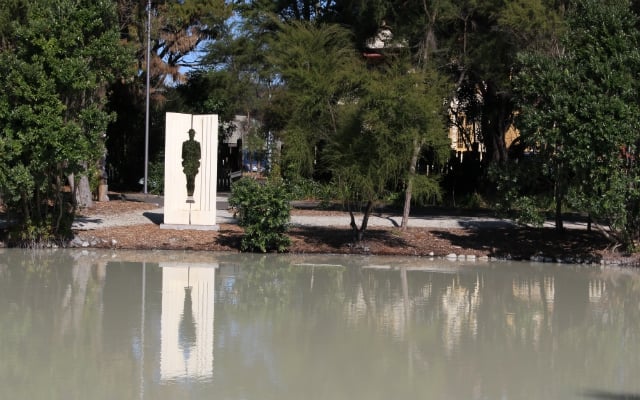 For more sculptures, and a great walk, follow the pathway that is signposted just to the left of the Polynesian Spa and you'll weave around the steaming thermal activity of
Sulphur Point
to see permanent sculptures nestled on the edge of Lake Rotorua. The loop trail leads on from
Lake Rotorua
via
Kuirau Park
where more artworks await.
Along with fascinating artworks to see, the trail is also a great way to see Rotorua. You can read more about this walk in our '
Rotorua City Walk Guide
'.
For more info on the art and cultural activities in the region, you can visit
Creative Rotorua
supported by Rotorua Lakes Council and the Rotorua Trust.