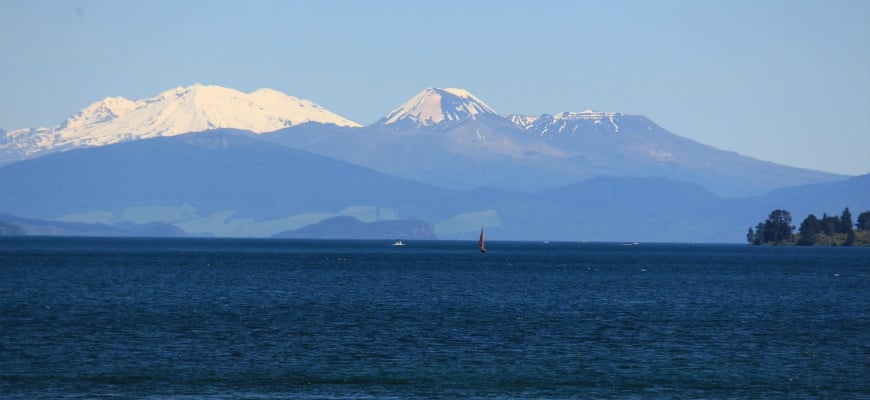 Taupo
In the heart of the North Island lies the region of Taupo, home of the country's largest freshwater lake, geothermal attractions and Huka Falls, the most visited natural attraction in New Zealand. Lake Taupo is a magnet for those seeking some wet pursuits away from the coast. Swimming, parasailing, kayaking and excellent trout fishing, all add to the area's attraction, and the popular cruises up and down the lakes and rivers ensure that any visit to this region will be one of the most scenic you'll get in New Zealand.

The town of Taupo has everything you'll need for a relaxing stay - thermal hot pools and spas; walking trails; lake cruises; and even world-class golf courses. A diverse range of boutique shops, craft studios and cafes line the shaded streets where parking is free - encouraging visitors to spend more than a passing hour or two here. Taupo Accommodation is plentiful, with many hotels and lodges offering splendid views of the snow-capped volcanoes of Tongariro National Park.

Huka Falls' Thundering Waters

Readily accessible from State Highway 1, a short drive from Taupo, the Huka Falls are New Zealand's most-visited natural attraction. Over 220,000 litres of water gush over the cliff-face every second, and it's not hard to see why it's cameras-at-the-ready for most people who make the trip here. Located on the Waikato River, in the Wairakei Park, you can reach the Falls via either a short, 5-min drive from Taupo, or a beautiful 30-min riverside walk, where a host of viewing platforms provide ample opportunity to bag that prize-winning shot.


Tongariro National Park – Home of 'Mount Doom'

The oldest national park in New Zealand, Tongariro National Park was the inspiration behind many of the locations in The Lord Of The Rings film trilogy. Mordor, Emyn Muil and Mount Doom were all modelled on the area, which is now a Mecca for 'Tolkeinites', keen to come and see Middle Earth for themselves!

The more active visitor can go skiing, or take a one-day hike that begins in lush, green meadows and ends on a mountain summit. Located at the southern end of Lake Taupo, Tongariro also houses many sacred Maori sites - most notably the peaks of Mounts Ruapehu, Ngauruhoe and Tongariro itself, and access is made easy by the numerous roads and tracks maintained by the Department of Conservation (DOC).


Skiing

Mount Ruapehu (or just 'Ruapehu'), 40km southwest of Lake Taupo, is home to two of New Zealand's top ski-fields: Whakapapa, on the northern side, and Turoa, on the southern slopes. With plenty of apres-ski action to be had in the nearby towns of Turangi and Ohakune, the thrill of skiing an active volcano lures many to the region.

Geothermal Attractions - Feel the Heat!

During the love affair with all things lunar in the 1950s, a power station near Wairakei Park purposely lowered its underground water levels, which resulted in what is now known as the Craters Of The Moon Thermal Area. During a 30-min walk around the area (there is a small entrance fee), visitors will experience bubbling craters, steam vents and a veritable jungle of unusual plants that thrive in this hot, steamy setting.

Exploring Orakei Korako is a opportunity to visit one of nature's most spectacular geothermal parks. It's a unique gepthermal attraction as it can only be reached by boat and is like sailing to another world as you head towards the "Hidden Valley" itself.


Getting There

Air New Zealand operates daily flights into Taupo from Auckland and Wellington.

By road, Taupo is conveniently located off State Highway 1, three and half hours from Auckland, four and half from Wellington and just one hour from Rotorua. The Thermal Explorer Highway, which runs from Auckland to Napier, runs past Taupo, which is a popular stop-off for those on their way to Rotorua and the Waikato region.

Scheduled bus services run daily between Taupo and Rotorua, Auckland and Hawke's Bay. Rail passengers can travel the 'Overlander' route, getting off at Ohakune or National Park, and hop on a bus to Taupo.