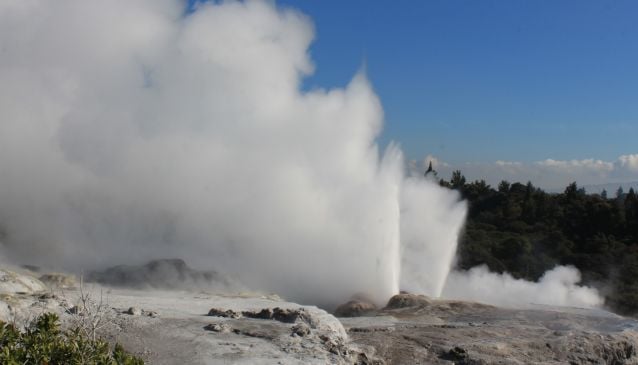 10 Incredible Views Of Rotorua
Editorial Hot List Inspiration Top 10
Lake Tarawera (in our opinion) is the most beautiful of the 16 plus lakes dotted around the region.
Head to Te Puia to see the largest geyser in the southern hemisphere. Pohutu Geyser erupts up to 20 times a day and is the star attraction of Te Puia's 60 hectare thermal valley.
Formed from the volcanic eruption in 1886 of Mt Tarawera, Waimangu Volcanic Valley is a stunning geothermal park approximately 20 minutes from the centre of Rotorua. One of the highlights is the incredible blue water of 'Inferno Crater'. #nofilter!
A family favourite with luge, flying fox and skyswing activities, the Skyline Gondola offers panoroamic views of Lake Rotorua on the way up/down. Enjoy a lunch or dinner in the Stratosfare Restaurant and Bar to savour the scenic setting.
Located 18 kilometres east of Rotorua, Lake Tarawera (in our opinion) is the most beautiful of the 16 plus lakes dotted around the region. During the summer it's a good spot for water activities and fishing.
Kakahi Falls is the largest hot waterfall in the Southern Hemisphere. Visitors can catch the sight of these impressive falls with a visit to Hells Gate Geothermal Park and Mud Park and Spa.
Okere Falls Scenic Reserve features four waterfalls over 11 kilometres of the Kaituna River and a series of Trout Pools. The emerald waters provide a thrilling experience for a number of rafting operators. From a viewing platform, visitors to the reserve can watch rafters surge over the seven metre Tutea Falls.
Relax and soak in the 26 hot pools of the Polynesian Spa and enjoy a glorious view of Lake Rotorua. Two nearby hot springs feed the therapeutic waters into this world renowned spa.
Situated in Whakarewarewa Forest, a few minutes' drive from the city centre, a visit to the The Redwoods is an opportunity to walk among towering Californian Redwoods. A range of trails are available along with a decent visitor centre and gift shop.
The 'Champagne Pool' at Wai-O-Tapu Thermal Wonderland is one of the most popular images of the Rotorua region. The park is a popular attraction 30 kilometres from Rotorua and also features the Lady Knox geyser, bubbling mud pools and numerous richly coloured pools.
PUBLISHED: Apr 26th 2017 | UPDATED: Jul 27th 2017