Discovering Maori Culture in Rotorua
Arts & Culture
Participants get the chance to be a part of the action as warriors paddle past in waka
Our Top Experiences and Tours in Rotorua:
If youʻre booking your trip to Rotorua last minute, we have you covered. Below are some of the top tours and experiences!

Often the most interesting thing about travel is engaging with cultures different to our own. In the case of New Zealand, the legacy of Maori culture, customs and beliefs comprises a rich heritage and one which New Zealand is firmly entrenched in. Maori culture not only survives post-colonisation, but flourishes in art forms, language and tradition, and is thankfully far more visible and integrated within New Zealand than some colonised cultures tend to be.

News presenters greet viewers in Te Reo Maori (Maori language), Maraes (meeting houses) are found throughout the country, tapu (sacred) sites exist around the land, and Maori art, sculptures and carvings can be seen and bought in shops, galleries and at other cultural sites.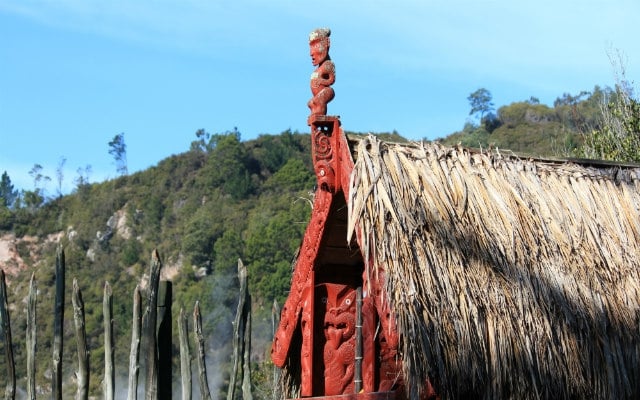 During your travels around New Zealand you will see evidence of Maori culture in your everyday experiences, but for a deeper insight into Maori culture, you might want something a little more. Rotorua, located in the middle of the North Island not far from Lake Taupo, has the highest concentration and most diverse array of options for Maori cultural attractions. Here's our pick of the bunch.
Mitai Village
Nestled in the bush, Mitai offers a truly immersive and exciting experience. Actors play the part of Maori warriors pre-colonisation and participants get the chance to be a part of the action as warriors paddle past in waka (canoes) and run through the bush in traditional dress. A theatrical and interactive demonstration of ancient Maori customs gives participants the chance to find out first-hand how tribal chiefs would approach one another.
A performance of the mighty Haka, beautiful choral singing and Poi dance gives you the chance to sit back and be entertained. A visit to Mitai is topped off with a magical sighting of effervescent glow-worms and a stunning crystal clear spring which is home to resident eels. The meal is a traditional Hangi, cooked in the ground and My Guide Rotorua can testify that this has to be tasted to be believed for its smoky, rich buttery flavour, and meat that is so tender it falls apart in the mouth. Worth a visit for the kai (food) alone!
Wikitoria Maori Healing
Maori are well known for a spirituality which feeds into the land, the cycle of life, and nature. A lesser known aspect of Maori spirituality is healing, which in the modern world translates to holistic wellness and massage which not only revives your body, but also your mind and spirit. Wikitoria Oman founded Wikitoria Maori Healing in Rotorua and is a revered practitioner in her field.
Romiromi, a deep tissue massage focuses on pressure points and blocked energy, not dissimilar to ancient Chinese beliefs of Chi. Mirimiri massage works at bringing the life force and spirit into alignment. Either choice aims to restore not only the body but the mind and the spirit, and imbue the body with positive energy. Massages and healing are delivered at a peaceful retreat amidst the tranquility of Lake Rotorua, overlooking Mokoia Island.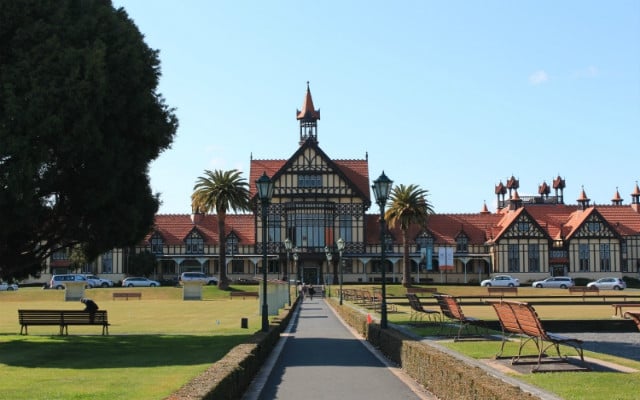 Rotorua Museum of Art & History
For a more orthodox injection of education into your cultural veins, a visit to the Rotorua Museum of Art & History is a must. Pay heed, museum-phobes, this is no boring museum with a tedious litany of written facts, Rotorua Museum of Art & History is brimming with interesting ways to get your cultural fix.
The Rotorua Stories Cinema invites you to sit back, relax and absorb a visual cinematic feast about Rotorua's geothermal landscape. Explore both the scientific and the mythological stories behind this tempestuous and unpredictable region. Exhibitions inform visitors about the curative and health-promoting history of Rotorua's lakes, spas and geothermal waters. Indeed, the faux-Tudor building of the museum itself was once known as the Bath House, a place where soldiers convalesced, aristocrats were pampered, and various ills were treated.
If that's not enough learning for your eager brain then indulge yourself with more: a history of the region's local tribe Nga Pumanawa o Te Arawa, their stories, ancestors, customs and treasures; a film about the Maori Battalion and their courage during World War II; guided tours; floor talks and lectures, and much more.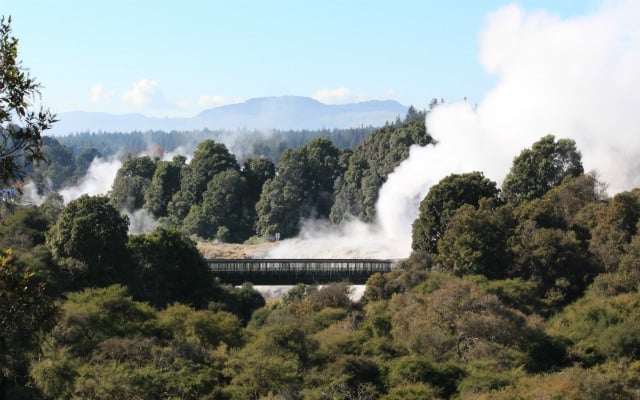 Te Puia
Set in the stunning Te Whakarewarewa Geothermal Valley, Te Puia offers an all-encompassing experience of nature, culture, art, performance and education. Walk amongst the surreal landscape of boiling mud pools, hissing steam and 100ft erupting geysers. You will feel like you have travelled to the centre of the earth as you see up close the ferocity, liveliness and sheer power of our world.
Rotowhio Marae is open to visitors and is an opportunity to experience the traditional meeting place for Maori. This Marae is fully operational and guests are welcome. Perhaps most unique to Te Puia is its National Carving School and National Weaving School where ancient Maori art forms are taught and mastered. Visitors are able to wander the grounds of these schools, watch talented and creative artisans at work, and ask questions about their crafts. Also at Te Puia is a Kiwi house with a Kiwi breeding programme, cultural performances, and a recreated pre-European Maori village settlement.
Hakinakina Aotearoa! (Enjoy New Zealand!)
Additional Information:
Maori words you might hear on your travels:
Ateoaroa - Land of the long white cloud (Maori name for New Zealand)
Kia Ora - Hello/be well
Haere Mai - Welcome
Whanau - Family