Rotorua is Turning Up The Heat
Adventure
Reaching up to 30 meters in height, these powerful plumes of white water are truly a sight to behold
With ancient fragments of past volcanic activity, New Zealand is a country brimming with natural attractions. Head to Rotorua, Taupo and the Bay of Plenty and get up close to the explosive action with boiling mud pools, steaming rocky caves, sizzling hot-springs and gigantic geysers. With so many smouldering hot-spots to choose from, our team of local experts compiled a list of the best places to bask in the Earth's crusty core.

Glorious Geysers
Abundant in natural phenomena such as the glorious geyser, Rotorua is a geothermal-hot-spot for soaring eruptions. The Pohutu Geyser (meaning the Big Splash), located in the Whakarewarewa Thermal Valley, shoots out scalding hot water nearly twenty times a day. Reaching up to 30 meters in height, these powerful plumes of white water are truly a sight to behold. Close by, the Waimangu Geyser lies silently smouldering in its dormancy along Mount Tarawera. Once the most powerful Geyser in the world, the original eruptions of this natural fissure reached up to a jaw-dropping 460 meters.
Wai-O-Tapu is a technicolour wonderland of geothermal activity. This atmospheric area is home to some of the most colourful hot-springs in New Zealand. The Lady Knox Geyser, standing pride of place in the Taupo region, offers a daily induced eruption starting at 10.15am. A word of warning however, unless you fancy being catapulted into the air by a naturally formed water cannon, make sure you don't stand too close!!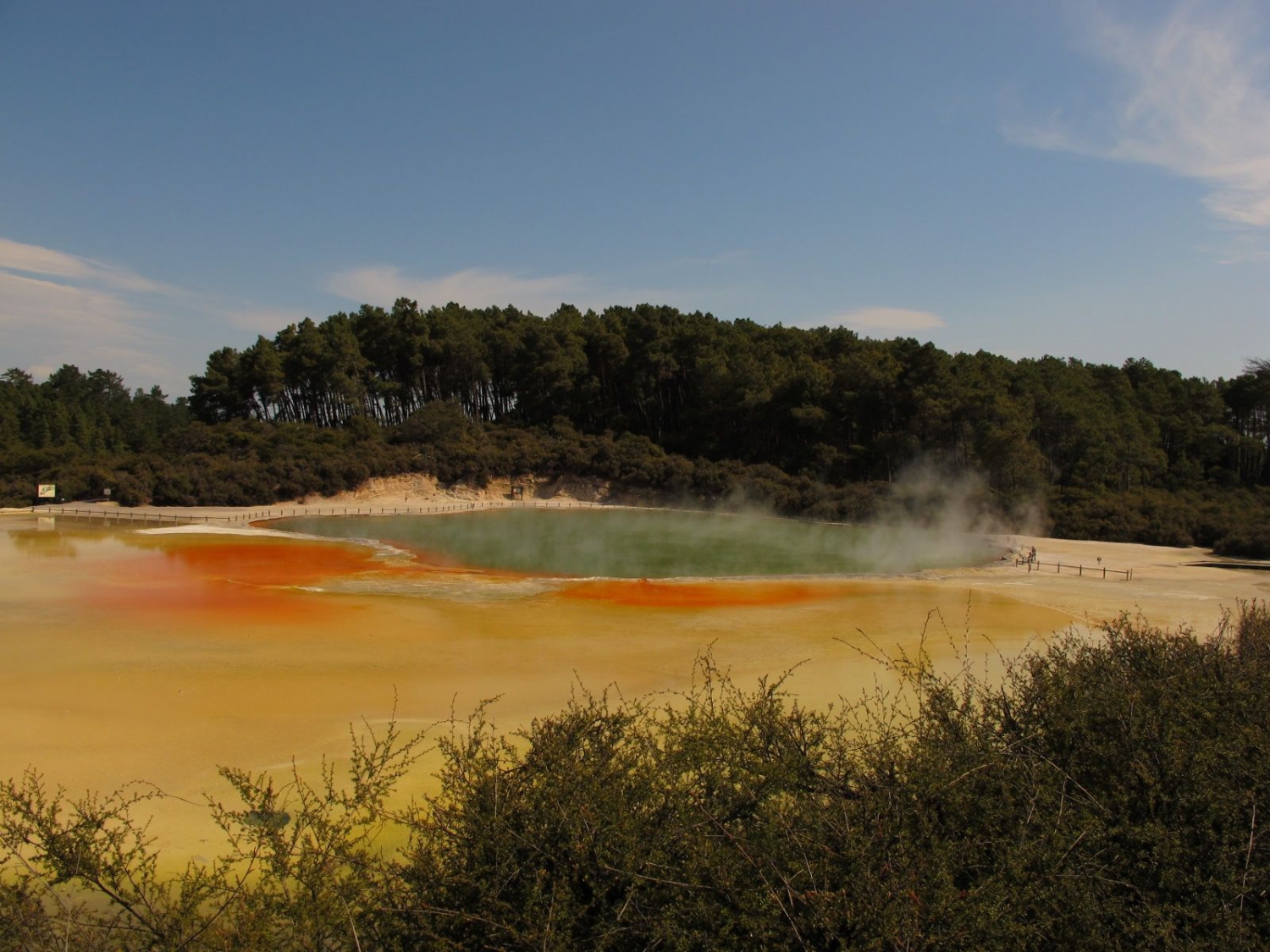 Curious Caverns
Orakei Korako is a geothermal attraction that only be reached by boat. It's the largest geyser field in New Zealand, filled with hot spouts of water, colourful mineral pools and rich, dense forests and glades. Nestled within Orakei Korako, known locally as The Hidden Valley, is Ruatapu Cave (meaning Sacred Hole). Delving down to depths of 120 feet this curious cavern is one of only two geothermal caves known in existence. At the bottom of this cave, the sparklingly still rock-pool is a peaceful and private place to bathe amongst New Zealand's warming geothermal waters.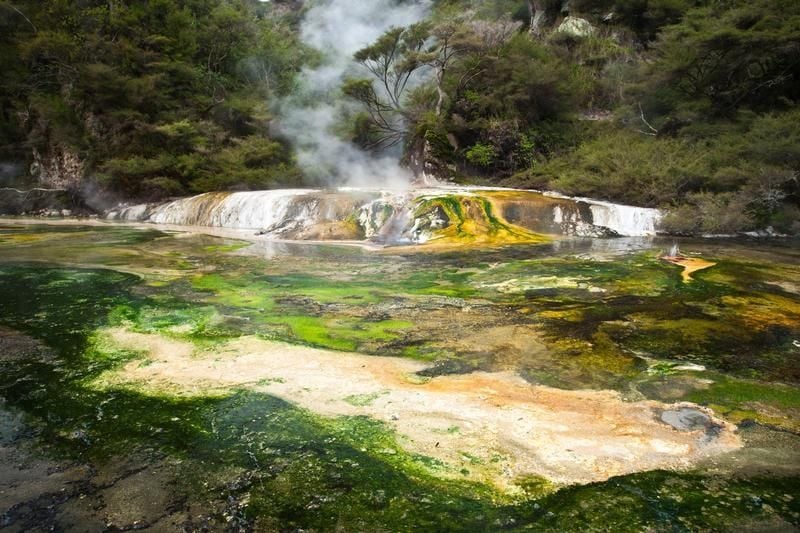 Craters of the Moon
While not literally on the moon, (disappointing I know!), visiting Craters of the Moon in the north of Taupo is just about as exciting as a lunar experience. With countless craters, caverns, fumeroles and mud holes, this steam-filed spanning 35 acres is a sizzling expanse of geological activity. Formed during a period of great experimentation in the 1950s, visitors can wander around the bubbling craters and steam vents, admiring the unusual and exotic plants that thrive in this hot and steamy setting, (a small entrance fee is required).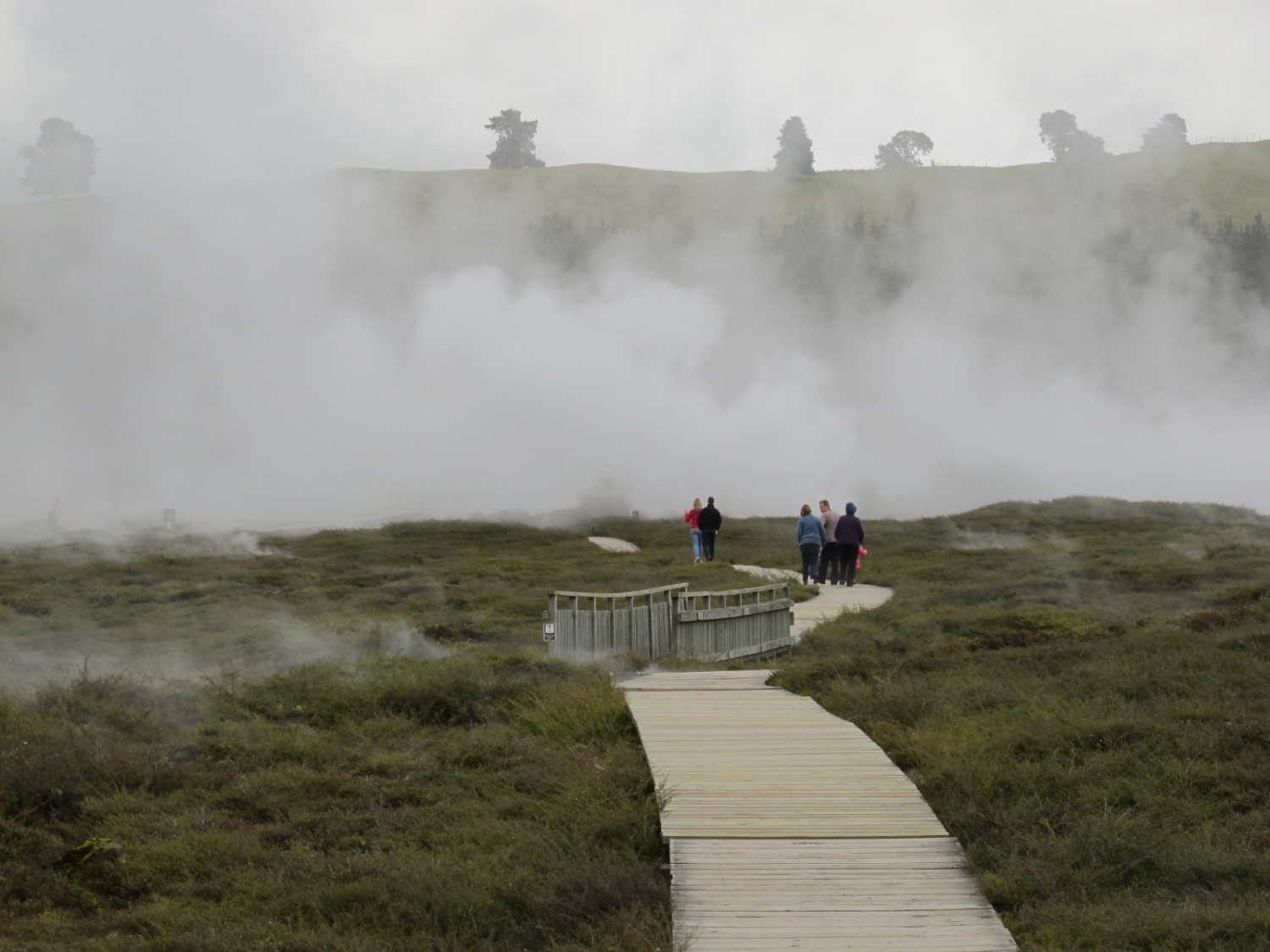 Into the Gates of Hell
Nowhere in New Zealand can you feel the furore of the Earth's core more than at Hells Gate. Exuding an end-of-the-world atmosphere, with arid land and simmering chasms, this aptly named plateau erupts with volcanic action in full force. This volcanic epicentre is a fantastic place to wander along on a guided tour and explore the natural phenomenon of rocky formations, cascading water and the colourful land coral. And with a geothermal park offering 50 acres of thermal highlights, Hells Gate draws tourists from around the world. Wander past the steaming fumeroles, stare at the ferociously bubbling mud baths or marvel at the Kakahi Falls- the largest warm waterfall in the Southern Hemisphere.
Known as an ancient site where Maori warriors would bathe in the balmy waters to heal their ailments, unsurprisingly Rotorua has become renowned as a soothing haven of Spa and Wellness centres. Stop-off at the end of the day at the Wai Ora Spa for some sumptuous spa treatments including total body massages, mud therapy packages, private mud baths and sulphur spas, (kept at a 40 degree centigrade heat), body mud scrubs and facial mud masks.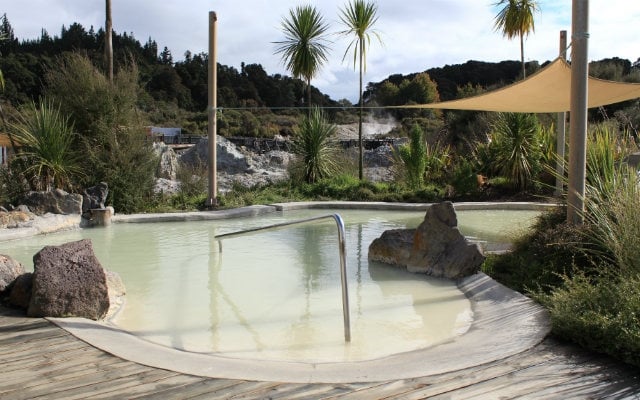 Middle Earth & the Island of Volcanoes
Die hard Tolkeinites (also known as Lord of The Rings fans), will want to visit the Tongariro National Park for a first-hand experience of Middle Earth. As the real, rugged backdrop for this epic trilogy, Tongariro National Park is abundant with soaring volcanoes and swirling turquoise lakes. The oldest national park in New Zealand, hitchhikers can enjoy a scenic trek over the active volcanic mountains of Ngauruhoe and Tongariro. However, thrill seekers will want to head to Mount Ruapehu for a novel and unexpected experience of skiing down an active volcano.
Whether you are seek a flurry of ferocious action, the silence of peaceful solitude or the sumptuousness of luxurious spa treatments, these diverse areas of geothermal activity are EXPLODING with choice, (apologies...!)