Rotorua Mud Pools
Hot List Inspiration
Discovering the best places to see Rotorua's mud pools
Rotorua's abundance of geothermal attractions and bubbling mud pools, along with its Maori heritage and the wide range of adventure activities, attract over 3 million visitors to the region every year.
The coloured pools, smoking calderas, spurting geysers and bubbling mud pools converge in a medley of sulphuric wonders like nowhere else in New Zealand. You can check our '
Geothermal Attractions
' to see all the best places to visit. This article however, focuses on highlighting the best places to see boiling mud pools in Rotorua.
1. Hell's Gate
This attraction offers the chance to wander around the geothermal landscape and see mud pools, cooking pools steaming cliffs and the largest hot waterfall in the Southern Hemisphere. Uniquely though, a visit to Hell's Gate is also the chance to experience the healing properties of the thermal mud and sulphur mineral water that's been used by local Māori for over 800 years. Lather your skin with the unique mud, before exfoliating and cleansing with a soak in the sulphur spa and cool plunge pool.
In 1934 noted Irish playwright, George Bernard Shaw, visited and cited the place as inspiration to change his atheist beliefs. In awe of the boiling mud and steam rising into the sky, he's said to have proclaimed "this could be the very gates of hell." Upon hearing this, local Māori decided the English name for the area would be Hell's Gate.
Location: 351, State Highway 30. (departing Rotorua, you'll see a sign post to turn right for Hell's Gate just past Rotorua Airport)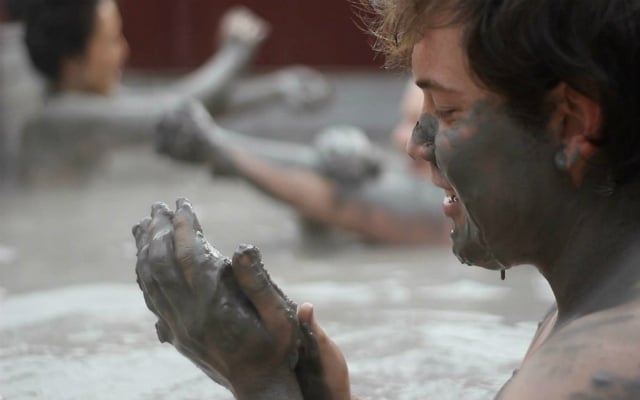 2. Te Puia
Located close to the town centre and one of the regions' most popular attractions, Te Puia is home to the New Zealand Maori Art And Crafts Institute, the country's most important cultural centre.
The attraction also features a 60 hectare thermal valley and the Pohutu Geyser, the largest active geyser in the southern hemisphere. That erupts up to 20 times a day and shooting water up to 30 metres into the air. Of course, and the reason of this article, there is also the opportunity to get up close to a series of bubbling mud pools and a heated pool for cooking as you walk around the valley.
Location:
Hemo Rd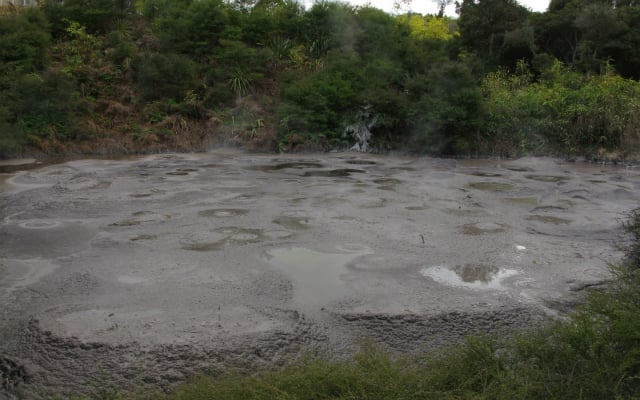 3. Wai-O-Tapu
This is a freebie located right next to Wai-O-Taupo Geothermal Wonderland attraction. The natural mud pools offer a tremendous show of geothermal forces at work and don't cost a cent to see. However, it is well worth the entry fee to spend some time exploring the spectacular landscape of Wai-O-Tapu. The photos of steaming coloured pools that adorn Instagram are taken from here.
Location: 201 Waiotapu Loop Rd (Turn Left off State Highway 5, 27km from Rotorua)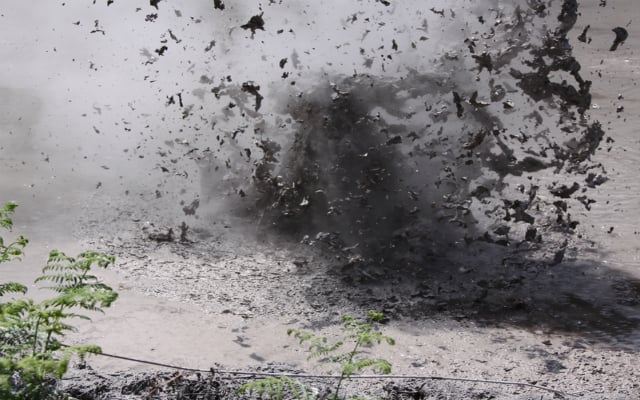 4. Sulphur Point
There is a fantastic walking trail that we have covered in our '
Rotorua City Walk
' article that details all the best of Rotorua that you pass by in a 90 minute loop walk. The trail starts between the
Polynesian Spa
and
Government Gardens
with plenty of parking space available. Marked by a signpost, follow the path as it leads towards Government Gardens and into 'Sanatorium Reserve'.
Further along the path you'll soon pass by the Coffee Pot thermal mud pool and 'Cameron's Laughing Gas Pool' - so called due to the similar effect to laughing gas that the rising hydrogen sulphide and carbon dioxide gas create. It's also believed that this was one of the very first commercial bathing areas in Rotorua. We'd recommend continuing along the path until you at least reach the Lakefront Reserve that overlooks Lake Rotorua.
Location: Sulphur Point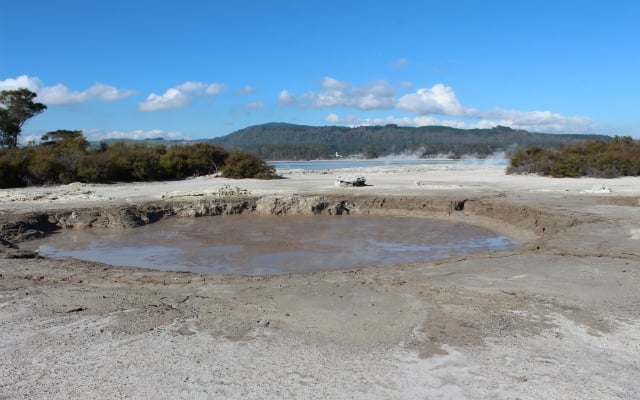 5. Kuirau Park
Another free attraction on our list to visit.
Kuirau Park
is a public park situated off Lake Road and a 10 minute walk from the Rotorua`s city centre.
The family friendly park allows you to get up close to impressive mud pools and steaming
geothermal activity
with well laid walking tracks. The park also includes a play area for children, an expansive garden area, ornamental lake, and paddling pool.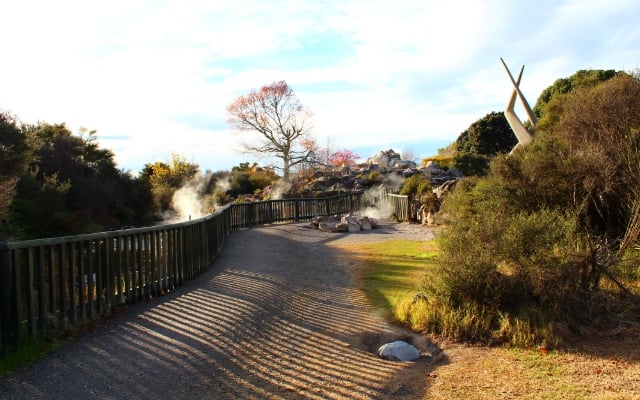 6. White Island
A scenic flight to
White Island
is a spectacular way to see mud pools on an active volcano. Soaring a whopping 1,600 meters, you can enjoy dramatic panoramas of the volcanic cone as you flyl around the summit by helicopter. A scenic flight from Rotorua offers a convenient way to explore New Zealand's most active volcanic attraction.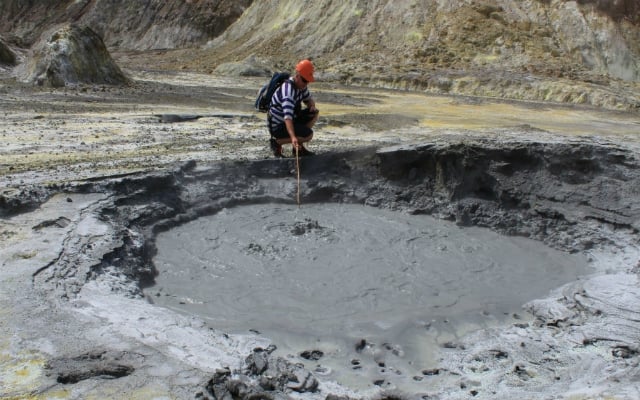 Rotorua Experience Deals:
To enjoy some of the best deals on activities in Rotorua check our
Rotorua Experiences
and save some more money.
Finding The Right Car Rental:
If you're looking to rent a car to explore Rotorua, use our
My Guide Car Comparison
tool to find the best deals on car rentals in Rotorua - Search, Compare, and Save up to 70%!