The Rotorua Redwoods Treewalk
Editorial Family Fun
The bridges range from just 6 metres to 12 metres in height
Our Top Experiences and Tours in Rotorua:
If youʻre booking your trip to Rotorua last minute, we have you covered. Below are some of the top tours and experiences!

Rotorua is blessed with plenty of natural attractions, the biggest tourist drawcard probably being its geothermal activity but The Redwoods (aka Whakarewarewa forest) is right up there too.

This splendid 5,600 hectare forest lies at the south eastern edge of the town and has a mix of exotic and native tree species. This includes a Californian Redwood grove which was planted in 1901, and from which the forest takes its name. Around 12 hectares of Redwoods were originally planted as a source of timber and today six hectares of this still remains.

The Redwoods is a great place for outdoor activities as it has a great selection of mountain biking, walking and horse riding tracks. Mountain biking is especially popular with 130 km of trails for all levels of rider. Many mountain bike competitions and off-road running events are held here.

The latest Redwoods attraction though doesn't involve mountain biking or running, but simply a gentle wander through the trees via 21 wooden suspension bridges. Though it may sound a fair distance, at 553 metres it's not the longest treewalk in the world. The award for that belongs to Bavarian Forest National Park in Neuschonau, Germany at 1,300 metres.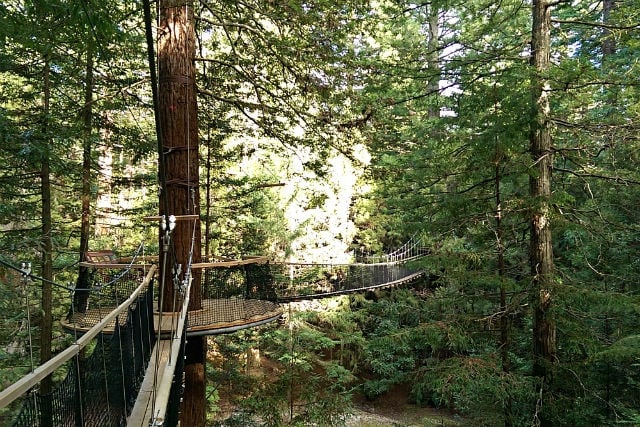 But the concept, architecture, and indeed some of the the materials, for the one in Rotorua does have a German connection. German-born Alex Schmid visited the forest in 2009 with his wife and fell in love with it (incidentally he is now a Rotorua local). Having experienced treewalks overseas he thought the Redwoods Forest would be a perfect setting for Rotorua's own ecological treewalk.

The walk took six years to develop with Schmid raising funding from private investors and seeking approval from local iwi to construct the walk. But the actual setup of stage one only took five weeks with most of the construction work taking place on the ground like a giant puzzle. The bridges and platforms were then lifted into place incorporating 22 sturdy 110 year old Redwood trees. The official public opening was just before Christmas on 19 December 2015.

What makes the walk ecologically friendly is that the bridges are suspended from the trees using a specially made sling which allows the trees room to grow and expand. Existing flora and fauna were also not disturbed in the construction.

The start of the treewalk is right by the Visitor Centre and accessible by climbing a few steps up to the first platform. From there you head off across a bridge that spans the carpark and into the Redwood grove directly adjacent. While it's not really vertigo inducing, the bridges range from just 6 metres to 12 metres in height, some of them are quite bouncy so you need to concentrate on where you're putting your feet.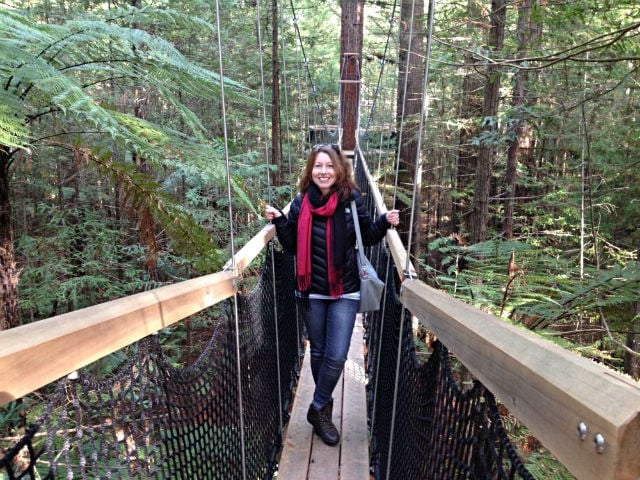 Needless to say we're told by a representative before we go on the walk that running and jumping on the bridges is prohibited. There are also only a maximum of eight people at any one time allowed on the circular platforms that surround the trees. Further rules include: parents aren't allowed to carry babies in front packs or backpacks, you have to be able to walk it unaided and you can't weigh more than 120 kgs.

The initial bridges are actually rather narrow (three planks wide). This is because the trees themselves range in width and some aren't particularly wide, the tallest redwood in the forest is 72 metres and has a diameter of two metres. But the bridges do widen up further in (seven planks wide) and become less bouncy. There is black safety netting hung on the sides so there's no danger of falling through, but there is a slight gap in the netting by the planks so it pays to hang on tightly to your phone or camera!

At each platform there is handy signage displaying facts about the forest and some have seating where you can take a break and soak up the leafy ambience. The entire walk is a loop of around 30 minutes back to the carpark, so it's a good idea to the savour the experience as the tickets for non-locals are $25 for adults and $15 for children. Locals pay a cheaper rate and Gold Card holders get a discount.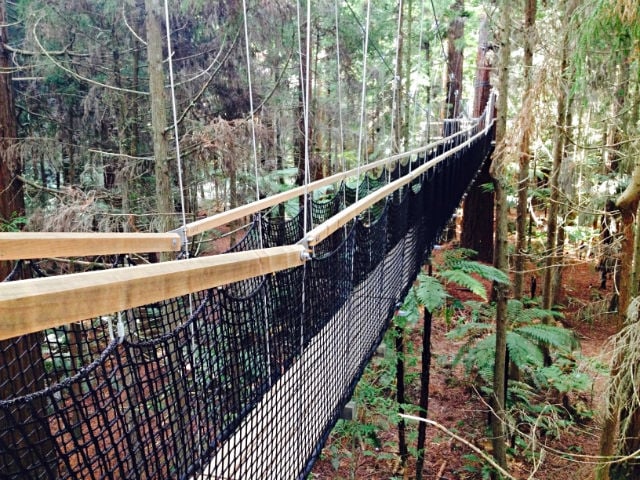 On the day we did the treewalk it was fine but it is actually touted as a good wet weather activity as you're moderately sheltered in the forest. However, if there are high winds or a lightening storm then the company reserves the right to close the walk. If they didn't the treewalk might suddenly become Rotorua's newest attraction for adrenalin junkies!

But it's good to see that the organisers have covered all the bases when it comes to health and safety, and all going well stage two is due to be built later this year. It will be considerably higher at 20 metres plus, so definitely something to keep in mind if heights are your thing.

Angela Pearse was kindly hosted by Redwoods Treewalk.