Top 10 Romantic Things To Do In Rotorua
Hot List Inspiration Top 10
Our Top Experiences and Tours in Rotorua:
If youʻre booking your trip to Rotorua last minute, we have you covered. Below are some of the top tours and experiences!

Rotorua is well known for its geothermal and Maori cultural attractions, but for couples visiting Rotorua, the region does offer a few activities that can add a little romance to a night or day out. While we can't claim they'll dazzle with a magical moment of romance, our list of '10 Romantic Things To Do In Rotorua', can at the very least offer a fun day or, night out.

1. A Hot Soak With A View

Take advantage of the natural hot springs of Rotorua with a soak in a hot pool. We'd recommend a couple of places:
The Polynesian Spa is New Zealand's leading international spa with therapeutic properties from the acidic and alkaline water flowing into 28 pools from two nearby hot mineral springs. For deluxe bathing overlooking Lake Rotorua, there is the Lake Spa which also has a number of massage rooms. Or, for complete privacy go for either a Standard or Deluxe Private Pool. Location - 1000 Hinemoa Street.
Secret Spot offers 12 private hot tubs outside amongst the tree ferns in a secluded spot. There are optional umbrellas over the tub to cover you from the sun or rain with the chance to enjoy a cold craft beer or cider as you soak. To max up the romance, book a tub at night and be surrounded by lanterns amongst the beautifully lit surrounding native bush. Location - Mountain Bike Car Park, Waipa State Mill Road.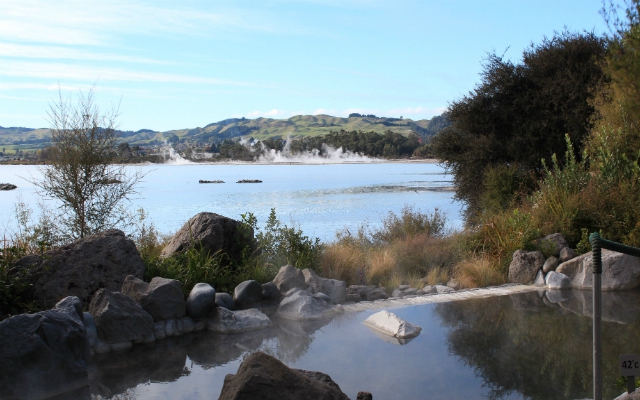 2. Dinner High Above
Only accessible by the Skyline Gondola, enjoy dinner at the
Stratosfare Restaurant and Bar
which is perched high above on the side of Mount Ngongotaha. With sensational views of Lake Rotorua, the restaurant ticks the romantic boxes with classic ambience, sensational views and wine and food to match.
Location - Skyline Gondola, Fairy Springs Road.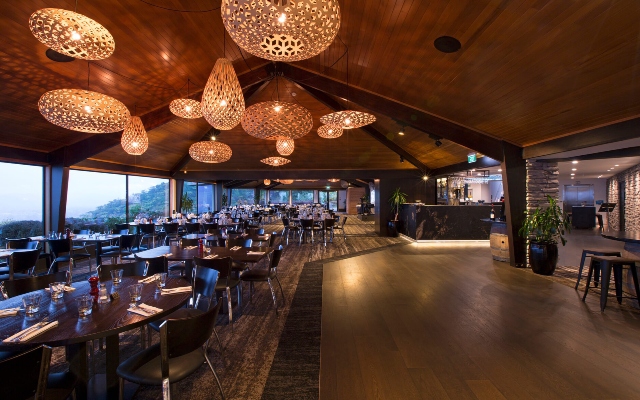 3. Kayaking At Lake Rotoiti
Try your hand at
kayaking
around the shores of Lake Rotoiti before enjoying a lakeside dip in the private Manupirua Hot Pools that can only be reached by water. Nestled into the native bush, your guide will take you around the lake and then a 45 minute paddle across the lake to the secluded pools.
Location - 761a State Highway 33, Okere Falls.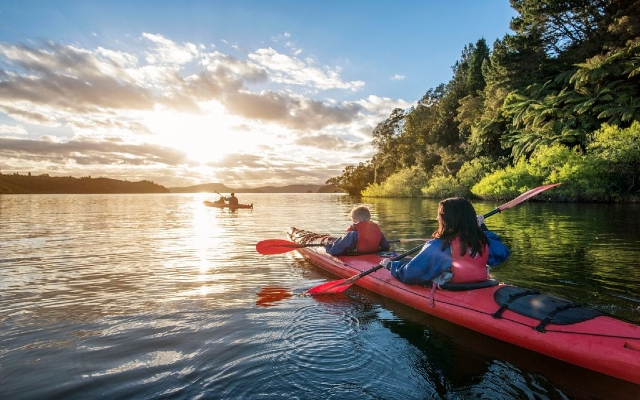 4. A Treewalk At Night
A walk along a 553 metre walkway through towering Redwood trees at night time is a stunning sight to behold. The
Rotorua Treewalk
features a series of 23 suspension bridges link between 22 majestic 115-year-old Redwood trees. Open to about 10.00pm, the 'Redwoods' are lit up by the evening lights by renowned designer, David Trubridge. The changing colours of the forest as you are high above the forest floor creates a memorable experience and is perfect for couples.
Location - Long Mile Road, Whakarewarewa.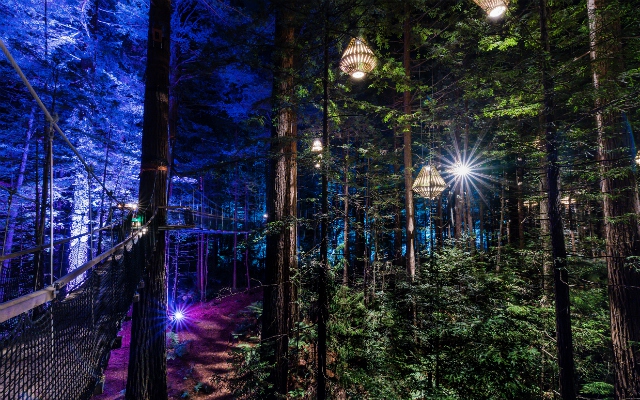 5. Scenic Rail Cruising
Take in a scenic part of Rotorua while '
Rail Cruising
' in your own powered 4-seat, self-drive vehicle. Spaced apart, groups of RailCruisers travel 10 kms together from Mamaku Railway Station to Tarukenga Railway Station before turning back to Mamaku. This relaxing experience travels at a leisurely 20km per hour with audio commentary that offers insight into a unique piece of New Zealand railway history.
Location - Departs from Mamaku Railway Station.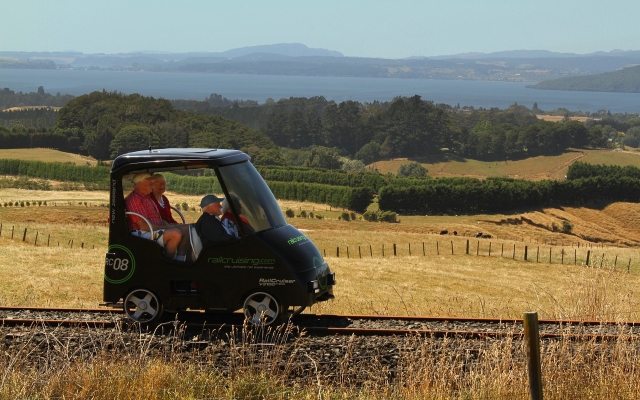 6. Horse Trekking In The Countryside
Suitable for both beginners and experienced riders,
horse trek
through native bush and ride onto green pasture with beautiful views over Lake Rotorua, Lake Tarawera, Lake Okareka and Mount Tarawera. There are usually two treks a day at 10.00am and 1.30pm with a range of treks ranging from 30 minutes up to 2.5 hours.
Location - 51 Acacia Road, Lake Okareka.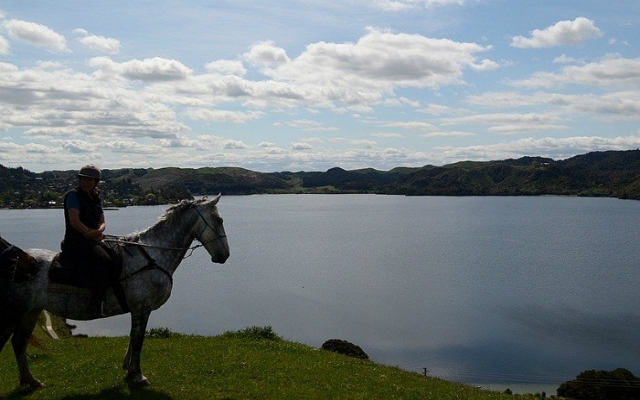 7. Geothermal Valley Lit Up At Night
Book an evening tour of one of the top geothermal and Maori attractions. The Tour at
Te Puia
is a mixture of storytelling, entertainment and Maori cuisine. On this tour you will gain a deeper understanding of Maori traditions with a feast prepared in the traditional Hangi style and enjoy a live Maori cultural performance. After dinner, hop board the motorised waka for a journey through the geothermal valley under lights and see the famous Te Pohutu Geyser.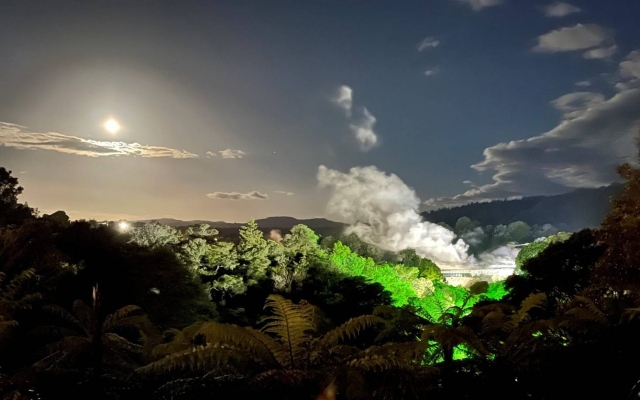 8. Overnight Stay In Tamaki Maori Village
See how the Maori live and take part in authentic rituals before enjoying a traditional Maori feast. Book the overnight stay at
Tamaki Maori Village
, an authentic settlement that allows visitors to experience the fascinating life of the Maori.
Afterwards, gather around a blazing bonfire where you will enjoy MÄori myths and legends, and stories from their history. With an overnight stay you can then relax in one of the private forest spa pools before retiring for the night in a traditional carved wharemoe.
Location - Collection from 1220 Hinemaru Street.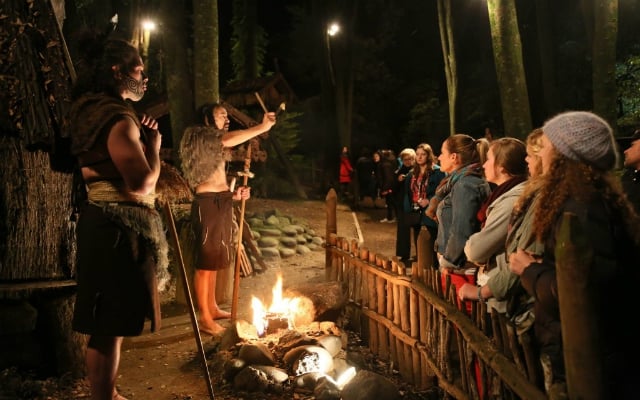 9. Zipline In A Forest
Accompanied by two experienced guidesfrom
Canopy Tours
, traverse by zipline over native bush at Dansey Road Scenic Reserve. The tour takes around three hours and features six ziplines of varying lengths - the shortest zipline is 40 metres and the longest is 220 metres. The platforms at each tree station range from 9 metres to 22 metres, but no need to worry as clipped on at the platforms by a lead so there's no danger of taking a fall!
Location - 147 Fairy Springs Road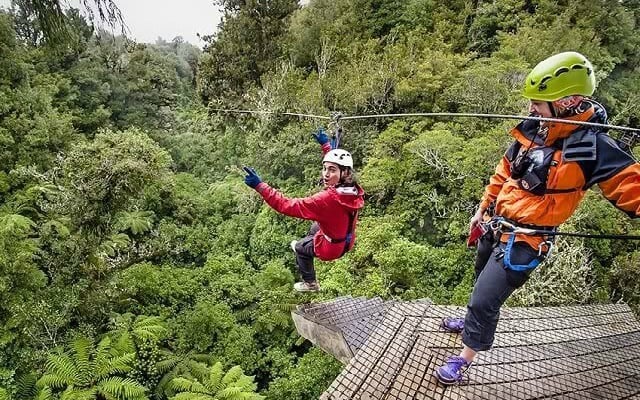 10. A Volcanic Scenic Flight
Combine the thrilling experience of landing on Mount Tarawera with a flight that features spectacular aerial views of stunning crater lakes, the renowned Tarawera Falls and the vibrant colours oif Waimangu and Wai-O-Tapu geothermal reserves.
Volcanic Air
Flights leave from Rotorua Lakefront lasting 1 hour.
Location - Hemo Road.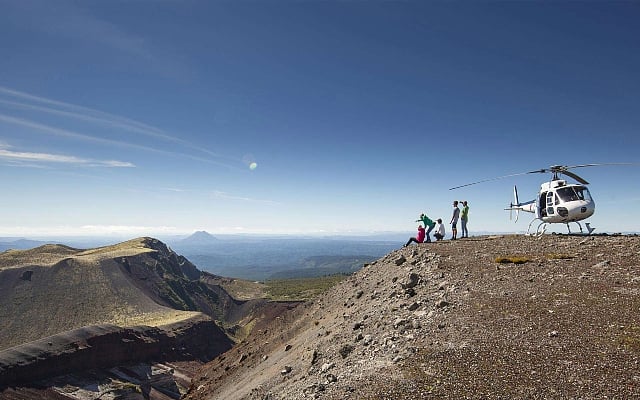 Rotorua Experience Deals:
To enjoy some of the best deals on activities in Rotorua check our
Rotorua Experiences
and save some more money.
Finding The Right Car Rental:
If you're looking to rent a car to explore Rotorua, use our
My Guide Car Comparison
tool to find the best deals on car rentals in Rotorua - Search, Compare, and Save up to 70%!