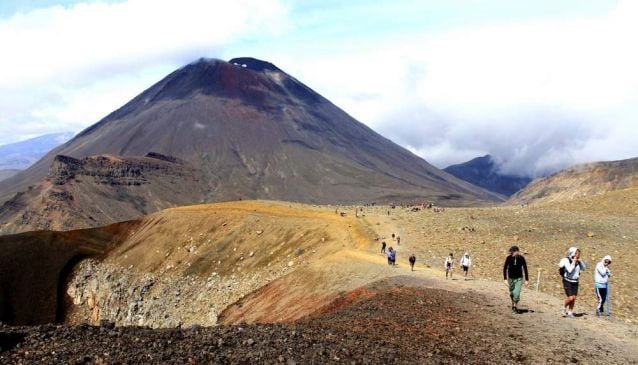 Top 10 Views Of New Zealand's Central North Island
Hot List Inspiration Top 10
Over 220,000 litres of water gush over the cliff face every second
Visitors to the North Island of New Zealand can find some truly breathtaking views. We've shared our photos of our top 10 favourite views that you might just want to add to your itinerary...
The Tongariro Alpine Crossing is New Zealand's most famous and best one day hike. The 19.4 kilometre trek takes between 6-8 hours and passes through a red crater, emerald and blue lakes, and Mt Ngauruho, which doubled up as Mt Doom in the Lord of the Rings film trilogy.
White Island is situated 50 kilometres off Whakatane and is a circular volcanic island rising over 1000 feet. Guided tours depart by boat from Whakatane and allow visitors to explore the active volcano.
Rotorua is famous for its geothermal attractions. One of the most iconic views is of 'Champagne Pool' in the Wai-O-Tapu Geothermal Wonderland attraction. The rich colours of the mineral deposits located on the edges of the pool, combined with continuous rising steam, seem like a view from another world.
Situated in the geothermal valley of Rotorua's Te Puia attraction, Pohutu Geyser is the largest geyser in the southern hemisphere, erupting up to 20 times a day and shooting water upwards of 30 metres.
Huka Falls is the most popular natural attraction in New Zealand. Head to Taupo to see over 220,000 litres of water gush over the cliff face every second. Visitors can marvel at the sight from a foot bridge or, from the water with either a jet boat or by taking a slower paced scenic cruise.
The main beach at Mount Maunganui is (in our opinion and many others) the best beach in New Zealand. The beach is popular with both surfers and holiday visitors. The 'mount' itself is a 45 minute trek to the summit, offering panoramic views of the beautiful coastline and nearby islands.
Rotorua's geothermal activity is the main drawing card for many visitors to the region. So, why not relax and soak in one of the 26 naturally heated hot pools in the Polynesian Spa and enjoy the views of Lake Rotorua.
Lake Taupo is the largest lake in New Zealand. With the mountains of Tongariro National Park in the background, the views are captivating. The lake itself is a popular spot for fishing, sailing and kayaking. Huka Falls (also on this list) is close by.
A part of of Waikato countryside near Matamata, has been transformed into the hobbit village that starred in the Lord of The Rings and Hobbit films. Hobbiton Village provides film fans with the chance to step inside the real-life 'Shire' and marvel at the attention to detail of the film set that played a pivot role in the films.