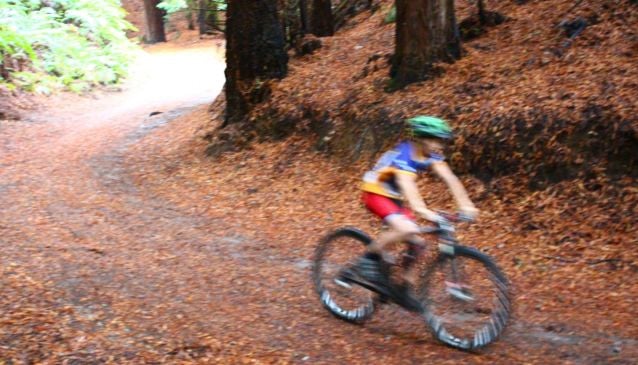 Wild Wheels In Whakarewarewa
Adventure Family Fun
Rotorua and its famous forest always has plenty to offer
It's common knowledge that New Zealand is the ultimate playground for the outdoors enthusiast. The two islands are packed with pulse-raising activities such as skiing, bungy jumping and jet boating; from the beaches to the craggy mountains. One of the most accessible outdoor pursuits to get the adrenaline pumping is mountain biking, a sport that has really taken off in New Zealand. A particular mountain biking hotspot is to be found in the spectacular landscape surrounding Rotorua, a region of hot springs and lush woodland.
Zoom in on the Whakarewarewa Forest, a beautiful plantation just 10 minutes drive south of the city centre. This area was brought to life in 1901, when an ecological experiment led to the planting of several exotic tree species, and the forest now showcases some of the world's most magnificent trees, including the Douglas Fir, Eucalyptus, and the stately Coastal Californian Redwood - one of the oldest and largest tree species in the world. This tree features so prominently in one grove of the forest, it led to the local area being nicknamed 'The Redwoods'.
Whakarewarewa Forest is a hive of outdoor activity; with over 200km of hiking paths, horse riding tracks, and most importantly, mountain bike trails! With 5700 hectares of woodland, the forest has enough room for everyone and you are free to roam as you like. The first mountain bike trails were purpose-built by local biking enthusiast Fred Christensen, so are designed with bikes and their riders in mind. They make up one of the oldest trail systems in the country, and are continually developed as the forest attracts ever more mountain bikers with its charm, ease of access, and impressive landscapes.
Whether you're a seasoned pro or haven't jumped on a bike in years, Rotorua and its famous forest always has plenty to offer. With a vast network of trails snaking through lush ferns and towering trunks, Whakarewarewa Forest is popular with all levels of bikers, gaining recognition as having 'the most fun trails in the world' by numerous mountain biking publications.
If you're at home in the saddle, the forest's 90km of trails can't fail to impress; check out 'The Triangle' - a park with two circuits, a BMX track and a twisted maze of single tracks. These range from easy to death-defying, with names like Gunna Gotta, Be Rude Not To, and The Tickler. None of those tickle your fancy? Try the Grade 5-6 Taniwha Downhill Track, a speed hound's dream and the host of over 10 years of national-level events.
If you're a beginner, there really is no excuse for not heading out there and getting involved. Entry to the forest is free, bikes can be hired in town, and you can easily book a guided tour of the trails if you don't trust your sense of direction or map-reading skills! Trails are also signposted by difficulty so you don't end up with something you can't handle. Families, novices, and those wanting a relaxed day out can start on the gentle Grade 2 trails starting near Waipa car park. Whatever your experience, make the most of the world-renowned trails with a cheap shuttle service that takes you to the top of the forest, where you can freewheel down the slopes all day.
Mountain biking may be big in Rotorua, but there other areas of New Zealand that boast great trails; Queenstown in the South Island is a rival destination, with impressive vistas and a more established biking community. Queenstown also runs an annual festival, which is probably why this February saw Rotorua fight back with the inaugural Rotorua Bike Festival, to promote the area that has fast become one of the world's premier mountain biking destinations.
The festival was a celebration of all things bike, including events such as the National Mountain Bike Championships and the brand new 2W Gravity Enduro, which integrated a more social aspect into what can be a competitively solo sport. The first Rotorua Bike Festival did much to cement the city's influence and standing in the mountain biking sphere, and the event is sure to grow as it gains worldwide coverage.
In terms of setting, Rotorua may actually be considered more exciting than Queenstown as a biking destination. The region is one of the world's biggest hotspots for geothermal activity, easily visible in the proliferation of hot springs, giant geysers, and bubbling mud pools – all set in a backdrop of spectacular volcanic landscapes with picturesque lakes and waterfalls. Of course, the best way to take all this in is by bike, which Rotorua knows all too well; they recently designed a two-day trail as part of the New Zealand Cycle Trail network. The 74km route takes you through Whakarewarewa Forest and is a great way to see the geothermal sights – it's tellingly nicknamed 'pathway of fire'.
With its world-class trails and spectacular, fiery landscapes, Rotorua truly is a mountain biker's mecca. Unusual in its capacity to provide for all ranges of skill and experience, the region offers itself as an excellent destination for an active break or even a holiday; there's plenty of bike-friendly accommodation available around the forest. Whether you come for a day or a week, Rotorua guarantees a mountain biking adventure of epic proportions.