Bay of Plenty Beaches
It's easy to see why Captain James Cook declared this region a bay of plenty in 1769. There are orchards teeming with plenty of juicy kiwi fruit; gardens overflowing with plenty of fresh produce; vineyards lined with plenty of ripening grapes; plenty of sunshine; and most importantly, beaches with plenty of warm white sand. It's always a good idea to be aware of swimming conditions before diving in at any of these beaches. Have a chat to lifeguards, surf patrols and swim between the flags where possible.  
Here's our guide to the best beaches in the Bay of Plenty region.
Mount Maunganui

The sweeping arc on the harbour side of Maunganui's peninsular provides a sheltered swimming bay and the open, ocean-facing side is where it's at for the surf. The Mount has long been a surfing mecca but recently stepped up its game with an artificial reef which has been installed 250m offshore to create perfectly peeling waves.
There is a lively café culture in the town and plenty of ocean-related activities such as big-game fishing, scuba diving and dolphin tours. Located mere minutes' walk from the beach is the dormant volcano Mount Mauao and hiking its steep face is a must for all visitors. It's hard work, especially on a hot day, but totally worth it for the views of deep green-blue Pacific Ocean and vast sweeping golden sands.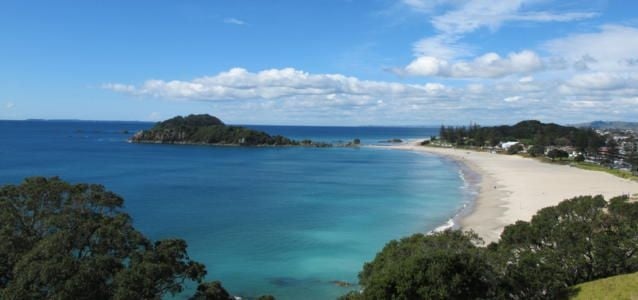 Papamoa
Although the biggest suburb of the city of Tauranga, Papamoa can be a quieter beach alternative than its westerly neighbour, Mount Maunganui . Miles of white sand is backed by the lofty Papamoa Hills and although a strong contender as a surfing beach, Papamoa is visited somewhat less. The beach is a great spot to fish from and even dig for tuatua shellfish. If you're looking for action that doesn't get sand in between your toes, head inland to the Blokart Recreation Park where people can race around a track on electric and wind-powered go-carts.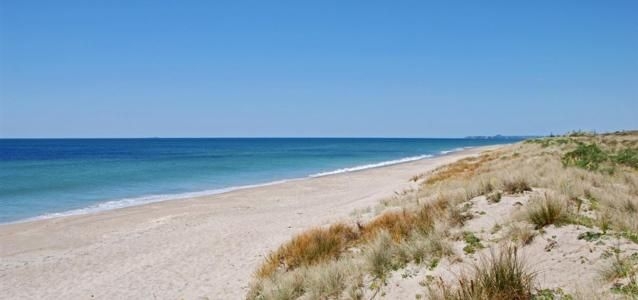 Maketu
Near the mouth of the Kaituna River, the town of Maketu is a significant site in New Zealand's history. A memorial on the foreshore commemorates the beach as the original landing place of the Arawa canoe during early Maori migration from Hawaiki. Fishing, paddle boarding, swimming and watching deep fiery sunsets are a highlight here. Newdicks Beach, also in Maketu, is lined with Pohutukawa trees and is aesthetically different with its boulders and rocky cliff faces. This is a popular surf spot and a great place to dig for mussels.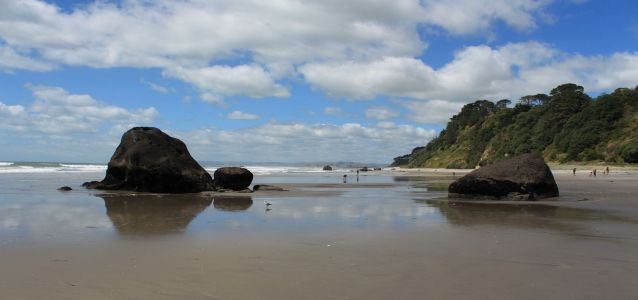 Ohope

11km of uninterrupted white sands, Ohope has the usual beach attractions of surfing, fishing and swimming as well as several unique features such as the sacred Maori site of Tauwhare Pa and stunning views of the active marine volcano, White Island (Whakaari). The coastal Pohutukawa trees bloom crimson red in the summer and add another layer of colour to this beautiful beach. Pilot Whales are sometimes seen from the shore and Common and Bottlenose Dolphins can be seen out on boat tours taken from Whakatane.
Between Ohope Beach and Whakatane is Otarawairere Bay, a sheltered lagoon area with crystal clear rock pools which will delight children.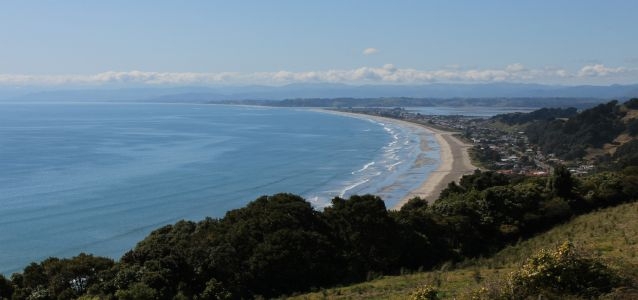 Waihi
Waihi Beach is situated at the western end of the Bay of Plenty, approximately 90 minutes from Rotorua and an hour from Tauranga. The 9 kilometre beach is popular with families with its safe surfing conditions. The beach area boasts fours camping grounds and a number of small sized accommodation options nearby. A few kilometres away lies the town itself with a compact collection of bars, cafes and restaurants.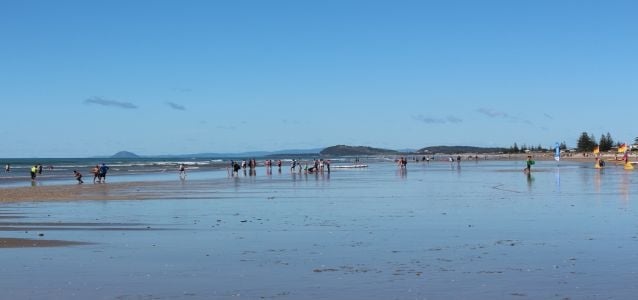 Orokawa Bay

At the northern end of Waihi Beach lies a 45 minute scenic walk to Orokawa Bay, one of the region's best beaches with gorgeous white sand overlooked by pohutukawa trees. The beach is part of the 145 hectares Orokawa Scenic Reserve which offers a number of different short coastal tracks.