Rotorua on a Backpacker Budget
Editorial
There are a host of wonderful ways to enjoy Rotorua without having to pay a penny
Rotorua welcomes thousands of visitors every year in a very special Maori way. Two traditional pouwhenua (carved totem poles) stand guard either side of the Thermal Explorer Highway (SH-5) as you enter this attractive city.

With lakeside walks, ceremonial waka (canoes), spurting geysers and towering redwood trees, there are a host of wonderful ways to enjoy Rotorua without spending a fortune to enjoy.

Where to Sleep in Rotorua on a Budget

Rotorua has a whole district of backpacker hostels, and the healthy competition keeps standards high and prices reasonable. Four Canoes Hostel and Bar on Fenton Street is a geothermally heated hostel with a Maori-influenced interior, and makes a good base close to the town centre.
If you've not found a great deal for accommodation online, head to the beautiful Visitor Centre and i-Site building on the corner of Fenton and Arawa Street. It's worth pausing to take in the beauty of the Tudor-style building and clock tower before stepping inside. You can also get a cheap shower.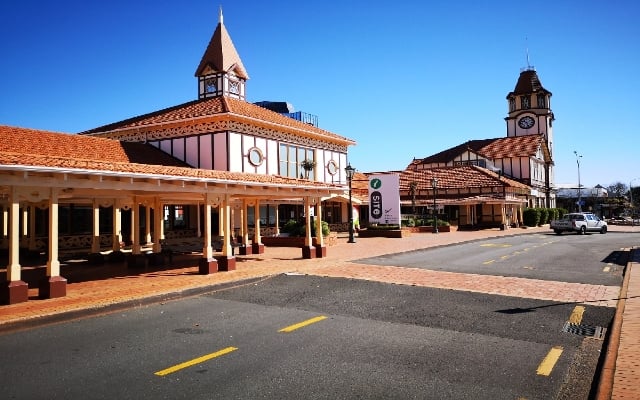 Eat Street

Once your backpack is stowed in your hostel locker, it's time to eat. Situated at the lake-front end of Tutanekai Street, 'Eat Street' is Rotorua's main dining hub. The street is packed full of restaurants and bars with all offering al fresco dining. Nearby there are plenty of takeaways to head to for a cheaper bite to eat.


The Rotorua Walkway
The Rotorua Walkway is a 26km network of boardwalks and footpaths that links local historical sites, points of interest and geothermal attractions. Part of the walkway runs alongside Rotorua Lake, the largest of the 16 lakes in the area, with views of Mokoia Island.
The Motutara section of the walkway passes through Sulphur Bay, a great place to see bubbling mud pools and steaming thermal springs along with local wildlife. Other sections take in historic battlegrounds at Te Arikiroa and the banks of the Puarenga Stream, where 7,000-year-old silicified trees can be seen. The walkway ends at Kuirau Park on the north side of Rotorua.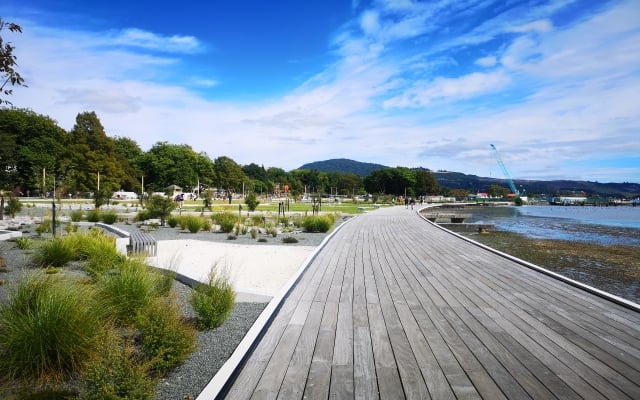 Rotorua City Walk

A great way to see many of the best scenic spots of Rotorua is with a short walk around the city. Embark on a 90 minute loop walk that takes in Sulphur Bay, Lake Rotorua, Ohinemutu Maori Village, Kuirau Park and the Government Gardens. We think it's the best short walk in Rotorua and will now share what you can expect if you have a couple of hours to spare. Read More.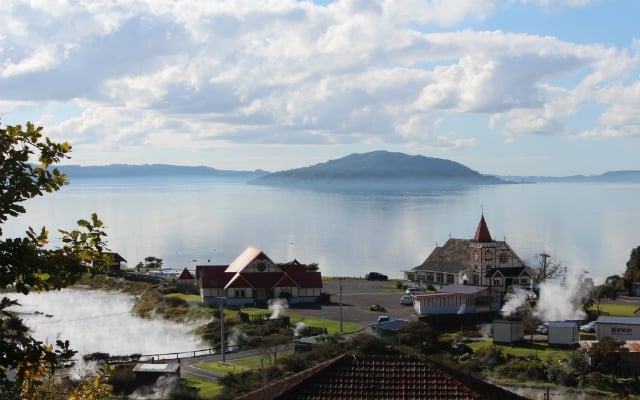 Kuirau Park
Kuirau Park is hard to miss from Ranolf Street as it emits huge amounts of steam. This free park has many active thermal attractions, in fenced areas. There are dozens of steaming vents and bubbling mud pools filled with chocolate-coloured mud and murky water. Stroll along the boardwalk to see the boiling Taokahu Lake with orange sulphur deposits beneath the steaming water.
The lake is fed by a hot bubbling stream and rare plants such as Club Moss and Ring Fern, which only grow on heated soil, can be seen here.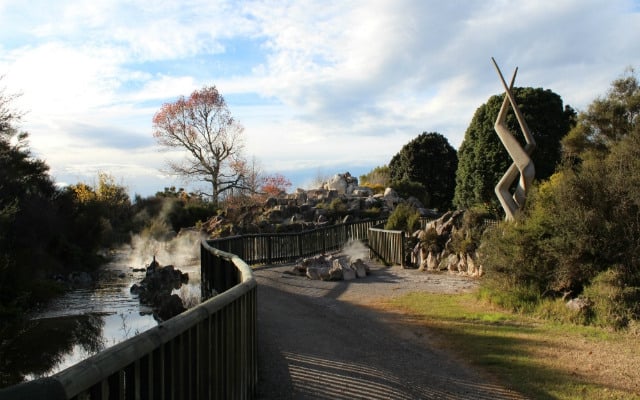 Geysers and Mud Pools
Rotorua is known for its dramatic thermal activity including hot geysers, mud pools and thermal springs. There are plenty of wonderful thermal parks in the area that charge for admission, but you can see many thermal attractions for free.
The world-famous Pohutu Geyser is inside the Te Puia attraction. It frequently erupts 30m high into the air and can easily be seen and photographed from outside the park. Head out from Rotorua along Hwy 30 to the Silver Oaks Geyserland Hotel which overlooks the thermal park and the geyser which is directly behind. If you walk around the public car park at the back of the hotel you can clearly see the geyser spurting upwards and the steam drifting away on the wind.
Rainbow Mountain Scenic Reserve is a geothermal landscape containing rare plant species and a striking coloured terrain. The reserve is 26 kilometres to the south-east of Rotorua and just off State Highway 5. The reserve features a couple of walking tracks to explore the terrain which includes a good viewing platform to take in the steaming coloured lake below.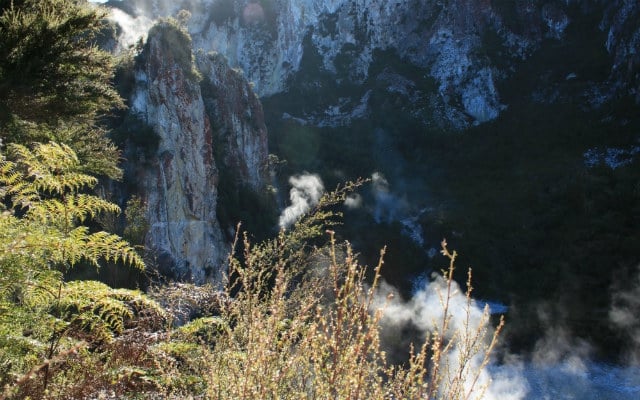 Prince's Arch, Government Gardens and Rachel's Pool
The entrance to the free Government Gardens in Rotorua is marked by an impressive trio of totara-wood arches made to resemble a royal crown. This gateway was erected for the 1901 visit of the Duke of Cornwall, later King George V. The gateway is surrounded by a Maori white carved fence and several beautifully carved pouwhenua.
The botanical gardens are worth a stroll with a lily pond, various monuments and a rose garden. Peer into Rachel Pool with its clear blue waters boiling at a constant 212°F in the steaming crater.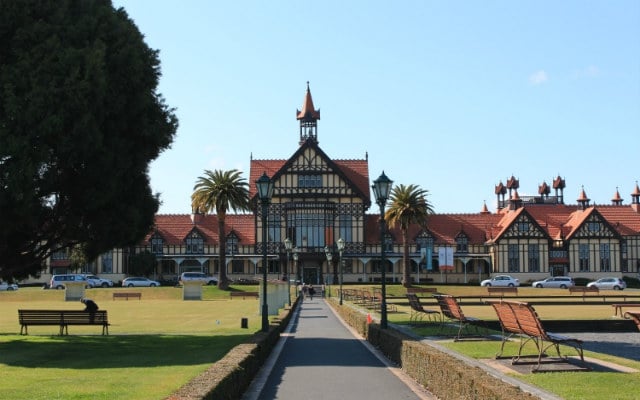 St Faith's Church and the Maori War Memorial at Ohinemutu

The walk along Memorial Drive from Government Gardens leads past the Te Arawa Waka Taua, a 20-metre ceremonial canoe beneath a decorative shelter. It is covered in decorative Maori carvings and paua shells.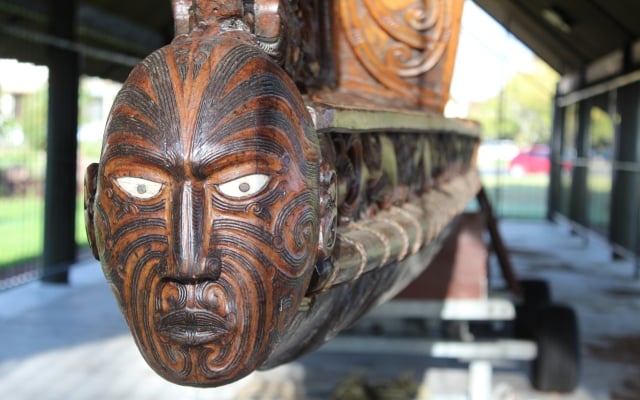 Further along is the stunning St Faith's Church, another Tudor-style red-and-cream building externally, but traditionally Maori within. Highlights are the Maori decorations, carved pews inset with paua shells and the etched glass window of Christ seemingly walking on the lake. Admire the ornate Maori carvings and decorations on the nearby Marae (Meeting house), explore the white tombs of the Maori Cemetery and War Memorial and see more hot springs feeding into the lake.

Whakarewarewa Forest Walks

Around three kilometres from the city centre, Whakarewarewa Forest is absolute must free attraction. With over 170 species of trees, the dominant feature is the mighty Californian Redwoods that provide an impressive sight to walkers and joggers who flock here. The 288 hectare forest offer wonderful views of Lake Rotorua and Rotorua City.

Walking tracks vary from two kilometres to a more challenging 34 kilometre tramp around the Blue and Green Lakes. Most tracks start from the Redwoods Gift Shop & Visitor Centre which offers information and maps on the area. Read our Redwoods Walks article on a couple of easy short walks in the Redwoods that can be done is less than 90 minutes, so perfect for visitors short on time or who don't like long walks.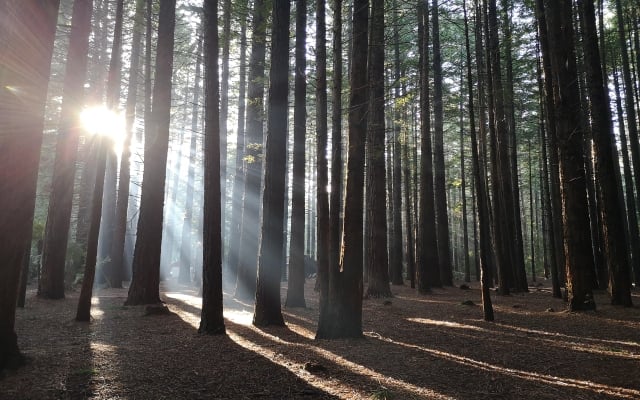 Explore Rotorua Lakes

Rotorua city is surrounded by beautiful lakes - 16 in all. Most of the lakes are open all year round, and if fishing is your thing, then you'll be spoiled for choice. Each lake has its own unique personality, so it's worth hiring a car and doing a tour so you can discover your perfect picnic spot. Many of the lakes also cater for water sports and some have cafes and camping spots. You can discover all the lakes to visit in our 'Rotorua Lakes Guide'.

We'd recommend the drive along Tarawera Road on the outskirts of the city, where you'll pass the Redwoods Forest and 3 gorgeous lakes all close to each other - The Blue and Green Lakes and Lake Tarawera.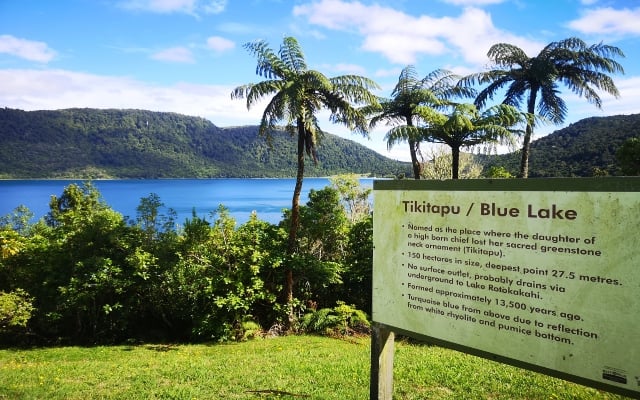 Free Hot Spring Pool

Kerosene Creek is a hot spring that flows through the natural bush of Rotorua, approximately thirty kilometres from the city centre.
The natural hot springs features a two metre waterfall that flows into a tranquil hot pool. It's the perfect retreat for those who want to enjoy the thermal delights of nature and of course there is no entry fee to pay! There's even a few excavated mini pools that bathers have created over the years from the smooth rock to enjoy. More info.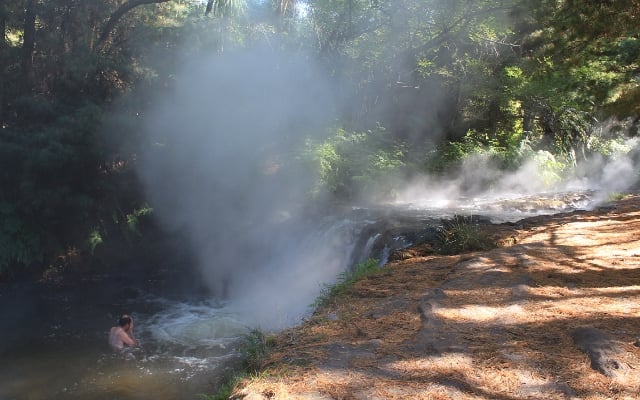 Rotorua Car Hire:

If you need to hire a hire try our My Guide Car Rental Comparison tool. Search, compare and save up to 70%.

Rotorua Experience Deals:

To enjoy some of the best deals on activities in Rotorua check our Rotorua Experiences and save some more money.