Best Activities In Rotorua For Kids
Family Fun Hot List
Rotorua has a great range of things to do with kids, so you can either mix and match your activities or theme your days for organised fun
Located in the Central North Island, Rotorua is famed for its geothermal activity and its Maori culture. With plenty of attractions within easy distance of the centre, Rotorua is a great choice for a family holiday, even if you only have a few days to spend.

A car is a bonus if you want to make the most of your stay, although public buses do run past some of the more popular attractions.

Rotorua has a great range of things to do with kids, so you can either mix and match your activities or theme your days for organised fun. Here's our pick of Rotorua activities for children in the area.

Geothermal activity and Maori culture:

Rotorua is synonymous with Maori and with geothermal activity - you can smell the sulphur as soon as you hit the city. There are several geothermal attractions to choose from and your choice may vary depending on what you want to see and whether you want to experience a hot pool or mud pool for yourself.

Two of the best and most popular attractions are Te Puia and Whakarewarewa - The Living Maori Village. Located next door to each other just a short distance from the city centre, these two showcase the best of Maori heritage including traditional arts and craft demonstrations and regular cultural shows as well as spectacular geothermal activity.

Both attractions give you an outstanding view of the Pohutu geyser which erupts once or twice an hour (look out for the build of steam that usually signals the next eruption) and shoots water up to 30 metres into the air. If you haven't got up close with New Zealand's iconic Kiwi you can also pop into Te Puia's Kiwi House where you might catch a glimpse of this nocturnal bird.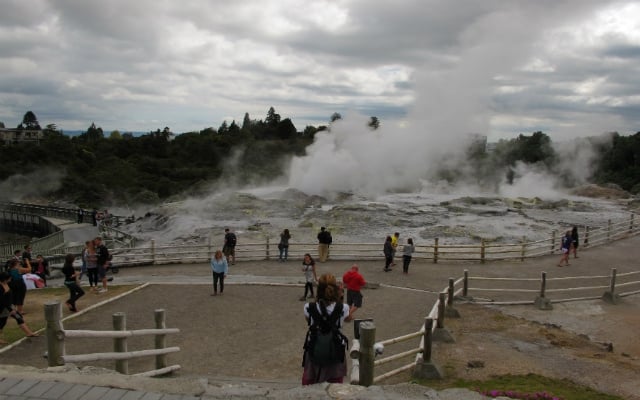 If you have time, Wai-O-Tapu, around 20 minutes drive out of Rotorua, is well worth a visit for its amazing coloured water - the colour is due to the different minerals contained in the water. Just along the road you can also see great bubbling mud pools for free.

If you want to get a look at geothermal activity but don't have the time or the budget for one of the reserves, head to the public Kuirau Park about ten minutes walk from the centre, where you can see natural steam vents and bubbling hot water.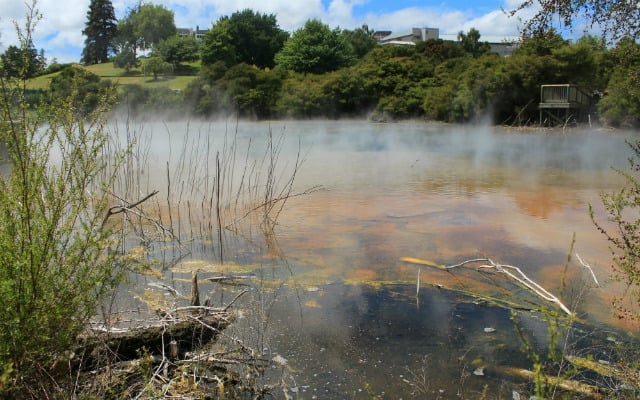 For a historical look at how the underground activity shaped Rotorua, take a trip to The Buried Village of Te Wairoa, around 15 minutes drive from the centre of town. This village was a staging post for the famous Pink and White Terraces but was buried under mounds of mud when Mt Tarawera erupted in 1886. Parts of the village were subsequently excavated and a trail follows the site of the main structures. A small museum explains more about the event and its consequences.

Animals and nature:

Only New Zealand could create a tourist attraction out of sheep, and at the Agrodome, they have turned the sheep show into an art form. Family members of all ages will love the fast-paced stage show complete with sheep shearing and performing sheep dogs, and no one will be able to resist a visit to the lambs in the nursery.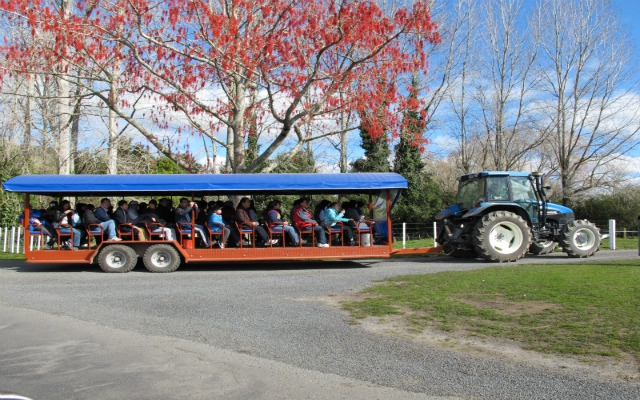 Over at Paradise Valley Springs you can find more native New Zealand animals including Kune Kune pigs as well as more exotic animals including a pride of African lions. The pride was started by two retired circus lions and has been a successful breeding ground for the species. Lions are fed every afternoon giving visitors a close up view.

A bit of adventure:

Rotorua is a great place for family adventures with lots of attractions that have just the right amount of excitement without being too difficult for younger members.

The Skyline Gondola and Luge is a must-do while you are in Rotorua. Take the gentle way up in the cable car and the exciting way down on the luge track - the longest in the world. In between, enjoy the walking or biking trails, have lunch with a view at the cafe or challenge yourself on the zipline. If you have budding astronomers in your midst, you can also head up the slopes after dark to enjoy a stargazing experience.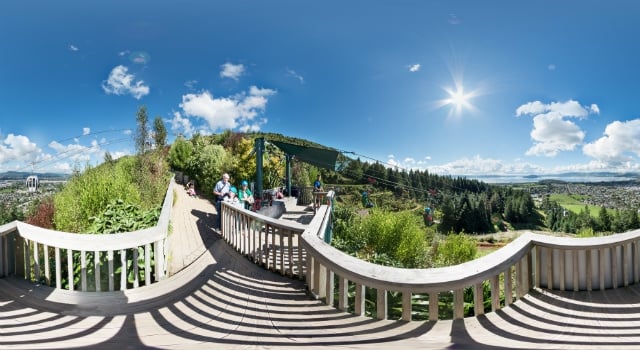 A little way out of town, is the Redwoods Forest, which is a great place to escape to if you need a bit of peace. But it is also a place for adventure with a walk among the treetops. Between six and 12-metres above the ground, this walkway links the gaps between the majestic Redwood trees for a stunning walk through the canopy.

Indoor Activities:

A good option when it rains, is to head indoors to the multi-activity 'Motion Entertainment' situated just outside of the town centre at 346 Te Ngae Roa. It's the country's largest indoor entertainment centre and has plenty of activities to keep the kids occupied. Attractions include Chipmunks Playland, Xtreme Air Indoor Tramp Park, Dark Ride XD, Escape Masters, Lumberjax Mini Golf, Megazone Laser Tag, Strike Zone Tenpin Bowling and Timezone arcade.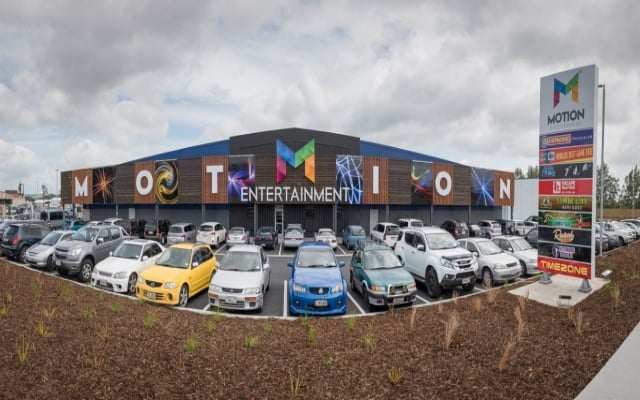 Sleeping and eating:

There is a range of family accommodation options in Rotorua - something to suit every budget. Most of the hotels and motels are concentrated around Fenton Street, a long street running down towards the lakefront, but there are some dotted around other spots and several holiday parks and campsites as well.

When you are looking for somewhere for dinner, the famous covered Eat Street is the obvious first choice. Don't forget about the surrounding streets though as there are a number of other options including safe family options like Lonestar, with its popular adult and children's menu, big screen sports and colouring sheets for the kids.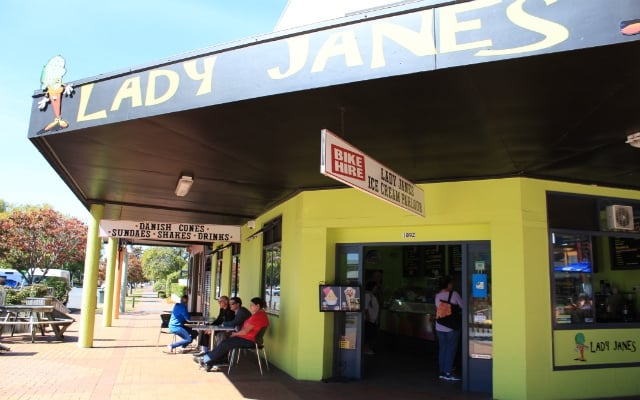 For an afternoon treat, you can't go past Lady Jane's Ice Cream Shop in Tutanekai Sreet. This iconic place has been serving ice cream in Rotorua for more than 30 years and features around 40 flavours at any time.

If you are in town on a Thursday night be sure to check out the night market along Tutanekai Street. This collection of stalls pops up every week serving food from around the world and sweet treats to eat there or take home. A selection of craft stalls and live music completes the scene.