Top 5 Day Trips From Rotorua
Hot List Inspiration
The best places and attractions to visit in a day near to Rotorua
Rotorua
has more than enough natural attractions, cultural sights and adventure activities to keep any visitor busy for a few days. However, the city is also a great base to explore some of New Zealand's most famous attractions and places nearby.
Our 'Rotorua Day Trip Guide' features our top 5 places to vist that can be done easily in a day. All the places on our list are no more than an hour's drive away...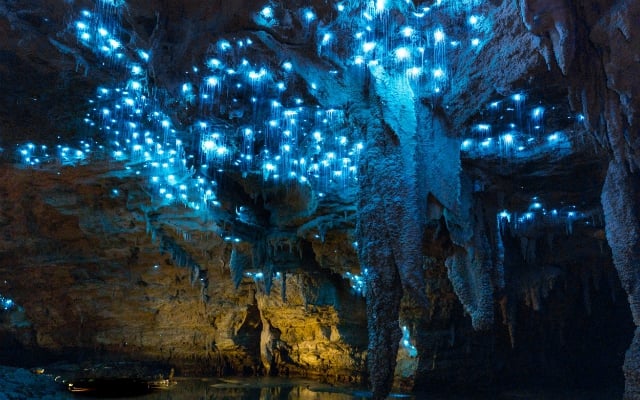 1. Waitomo Caves
A two hour drive from Rotorua to one of the most popular natural attractions in New Zealand, makes Waitomo Caves an ideal day trip from Rotorua. First discovered in 1187, Waitomo Caves were formed from limestone more than 30 million years ago.
The caves are situated in the small township of Waitomo, with guided tours enabling visitors to explore subterranean caverns and hear all about stalagmites, stalactites and other spectacular rock formations. The most photographed part of the tour is the boat ride that takes you through the Glowworm Grotto where thousands of glowworms twinkle like tiny stars on the dark canvas. At the end of the tour there is a visitor complex which includes a restaurant.
If you like a bit more adventure, you can book a 'black water rafting' trip with the 'Legendary Blackwater Rafting Company'. Float along an underground river and leap off subterranean waterfalls within Ruakuri Cave. Or, choose to abseil and zipline into the seemingly bottomless depths of the Cave.
If you're not driving,
day tours
will either focus on a return trip to the Waitomo Glowworm Caves or, combine with a visit to a couple of Rotorua's attractions.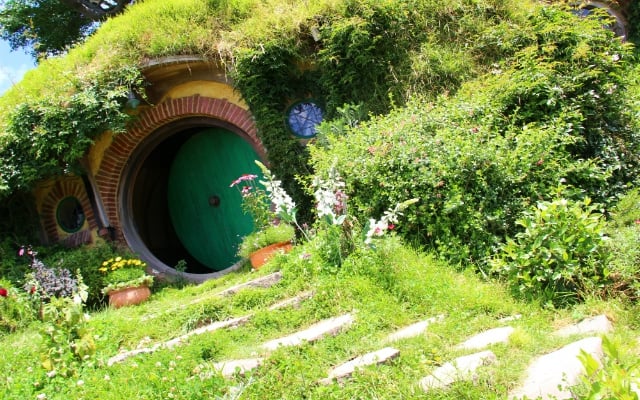 2. Hobbiton
Tucked away in the Waikato countryside, Hobbiton is the famous movie set attraction that attracts fans of the Lord of The Rings and Hobbit film trilogy's from all over the world. At less than an hour's drive away, it's also a handy spot to visit from Rotorua.
The actual movie set is located about 5 minutes' drive outside of Matamata. A visit to Hobbiton includes a guided tour of the 12 acre site where fans will recognise the submerged Hobbit Houses line the hillside and enjoy the stroll along rambling paths. Discover fascinating details about the set and all its intricate detail and hear how movie magic was made with the Lord of The Rings and Hobbit films. At the end of the tour you can also enjoy a complimentary drink at the 'Green Inn'.
A convenient and easy way is to book a '
day trip guided tour
' from Rotorua so you can let someone else do the driving. The tours will pick-up and drop-off at selected hotels.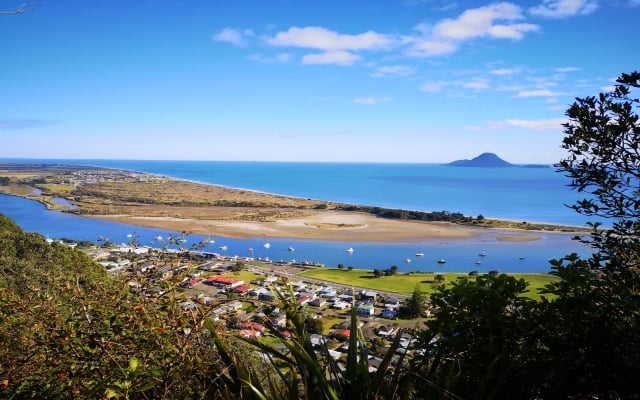 3. Whakatane
A town rich in Maori heritage and history,
Whakatane
lies around 85m north-east of Rotorua. The first settlements here date from about the 13th century, and around 40% of the Whakatane population claim Maori ancestry.
The town is the gateway to the volcanic White Island (Whakaari). Walkers should not miss the Nga Tapuwae O Toi coastal and bush track, which includes historic 'pa' (maori village) sites, as well as native bushland, amazing coastal views and secluded beaches. It's quite hilly, though, but the photo opportunities offered are well worth the hike.
Adventurers will love kayaking down the Whakatane River which also features a lovely riverside walk and there are also some spectacular mountain bike tracks. For the best views of the area, head to the Toi's Pa Lookout which is just a few minutes drive from the town centre. Just a few minutes drive away is Ohope which is often voted New Zealand's best beach.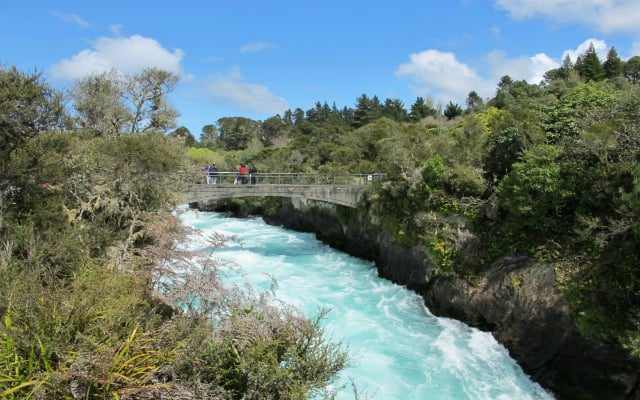 4. Taupo
Taupo
is a popular lakeside resort with a stunning view of Lake Taupo framed buy the mountains of Tongariro National Park. Scenic cruises are a popular activity to explore the lake and see the famous Maori Carvings. Sailing, kayaking and excellent trout fishing all add to the lake's attraction.
On the outskirts of the town is
Huka Falls
, the most popular natural attraction in New Zealand. The crystal blue water and a roaring waterfall that spews nearly a quarter of a million gallons of water a second, over the clifftop are reasons for its popularity.
Adventure seekers can experience sky diving, bungy and jet Boating. For a more relaxing time,
Taupo Museum
, Wairakei Terraces Hot Pools and Spa, and
Wairakei Golf Course
are all good options. The town has plenty of decent cafes and restaurants to retreat for lunch and dinner.
See our
Top 10 things To Do In Taupo
list for more inspiration.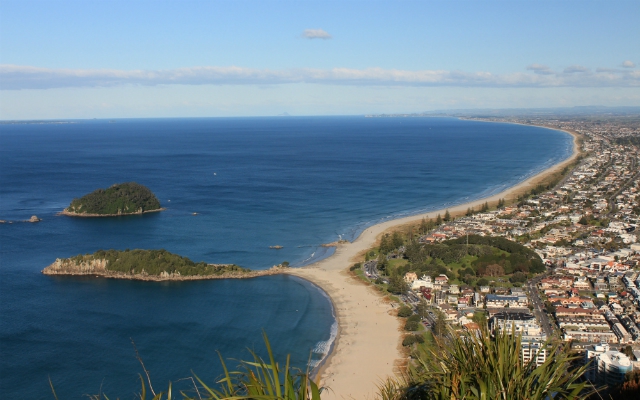 5. Mount Maunganui
Mount Maunganui
is the premier surf and beach resort in New Zealand. Sitting on a peninsula with a pristine beach and beautiful harbour, it's the ideal place to visit for 'a day at the beach'. It's a laid back place, dominated by the sacred mountain itself (known locally as "Mauao"), and a hike up to the top is essential for every visitor. It's an easy walk, and you'll be rewarded with stunning views from the top.
The beach is a magnet for surfers and sunbathers, while on the western side of the peninsula is Pilot Quay. Here, you'll be able to spot yachts and small boats and, in summer, you may catch sight of a cruise ship visiting.
A scenic boat tour is a chance to spend some time on the water learning about the area and soaking up the scenery. The compact high street is packed full of cafes, restaurants and quality clothing and gift shops to keep shoppers happy.
Car Hire:
If you need to hire a hire try our
My Guide Car Rental Comparison
tool. Search, compare and save up to 70%.