Top 5 Geothermal Attractions In Rotorua
Adventure Hot List
Highlights include the steaming surface of Frying Pan Lake - the largest hot spring on the planet
The top 5 geothermal attractions in Rotorua
Boiling pools, smoking calderas and seething mud pits converge on the Rotorua region in a medley of sulphuric wonders like nowhere else in New Zealand. With that in mind, it's hardly surprising that the area now attracts just shy of three million visitors annually, all eager to gawp at its wealth of metamorphic sights; those spurting geysers; those piping hot mud pits; roaring cataracts and record-breaking silica terraces.
If you fancy a jaunt through this mystical, otherworldly landscape this year, then be sure to check out this list of the top five geothermal attractions peppering the region!
1. Waimangu Volcanic Valley
Formed from the cataclysmic eruption of Mount Tarawera back in 1886, Waimangu Volcanic Valley now boils and steams with various geysers and vents, which issue sulphuric miasmas into the air and nurture one of the most weird and wonderful ecosystems in the nation.
The valley has a number of hiking trails that navigate their way past the pools, one of which ascends right the way up to the summit of Mount Haszard to offer sweeping panoramas of the Rotorua region. Highlights include the steaming surface of Frying Pan Lake - the largest hot spring on the planet and the acidic blue waters of the Inferno Crater. Visitors have the option to finish with a relaxing boat cruise exploring the geothermal system on Lake Rotomahana.
Waimangu Volcanic Valley is located just 20 minutes from Rotorua town centre and self-guided tickets start at $36.00 for adults and $12.00 for children (6-16 years). The attraction includes a cafe and gift shop for your geothermal cosmetics on the way out! There are also three guided tours which include transport to and from Rotorua.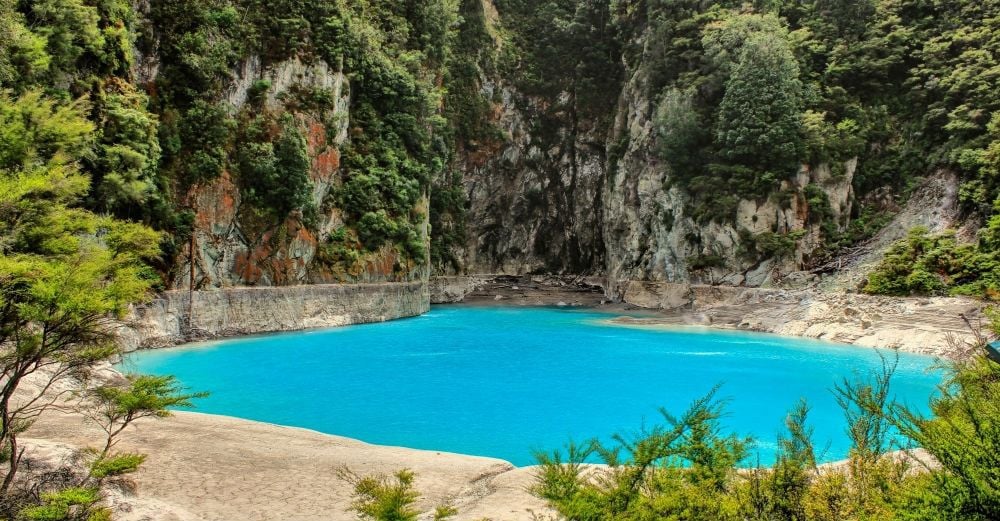 2. Orakei Korako
Famed for its chalky-white terraces of silica-covered rock, the Orakei Korako geyser field has long been revered as a spiritual and holy place by the indigenous Maori of New Zealand's North Island, whose women once used the deep-cut Ruatapu Cave here for mystical childbirth and marriage rituals.
Today, tour groups glide across the waters of Lake Ohakuri to explore this miraculous land of aquamarine pools and multi-hued rocks, wondering at the curious geology of spots like the Artist's Palette and the kaleidoscopic Rainbow Terrace, with its chromatography of coloured cyanobacteria. There are also oodles of spurting geysers and springs to see, including the so-called Soda Fountain, which spontaneously started erupting again back in 1984!
Orakei Korako is situated just under one hour from Rotorua and 30 minutes from Taupo. Tickets start at $36 for adults and $15 for children (under 16).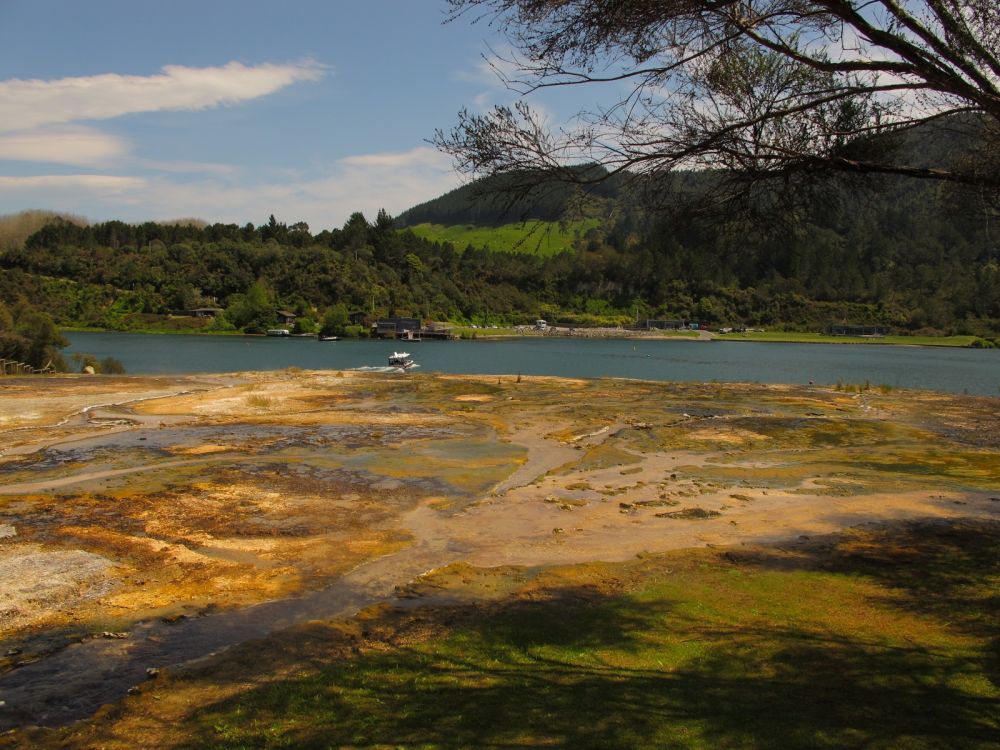 3. Te Puia
Without question the most accessible geothermal attraction on offer to travellers based out of Rotorua city, the Te Puia centre is one part volcanic wonderland, one part immersive journey into the curious culture of the Maori tribespeople.
Covering more than 60 hectares of land on the edge of the Arikikapakapa Reserve, the site is home to the colossal Pohutu Geyser (the largest active geyser in the entire Southern Hemisphere!) and the iconic Prince of Wales Feathers, named for its visual resemblance to the emblem of the British royals. Don't leave without exploring the adjoining Maori Arts & Crafts centre, where wood carving classes and weaving workshops offer an insight into the native traditions of this volcanic land.
30 minutes walking or 10 minutes driving gets visitors to the Te Puia site from the centre of Rotorua, and day passes start at $49.90 for adults and $25.00 for children.
4. Hell's Gate
A sprawling patchwork of bubbling quagmires and splattering mud pits awaits visitors to the Hells Gate attraction just to the north-east of Rotorua town. The self-proclaimed beast of all geothermal parks, the site certainly has plenty of wonders to go around; from the brooding Sodom and Gomorrah crater, to the Inferno Pools - boiling and steaming at more than 100 degrees centigrade.
Visitors are invited to weave their way through the metamorphic hotspots here on two flat boardwalks, enjoying oodles of viewing spots as they make their way towards the Cooking Pools, where Maori tribesmen would once boil food in the water - and the dramatic Kakahi Falls, the largest of their kind in the entire Southern Hemisphere. Then, the adjoining Mud Bath Spa awaits, with oodles of mineral-rich sulphur pools and detoxifying clays to submerge in.
The Hells Gate Park sits just under 20 minutes drive from Rotorua. Entry starts at $35.00 for adults and $17.50 for children, while combo tickets for access to the mud spa start at $90.00 for adults and $45 for children.
5. Wai-O-Tapu
A kaleidoscopic array of colourful pools and prismatic water spots pepper the 18 square kilometres of land that makes up the Wai-O-Tapu Thermal Wonderland just south of Rotorua. Visitors can come and wander the marked tracks and boardwalks while spying out sights like the rust-fringed Champagne Pool, the vibrant Artist's Palette and the shimmering Primrose Terrace.
The undisputed piece de resistance here though is unquestionably the spouting Lady Knox Geyser, which is made to erupt each morning in a 20-metre-high display of fuming spray and boiling water.
Wai-O-Tapu is just under half-an-hour's drive from Rotorua town centre, and tickets cost $32.50 for adults and $11.00 for children. On-site, there's also a collection of picnic areas, a great gift shop and the appropriately named Geyser Cafe.
Free Geothermal sites in Rotorua
If you'ree looking to get lost in the sulphuric landscapes of Rotorua but don't have room to splash the cash, don't worry, because there are oodles of interesting sites to enjoy for free!
Check out Kerosene Creek just to the south of town with its steaming, two-metre-high cataract that's peppered with hot springs and bathing pools to boot. Then there are the fascinating sites of Sulphur Bay, with their curious arrays of wildlife and geological formations living in symbiosis with the volcanic land. Or, Kuirau Park closer to the centre of Rotorua, where naturally heated bathing pools rub shoulders with pretty ornamental gardens.