Wine Tasting In Rotorua
Food & Drink Inspiration
How to sample New Zealand wines in a unique setting
Wine tasting isn't an obvious activity you consider when thinking of what to do in Rotorua. As the self-styled adventure capital of New Zealand's North Island, zip lining, rafting, biking are all a more obvious choice. And let's not forget why most people visit, to explore the incredible geothermal attractions and Maori culture that made the region famous.

But back to the wine. New Zealand is a country that's brought us the award-winning Pinot Noirs of the Central Otago region on the South Island and the Sauvignon Blancs of the Marlborough and Hawke's Bay wine growing regions. Now, Rotorua is not a renowned wine growing region. The geothermal landscape has ruled that out.

However, there is one Rotorua winery that features a unique tasting room for visitors and wine enthusiasts. Step forward, Volcanic Hills Winery.

Established in 2009, Volcanic Hills doesn't actually grow the grapes in Rotorua. They choose where their grapes are grown and take advantage of the most favourable growing areas in the country, rather than focus on just one specific region. They then transport their grapes to their Rotorua Winery at the foot of the Skyline Gondola and turn them into delicious wine.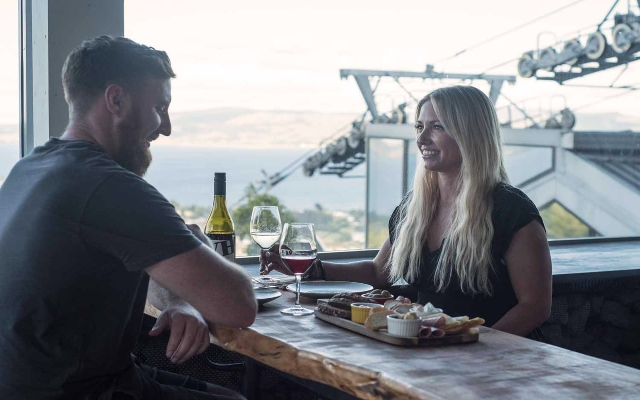 The Tasting Room opened in 2012 at the top of the Skyline Gondola to showcase the wines to domestic and international visitors who flock here each year. Perched high above the city, eye-catching views of Lake Rotorua adds to the wine tasting experience. Visitors can enjoy sampling the delights of Volcanic Hills' selection of Pinot Noir, Chardonnay, Pinot Gris, Sauvignon Blanc and Rose. A small choice of platters can also be purchased with your wine.

Getting There:

Wine Tasting packages can be purchased with a Gondola Ticket at the Gondola station at 178 Fairy Springs Road.

Opening Hours:

The hours vary but wine tasting sessions are typically held on Friday, Saturday and Sunday.

Photo Credits: Volcanic Hills Winery