The Best Scenic Drives Around Rotorua
Adventure Inspiration
The drive is fairly flat, making it easy to get some great views of Mount Tongariro
Our Top Experiences and Tours in Rotorua:
If youʻre booking your trip to Rotorua last minute, we have you covered. Below are some of the top tours and experiences!

Rotorua is a popular destination for tourists, and makes a great base for exploring the diverse sights of the Bay of Plenty and central North Island. There are some stunning scenic drives through mountains, orchards, farmland and forest, taking in lakes, geothermal attractions, state parks and delightful small towns. Varying in length, and enjoyable in all seasons, here are four of the best scenic drives around Rotorua.

Mount Ruapehu and Tongariro National Park

You need to allow a full day to appreciate all the sights as you journey southwest from Rotorua to the incredible volcanoes of Tongariro National Park. This scenic drive follows SH-5 from Rotorua to Taupo, then follows Lake Taupo's pretty eastern shoreline on SH-1 with views of Motutaiko Island.

At Turangi, turn right on Hwy 47 which skirts around the dramatic western side of the three snow-capped volcanoes that make up Tongariro National Park. It's more scenic than continuing down the uninhabited Desert Highway (SH-1), although you might want to experience that on another day. The drive is fairly flat, making it easy to get some great views of Mount Tongariro (1968m) which is still steaming after a recent eruption in late 2013.

Before long the popular ski area of Mount Ngauruhoe comes into view at 2287m elevation. Drive another 10km, drinking in the stunning landscape of this World Heritage Park, before Mount Ruapehu can be seen, the highest peak of all at 2797m high.

Take the signposted left turn along SH-48 which offers great views of the historic Chateau Tongariro Hotel with a backdrop of the snow-covered flanks of Mount Ruapeho. As well as the ski and toboggan area, there's a golf course, walks to Tawhai Falls (of Lord of the Rings fame) and a trail to the awesome Taranaki Falls.

There are several cafes near the hotel, but for the ultimate treat, book 'High Tea' in the lounge bar of the hotel, which has stunning mountain views.

Total distance each way 178km. Allow at least 2 hours driving time.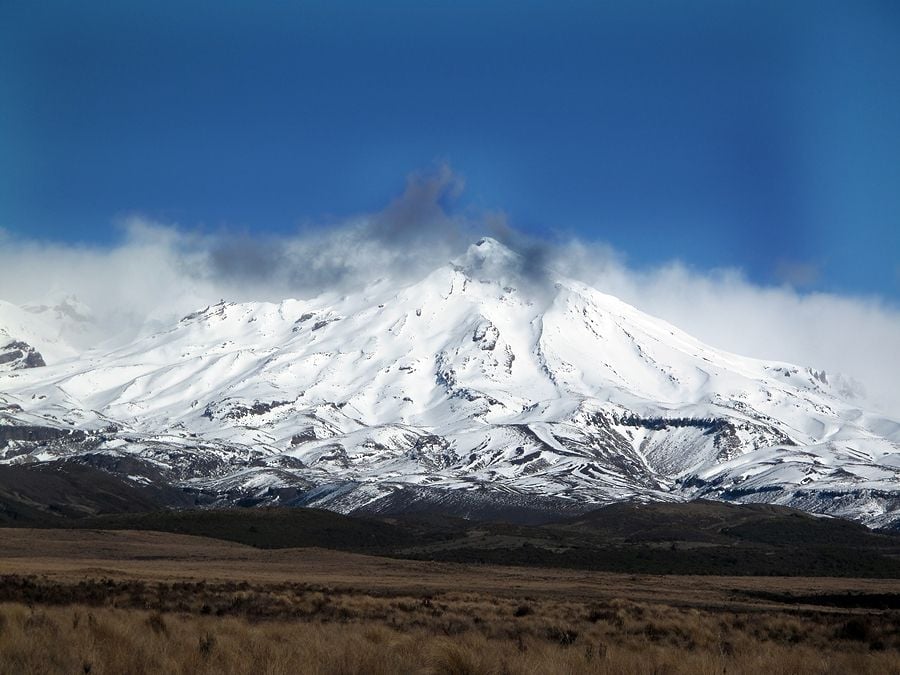 Taupo and The Hidden Valley
Heading south from Rotorua on SH-5, the scenery is mainly hilly farmland with plenty of sheep, cows and some forested areas. After 25km, just south off the junction with SH-38, turn left into Rainbow Mountain Scenic Reserve. It offers a variety of hikes and cycle rides and the short 500m walk to the surreal aqua coloured Crater Lake is well worth the effort. The real highlight is Maungakakaramea (Rainbow Mountain) across the water, which has extraordinary dark red ochre rocks and several steam vents, along with many ferns, native plants and birds.
For an even more spectacular geothermal attraction, your next stop should be Orakei Korako (HiddenValley). After driving south on SH-5 another 17km, turn right onto Tutukau Road and then right onto Orakeikorako Road to reach this surreal thermal park. Expect to see spectacular geysers, hot springs, bubbling mud pools, extraordinary white and yellow silica terraces and the unique geothermal Ruatapu Cave. What makes this attraction extra special is that you can only reach it by boat.
Rejoining SH-5 after your Orakei Korako experience, just after Wairakei look for signs to Huka Falls. This free attraction is where the 100-metre wide Waikato River suddenly plunges down a narrow gorge in a torrent of swirling white water ending in a short waterfall. Back on the road, Taupo is just 6km away with modern shops, plenty of restaurants and a choice of boat trips on the lake.
Total distance each way 110km. Allow at least 90 minutes driving time.
Maori History Around Lake Rotorua
Starting from the War Memorial near the historic Bathhouse building of the Rotorua Museum, there's a delightful drive around Lake Rotorua. Follow Memorial Drive along the lakeside spotting the black swans and occasional wafts of steam from the hot springs which feed the lake.
Look out for the magnificent Te Arawa Waka Taua, a 20-metre-long ceremonial canoe which is covered in decorative Maori carvings and paua shells. Resting beneath a beautifully carved shelter, the canoe is still used on ceremonial occasions.
Continuing along Lake Road, turn right down a narrow lane signed posted St Faith's Church and Ohinemutu. Visitors can park by the historic church and explore the small Maori community, which is closed to group tours. The 1914 church has a Tudor-style exterior with a Maori interior including exquisitely carved pews decorated with paua shells. Admire the etched glass window of Jesus appearing to walk on Lake Rotorua, and look for the gravestone of Rev. Seymour Mills Spencer who arrived here as a missionary in 1841.
The nearby Mauri (maori) settlement has a typically ornate Marae (Maori Meeting House) and several other cultural buildings. You will also see plenty of steam vents and hot springs bubbling up in local gardens and even beneath the paved street!
Lake Road joins Fairy Springs Road (SH-5) as it continues around the western edge of the lake. Turn right onto Hamurana Road (SH-36) and drive along the scenic northern edge of Kaikaitahuna Bay before returning to Rotorua along Te Ngae Road (SH-33).
Total distance 40km. Allow at least 45 minutes driving time.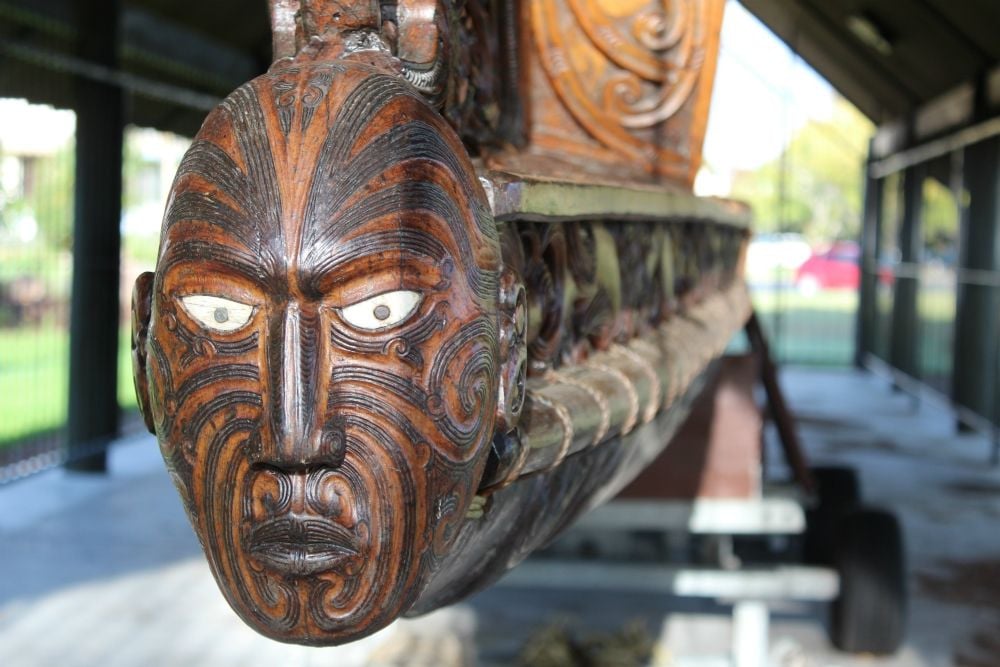 The Thermal Explorer Highway To Napier
Last, and definitely not least, the drive from Rotorua to Napier along SH-5 passes through one jawdropping landscape after another. After the rolling sheep-nibbled hills and farmland that occupies the 80km drive between Rotorua and Taupo, the SH-5 takes in some great views of Lake Taupo before turning southeast along the Thermal Explorer Highway.
The road climbs up into dramatic tree-covered mountains where tall moss-covered tree trunks line the highway. The winding road has countless switchbacks as it follows a torturous route, at times beside rushing rivers with plenty of white water. You can clearly see evidence of shifting tectonic plates in the ridges, hills and rift valleys along the route. Yellow gorse in spring makes a splendid display, covering the hillside where the forest has been cleared for livestock.
As the road descends through farmland and fruit orchards there are the first glimpses of beautiful Hawkes Bay. Just before the Thermal Explorer Highway meets the coastal SH-2, it's a great place to stop and enjoy a picnic with far-reaching coastal views before exploring the architectural delights of Napier.
This lovely Art Deco town is a great place for shopping along the pedestrianised streets, strolling through the botanical gardens or taking a guided walking tour. Information and tours can be found at the Tourist Information Board on Marine Parade or in the lovely Art Deco Trust Gift Shop.
Total distance each way 222km. Allow at least 2 hours 40 minutes driving time.
Photo Credit: 'View Along Thermal Explorer Highway' - Gillian Birch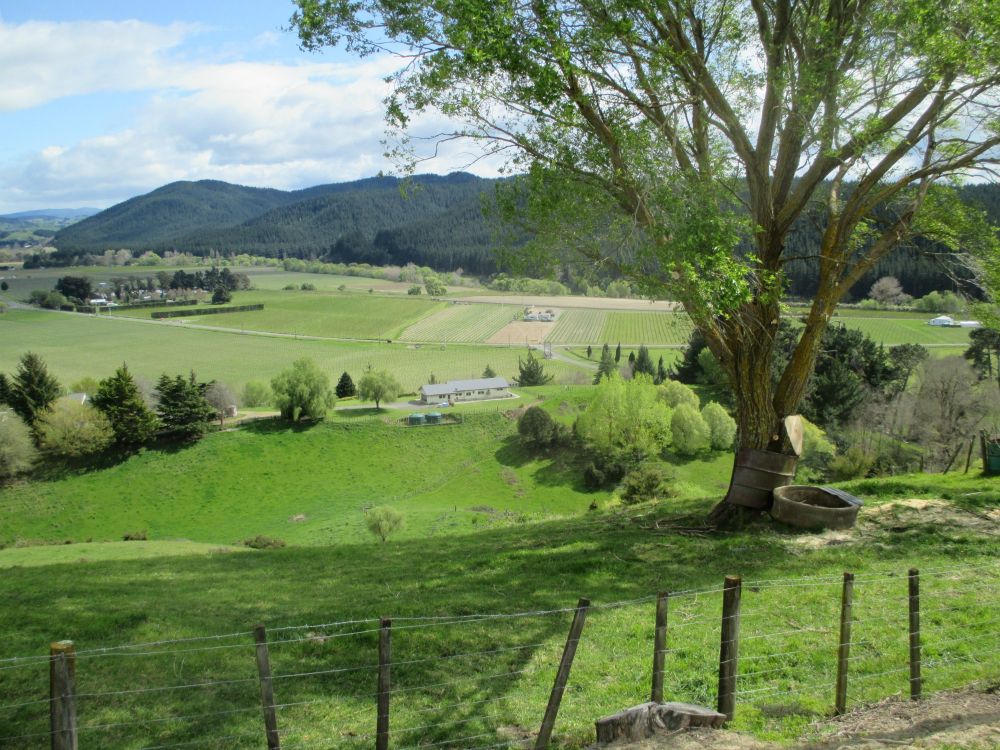 Car Hire:

If you need to hire a hire try our My Guide Car Rental Comparison tool. Search, compare and save up to 70%.