Top 5 Rotorua Bike Trails
Adventure Hot List Sports
Our guide to the most thrilling bike trails in the Rotorua region.
Our Top Experiences and Tours in Rotorua:
If youʻre booking your trip to Rotorua last minute, we have you covered. Below are some of the top tours and experiences! Rotorua

is the premier

biking

destination in the North Island of New Zealand. The city plays host to an annual

bike festival

and

Crankworx

, the international mountain bike competition. For riders of all abilities there are a huge range of trails to enjoy including the epic two day 'Thermal By Bike Trail', Skyline Mountain Bike Park, New Zealand's first gondola assisted mountain bike park and over 90km of trails through the Whakarewarewa Forest.

To help outline your biking trail options, we've picked out the 'Top 5 Rotorua Bike Trails' that should be considered on your visit.

1. Whakarewarewa Forest Bike Trails

The

Whakarewarewa Forest

is the go to place for mountain biking. The forest was brought to life in 1901, when an ecological experiment led to the planting of several exotic tree species, including the Douglas Fir, Eucalyptus, and the stately Coastal Californian Redwood - one of the oldest and largest tree species in the world. Today, there are more than 150km of thrilling trails linking seamlessly linking together. These tracks range from easy to adrenaline pumping, with names like Gunna Gotta, Be Rude Not To, and The Tickler.

For the most experienced rider, take one the Grade 5-6 Taniwha Downhill Track, a speed hound's dream. Those wanting a relaxed day out can start on the gentle Grade 2 trails starting near Waipa car park. The large car park is free with a cafe and mountain bike hire available.

Location: Long Mile Road, Lynmore. 5km from Rotorua city centre.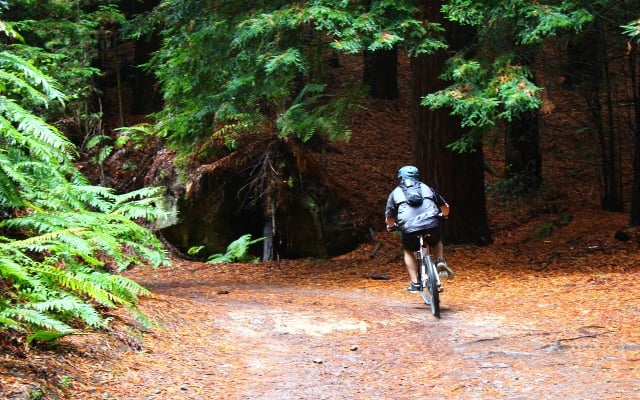 2. Te Ara Ahi Bike Trail
This is a scenic bike trail that's known as thermal by bike for good reason. The two day trail takes riders on a 51km journey through the region's
geothermal
hotspots and incredible landscapes. Starting from the city centre and ending up at Waikite Valley, the trail passes by five geothermal attractions - Whakarewarewa - The Living Maori Village, Te Puia, Waimangu Volcanic Valley, Wai-O-Tapu and Waitike Valley Thermal Springs. You'll also pass
Rainbow Mountain
and
Kerosene Creek
(a naturally heated stream that you can take a dip in) before reaching the end of the trail where you can soak in the Waitike Hot Pools. More details are in our
Thermal Bike Trail article
.
Location: Starts opposite the Princes Gate Hotel and finishes at the Waikite Hot Pools, Waitike Valley Road.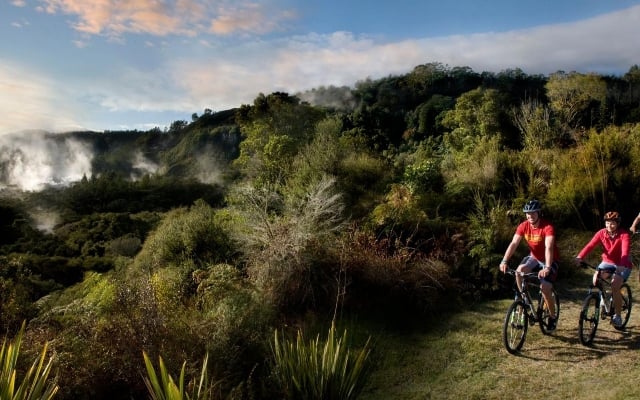 3. Skyline Gravity Bike Park
To access these trails, you need to book a bike pass at
Skyline Rotorua
. After a ride up in the gondola and enjoying the panoramic views of Lake Rotorua and the surrounding region, you will have access to a 12km network of world-class downhill mountain biking. The 12 trails comprise of 5 intermediate, 4 advanced and 3 expert trails.
Bike Passes
start from NZD$34 for Adult and $34 for Youth (March 2021). Bike rental is also available at the lower gondola terminal building and can be hired for 2 hours, half-day and full-day.
Location: Fairy Springs Road, 5km from Rotorua city centre.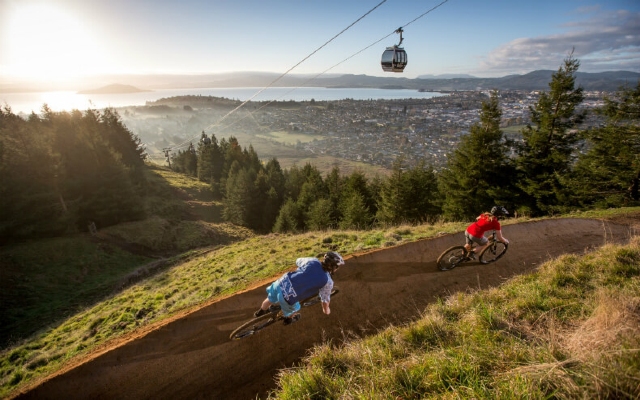 4. Western Okataina Bike Trail
The Western Okataina Walkway trail opened for mountain biking in 2012. Enjoy the beautiful vistas through the gaps in the treeline and the stunning lakes that surround you. The Grade 3 trail should take around 2-3 hours to complete with an array of terrain to navigate. The backcountry trail is 19km out and 19km return. You can ride the trail in either direction but be aware that you will be sharing it with walkers. Expect quite a few ups, straights and some truly exhilarating downhills.
Location: Car park at Millar Road, Lake Okareka. 14km from Rotorua city centre.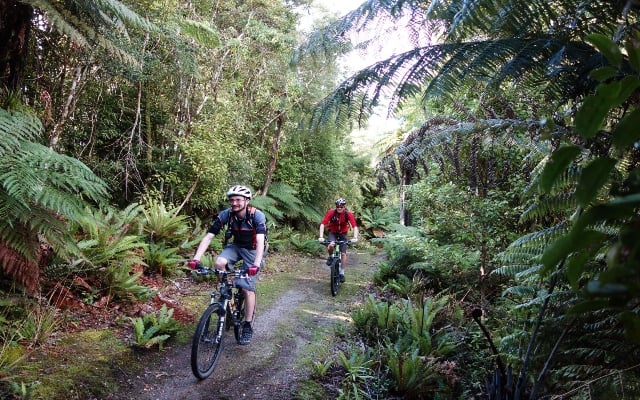 5. Rainbow Mountain Bike Trail
From its volcanic origins,
Rainbow Mountain
(Maungakakaramea) has a smouldering landscape with red, orange and brown soils, and native vegetation that is regenerating. This trail is a technically challenging loop ride on the outskirts of Rotorua. The reward for taking on this trail is riding over the various soil colours, past green volcanic lakes, red and yellow thermal banks and steaming cliff faces.
There are three mountain bike tracks that link together to make the 7km loop. Te Tihi o Ruru (grade 4) is a challenging uphill route to the summit of Rainbow Mountain with glorious panoramic views. From the summit, you'll then experience a thrilling downhill ride on the Te Ranga (grade 4) which leads to
Kerosene Creek
, a naturally heated stream. The final 2.6km section of the loop is on the Te Ara Ahi which is grade 2 and ride 2 on our list
Location: Rainbow Mountain car park on State Highway 5. 26km from Rotorua city centre.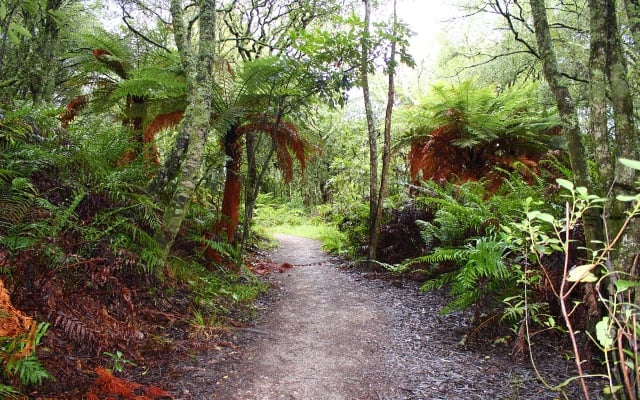 More Info:
For the latest information on all the trails in the Rotorua region and shuttle services, visit the
Ride Rotorua
website.
Photo Credits:
Skyline Rotorua & Ride Rotorua.