Cycling The Thermal By Bike Trail (Te Ara Ahi)
Adventure Inspiration Sports
Our Guide To Riding The Epic Volcanic Trail in Rotorua
The Te Ara Ahi aka 'thermal by bike' bike trail is a unique biking experience in
Rotorua
. The 51km trail typically takes two days to complete and navigates through some of the region's most famous
geothermal
attractions.
Beginning from the city centre, and passing by five geothermal
attractions
, the trail ends at Waitike Valley where you can finish your ride with a dip in the Waitike Hot Pools. Although the cycling time on each day should only take a few hours, allow a full day if you intend to visit a geothermal attraction which will require an extra couple of hours.
Day 1
The first day is a 30km ride which should take between 3 and 4 hours. Departing from the iconic i-SITE building in the town centre onto Queen Street, cycle a few hundred metres to the official start of the trail at the Princess Gate Archway. From here, the trail will lead you past the town's most unique attractions. Firstly, the
Whakarewarewa - The Living Maori Village
which is used by Maori as a settlement and is home to the Tuhourangi/Ngati Wahiao people. The village is set amongst natural hot pools and thermal springs and
geysers
all of which can be seen during a visit.
Right next door is
Te Puia
, a spectacular geothermal valley and home to the New Zealand Maori Arts and Crafts Institute. From both attractions you can view the Pohutu Geyser, the largest active geyser in the southern hemisphere which erupts up to 20 times a day, shooting water up to 30 metres into the air.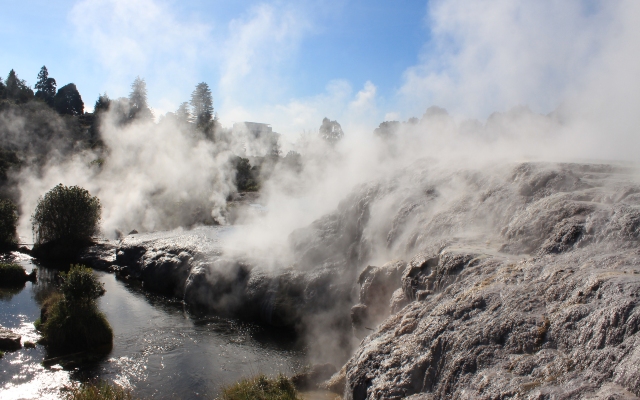 Moving alongside State Highway 5, you'll soon ride past the Redwoods Mountain Bike Park which features more than 150km of inter-connecting trails in the
Whakarewarewa Forest
. If you turn off onto Waipa State Mill Road, you can take a break for coffee and snacks at the cafe.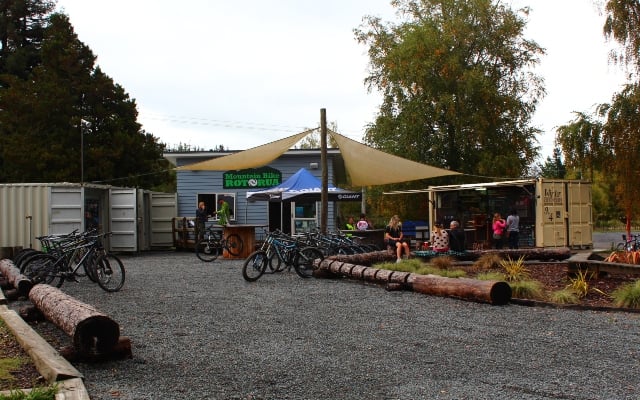 The trail then continues until you reach
Waimangu Volcanic Valley
. Waimangu immerses visitors in the stories of the Mt Tarawera volcanic eruption, its people, and the resulting dramatic landscape changes that created the world's youngest geothermal valley.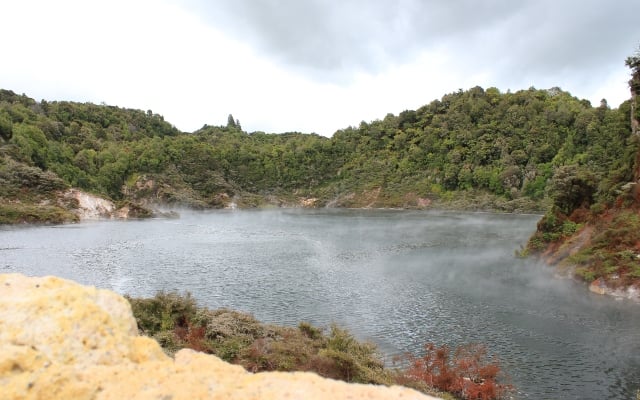 Day 2
The second day is a 21km ride which should take around 2 - 3 hours. From Waimangu Volcanic Valley, the Te Ara Ahi trail continues along Waimangu Road, past the Lake Okaro picnic area, which also has camping facilities, and then onto State Highway 38. After crossing over the highway, the trail winds around
Rainbow Mountain
and a smouldering landscape with brown, orange and red soils, and native vegetation that's regenerating.
It's then past a roadside picnic area, before crossing over Old Waiotapu Road. At this point, you've the option of continuing or, making a small detour left to cycle to
Kerosene Creek
, a thermally heated stream. The natural hot springs features a two metre waterfall that flows into a tranquil hot pool -a perfect retreat for those wanting to enjoy a free and natural hot dip.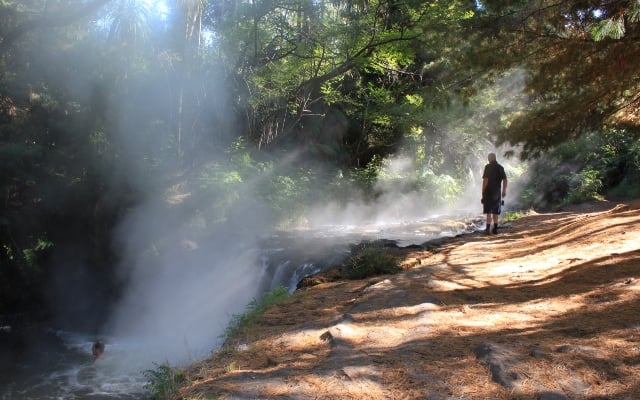 Once you head back (to the point you turned left to Kerosene Creek) continue straight ahead on an off-road path that continues all the way to Waiotapu. There are some tricky steep sections which may need you to push your bike. At Waiotapu, there is a motel, petrol station, and a honey factory with a cafe and shop.
Cycle another 2km and you'll reach the most photographed attraction that is
Wai-O-Tapu Thermal Wonderland
. This attraction features brilliantly coloured waters, steaming lakes and bubbling mud pools.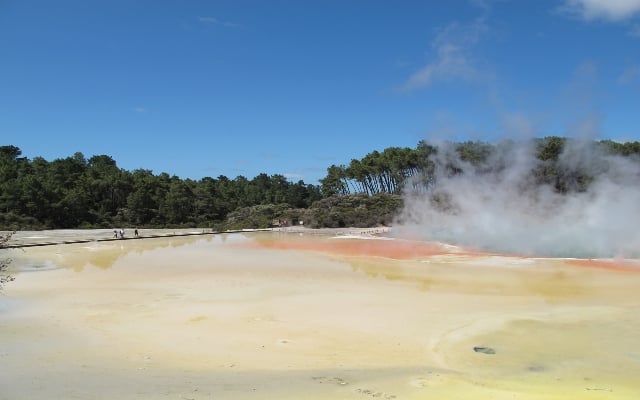 From Waiotapu, it's a 6km ride along Waikite Valley Road to reach the end point of the Waikite Valley Thermal Pools. Your final destination is a chance to give your legs a treat with a soak in a relaxing outside hot pool and reflect on completing the Thermal By Bike Trail
Useful Info:
The trail is well signposted and often close to state highways.
E-bikes are ok for most of the time but a mountain bike is better suited to the off-road sections.
The trail is easy to intermediate (grade 2 – 3) and features concrete paths, gravel and tarmac roads and off-road bike tracks.
All the attractions have toilets and cafes.
Pre-book a shuttle in advance to take you back to Rotorua or Taupo.
More Info:
For the latest trail information and status updates visit
Ride Rotorua
.
For more information on what to see and do in Rotorua, check our '
Things To Do
' section.
Rotorua Experience Deals:
To see more experiences and get the best deals on activities in Rotorua check our
Rotorua Experiences
and save some money.