Rotorua To Taupo
Editorial
Our quick guide to driving from Rotorua to Taupo
Rotorua to Taupo - By Car:
The drive from
Rotorua
to
Taupo
is a pleasant and easy drive which should take less than 60 minutes. The short drive from Rotorua to Taupo is a straight-forward drive that is for the most part along State Highway 5 aka the Thermal Explorer until you reach Taupo. The road is a quiet drive past forest and rolling green countryside with typically not many other cars.
Leaving Rotorua, you can stop off at a BP garage on Fenton Road to fill up and grab a coffee. It's then onto State Highway 30 for a brief period. You will pass by Te Puia attraction on your left which includes a cafe with views of the geothermal valley. Continuing on, you will soon pick up State Highway 5 until the outskirts of Taupo. At the roundabout, you will drive straight over onto Wairakei Drive road all the way into Taupo town centre.
There are various points of interest and attractions that you'll pass by or, be close to. The speed limit (when not passing through a village) is 100km. You need to be careful not to exceed this as police cars are often parked along the route and will catch and fine you.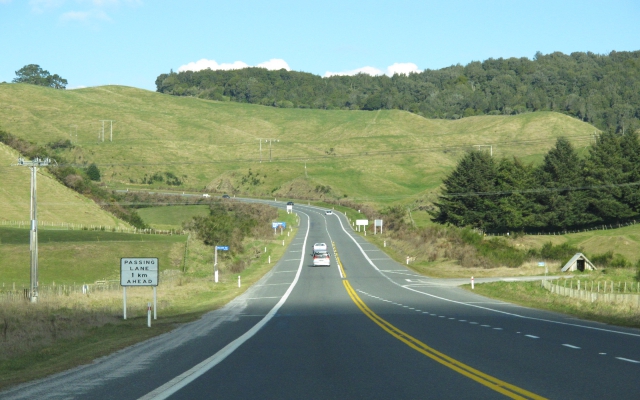 Rotorua to Taupo - Points of Interest:
Te Puia
- geothermal attraction. Less than 1km from start (BP Garage Fenton Rd).
Waimangu Volcanic Valley
- geothermal attraction. 22km, turn off on Waimangu Rd.
Rainbow Mountain Scenic Reserve
- scenic walk. 22.9km, just off State Highway 5.
Kerosene Creek
- natural hot water stream. 25.7km, turn off on Old Waiotapu Road.
Wai-O-Tapu Thermal Wonderland
- geothermal attraction. 27.8km, turn off on Waiotapu Loop Rd.
Orakei Korako
- geothermal attraction. 63.2km, turn off Tutukau Rd.
Lava Glass
- glass blowing & sculpture gallery & cafe. 68.6km, just off State Highway 5.
Wairakei Terraces
- 71km, Wairakei Drive.
Huka Falls
- natural waterfalls attraction. 74.2km, turn off Huka Falls Rd.
Craters of the Moon
- geothermal attraction. 74.6km, turn off Karapiti Rd.
Quick Facts:
79.6km
Just under an hour's drive.
Easy drive along State Highway 5.
Car Hire:
If you need to hire a hire try our
My Guide Car Rental Comparison
tool. Search, compare and save up to 70%.
Rotorua to Taupo - By Bus:
InterCity operates daily bus services from Rotorua to Taupo and the return. The buses depart from the iconic Tourism Rotorua building on 1167 Fenton Street. The bus arrives into Taupo outside the i-SITE on 30 Tongariro Street. Typically, the journey lasts 75 minutes.
Book A Bus
.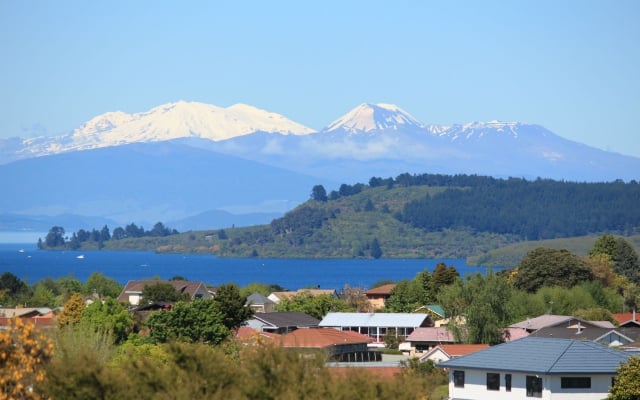 Rotorua to Taupo - Photos
View our gallery below of the points of interest you'll see along the way.