Enjoying a Delicious Lunch in Rotorua
Food & Drink Inspiration
Rotorua is a city that is well known for its unique natural wonders, but it also boasts of an increasingly popular culinary scene. The city's cultural diversity is reflected in its dining options, with an abundance of international cuisines and distinctly Maori flavors on offer. As you explore Rotorua's culinary scene, you'll discover a wide variety of
restaurants
and
cafes
that offer unique and delicious dishes.
Whether you're a foodie or simply looking for a satisfying lunch spot,
Rotorua
is guaranteed to please your palate.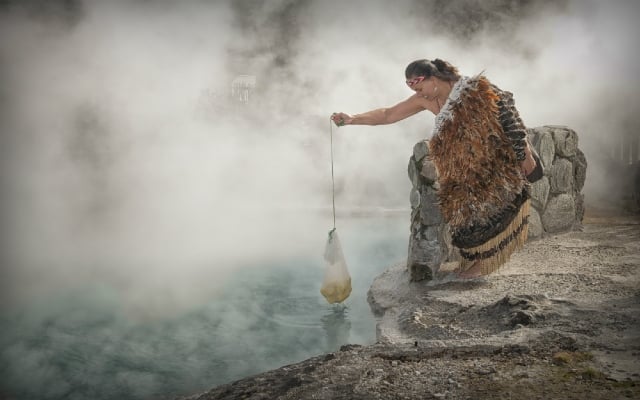 A Brief Overview of Rotorua's Food Culture
Rotorua's food culture is a fascinating blend of traditional Maori dishes and global flavors. The city's unique
geothermal
environment has also inspired its cooking techniques, with many chefs opting to use geothermal steam to cook foods. Additionally, the region's locally sourced ingredients, such as trout, beef, kiwifruit, and manuka honey, enhance Rotorua's cooking.
One of the most iconic dishes in Rotorua is the hāngi, a traditional Maori meal that has been cooked underground in baskets for centuries. The cooking process involves placing meat, vegetables, and sometimes seafood, in a basket that is then buried in a pit with hot rocks. The food is left to cook for several hours, resulting in a delicious and tender meal with a smoky flavor.
Local Ingredients and Flavors to Look Out For
The region's geothermal activity has helped to produce top-quality foods, such as fresh trout, which is readily available in the area's numerous lakes and streams. In addition to trout, Rotorua is known for its high-quality beef, which is raised on the region's lush pastures. The beef is often served in hearty dishes, such as stews and roasts, and is a staple of many local restaurants.
For those with a sweet tooth, Rotorua's manuka honey is a must-try. Made from the nectar of the manuka tree, which grows in abundance in the region, this honey has a distinctive flavor and is said to have numerous health benefits. Kiwifruit is another local specialty, with the region producing some of the best in the world.
If you're looking for something a little different, try rewana bread. This is a sourdough-like loaf made with potato. It has a unique texture and flavor that is unlike anything else. It's perfect for dipping in soups or spreading with butter.
Top Lunch Spots in Rotorua:
Whether you're in the mood for a casual lunch or a fine dining experience, Rotorua has got you covered:
Casual Cafes and Eateries
If you're looking for a casual lunch spot in Rotorua, you won't be disappointed. The city is home to a plethora of cafes and eateries, offering everything from grab-and-go sandwiches to cozy brunch spots.
Third Place Cafe
, a cozy spot known for its excellent coffee and homemade baked goods. And if you're in the mood for something a little more upscale, be sure to check out
Capers Epicurean
, an elegant eatery serving up delicious European-inspired cuisine.
This award-winning cafe in the heart of Rotorua's Eruera Street offers fresh food all made onsite from local produce, and there's even a playroom for the kids. Capers is the place to come for gorgeous specialty foods including sumptuous salads, beautiful pasta and some cosmopolitan sandwiches and wraps.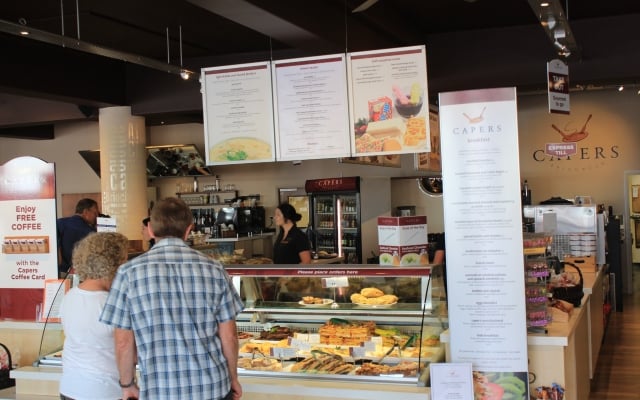 Fine Dining Restaurants
If you're looking to indulge in Rotorua's fine dining scene, you're in luck. Atticus Finch on 'Eat Street' is a cozy restaurant that serves up modern New Zealand cuisine with a focus on locally sourced ingredients.
One of the most popular fine dining options is the
Regent Room
in the Regent of Rotorua Hotel. With its luxurious decor and sumptuous menu, it's the perfect spot for a special occasion.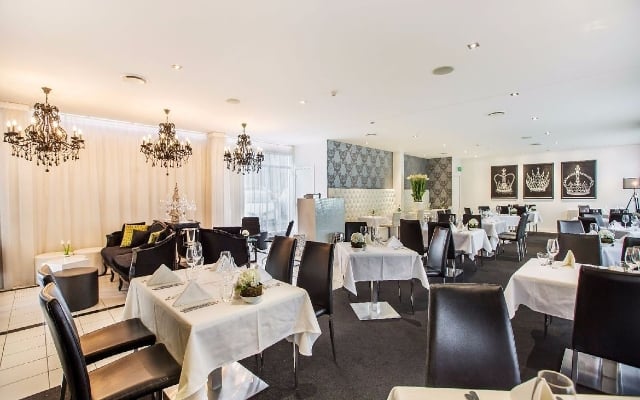 Unique and Themed Dining Experiences
Te Pa Tu
offers a traditional Maori feast set in a forest along with a cultural experience with song, haka storytelling and dance. The experience inc ludes Forest canapes, a three course Māori-fusion feast and complimentary return transport from the central city
Further out from the city, you can visit the Hobbiton Movie Set Tour, which includes a lunch at the Green Dragon Inn, a charming pub straight out of Middle-earth. The popular Lord of the Rings attraction is
located around an hour's drive
from Rotorua, or you can opt to take a guided bus trip.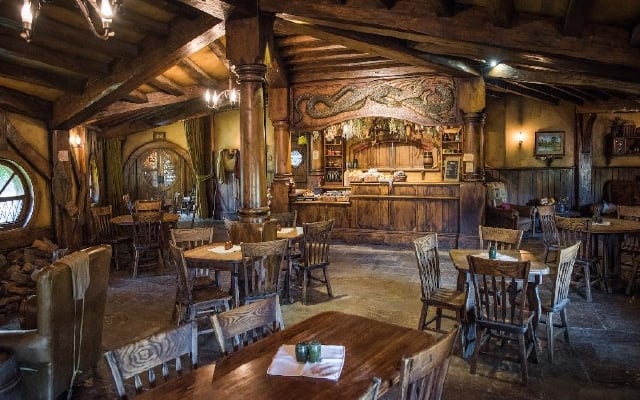 International Cuisines in Rotorua
If you're in the mood for Japanese food, head to
Yamato
. This restaurant is known for its delicious sushi and sashimi. The fish is always fresh, and the presentation is beautiful.
If you're in the mood for Mexican food, check out
Sabroso Mexican Grill
. This restaurant serves up all your favorite Mexican dishes, from tacos to burritos. The portions are generous, and the flavors are bold.
Leonardo's
is a compact, family run restaurant situated on 'Eat Street'. The menu offers traditional Italian fare where locally sourced ingredients and fresh food are the focus. Guests are even presented with a written card explaining where the restaurant sources their meats, cheese, fish and produce.
Abracadaba
is set in a vintage 1940s house with a rustic bohemian feel. It's a cafe by day with a tropical Garden Bar to spend sunny afternoons relaxing in and operates as a restaurant and bar in the evenings. The lunch and dinner menu is influenced by moroccan and mexican dishes along with steak, ribs, chicken and pork belly dishes.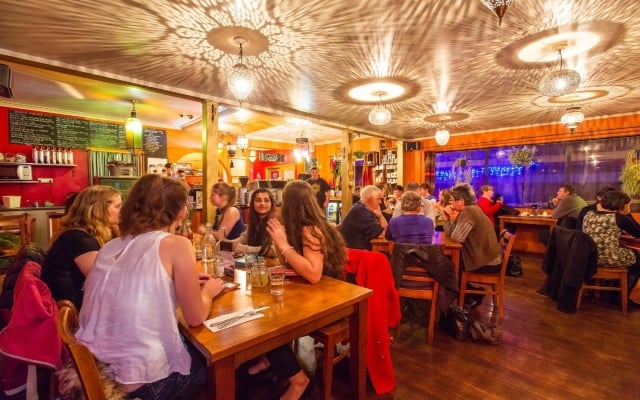 Restaurants with Panoramic City Views
If you're looking for a bird's-eye view of Rotorua while you eat, you're in luck. The Stratosfare Restaurant at the
Skyline Gondola
is situated atop Mount Ngongotaha, provides breathtaking views of the city and lake from its elevated position.
And if you're looking for some amazing views, check out the Maori-inspired menu at
Aorangi Peak Restaurant
, located high on a hilltop overlooking the city.
Looking for a more casual lunch experience? Pack a picnic and head out to one of Rotorua's picturesque parks or gardens. The
Redwoods Forest
and
Kuirau Park
are both excellent options, with plenty of places to relax and enjoy a delicious lunch al fresco.