20 Rotorua Tourist Spots Not To Be Missed
Rotorua
The ultimate guide to the best attractions in Rotorua
Rotorua
is a city situated in the heart of New Zealand's North Island, famous for its geothermal wonders, vibrant Māori culture and thrilling adventure
activities
. With an abundance of attractions to choose from, it can be challenging to decide on what to see and do.
To help guide your Rotorua adventure, we've compiled a list of 20 must-see attractions not to be missed.
1. Geothermal Attractions
One of the major reasons people flock to Rotorua is to witness its incredible
geothermal parks
and
hot springs
. The geysers, mud pools and steam vents that make up these parks are truly wonders of nature. As you walk through these parks, you'll be amazed by the otherworldly landscapes that surround you. The vivid colors of the pools and the steam rising from the ground create an eerie and beautiful atmosphere. You'll also have the opportunity to learn about the cultural significance of these geothermal areas to the Māori people, who have lived in the area for centuries.
The most famous of the geothermal parks is
Te Puia
, which also houses the New Zealand Māori Arts and Crafts Institute, but other popular parks include
Wai-O-Tapu Thermal Wonderland
and
Hell's Gate
. Read our '
Top 5 Geothermal Attractions'
article for more inspiration.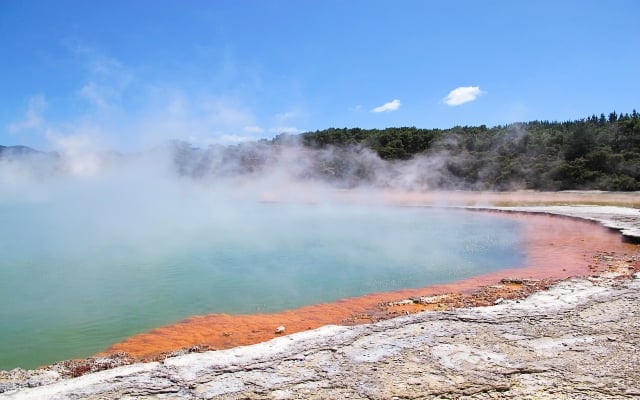 2. Hot Pools
Taking advantage of the natural geothermal activity, there are plenty of spa pools to soak in. With spa pools overlooking lakes, forests, and geothermal activity, there's a good choice of spa pool experiences on offer.
Polynesian Spa
Offering four different bathing areas to suit your needs, the
Polynesian Sp
a is a must-do when visiting Rotorua. For deluxe bathing overlooking Lake Rotorua choose Lake Spa, adults only bathing in the Pavillion Pools, enjoy fun for the whole family in the Family Pools or, if you want complete privacy opt for either a Skyview Private Pool or Lakeview Private Pool.
Secret Spot Hot Tubs
Created by local brothers, Eric and Keith Kolver,
Secret Spot
is an enchanting new hot tub experience, located on the edge of the mighty Whakarewarewa forest. The hot tubs, and unique cafe and bar facilities are set within a beautifully landscaped, native oasis, hidden from sight behind a waterfall.
Lake Rotoiti Hot Pools
Open all year for that early winter morning soak, a summer's day picnic and swim, or a romantic evening under a starlit sky. The hot pools are accessible only by boat or by air which means this haven remains unspoiled and pristine. Surrounded by native flora and faunathere are seven mineral hot pools to soak in and the clear blue lake waters to cool down in.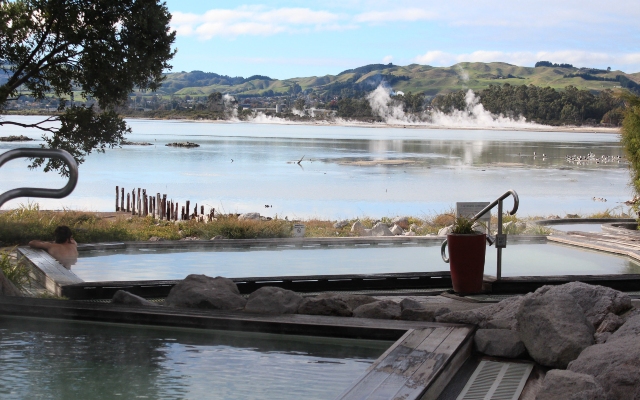 3. Whakarewarewa Forest
The
Whakarewarewa Forest
is another natural wonder located just a few minutes from the city centre. This forest features towering California Coast redwoods that filter light in a beautiful way. You can hike, mountain bike, or stroll along one of the many trails that criss-cross through the forest. The forest is also home to a number of other tree species, including Douglas fir and Japanese larch. If you're lucky, you might even spot a few of the native birds that call the forest home, such as the tui or the kererū. Check our '
Redwoods Walking Trails
' for a guide to the best short walks that can esily be done.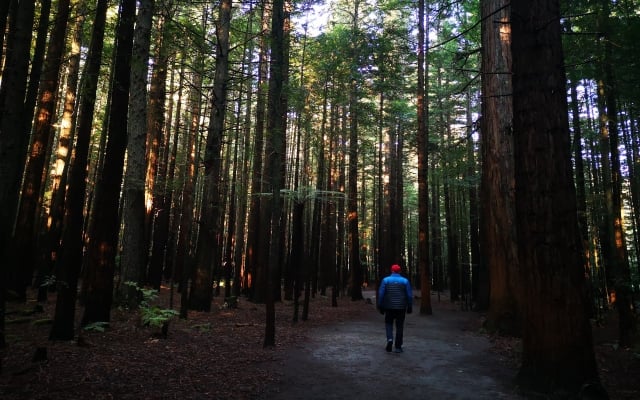 4. Redwoods Treewalk
Located in the Whakarewarewa Forest
,
The
Redwoods Treewalk
is a 553 metre walkway through towering Redwood trees. A series of 23 suspension bridges connect between 22 majestic 115-year-old Redwood trees. The bridges incline from 6 metres to an impressive 12 metres at its peak. Along with the daytime attraction, visitors can also enjoy the iconic nightime experience with the forest lit up by David Trubridge Design lighting. Read more about is attraction in our '
Redwoods Treewalk
' article.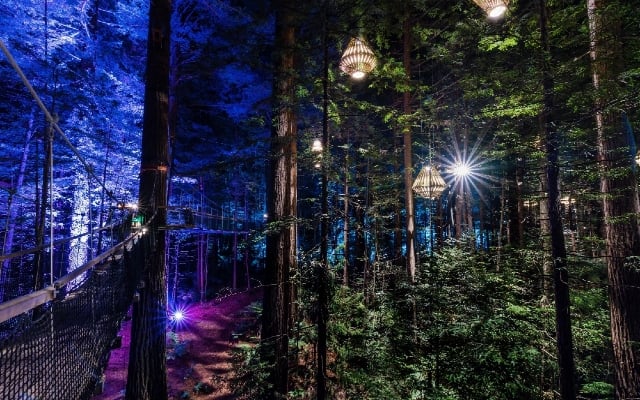 5. Rotorua Lakefront
Lake Rotorua is a massive lake located right next to the city, surrounded by rolling hills and forests. Here you can kayak, fish or explore the lake aboard a jet boat. From 2021, the
lakefront
has undergone a $40 million redevelopment to attract more visitors and locals to enjoy the area. Landscaped gardens, playground, carparking and new city cycleway connection all feature and have transformed the area. A great way to see many of the best scenic spots of Rotorua including the lakefront is with a short walk around the city. Check our guide to a
90 minute loop walk
that will take you past many of the city's iconic spots.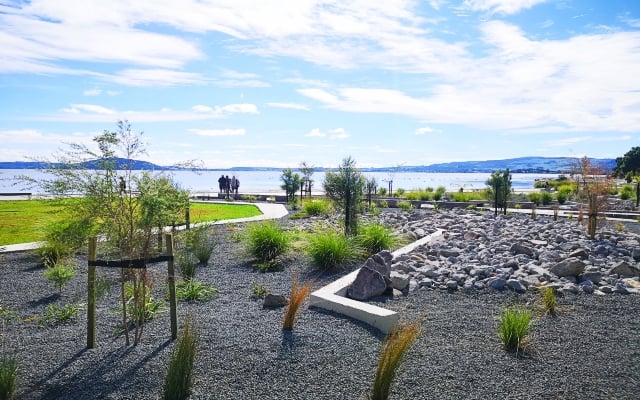 6. Blue, Green & Tarawera Lakes
Head along Tarawera Road on the outskirts of the city and take in three of the most beautiful lakes in the region. The
Blue Lake's
striking blue colo and rich cultural and geological history make it a must-see attraction. The crystal-clear water is ideal for water activities such as swimming, kayaking, and paddleboarding. For those who prefer to explore the lake's surrounding area on foot, there are several hiking and walking trails available.
Continue along Tarawera Road to a Lookout that allows you to see both the Blue and Green Lakes from one viewing point. (the Green Lake is privately owned and entry is not permited). Further along is the chance to take in sweeping views of Lake Tarawera which was greatly affected by the eruption of Mount Tarawera on 10 June 1886. The eruption killed over 150 people. A good place for coffee is the Landing Cafe which features outdoor seating to enjoy the views of the lake.
Rotorua Duck Tours
explores the area in an amphibious Second World War landing, taking visitors on a sightseeing trip around Rotorua and onto various lakes.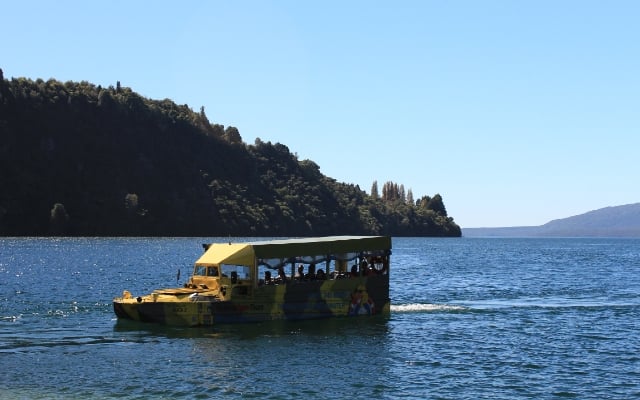 7. Rail Cruising
See a scenic part of Rotorua travelling along railway lines in a '
RailCruiser
', your very own powered 4-seat, self-drive vehicle. Experience rail like never before. With nothing ahead of you but the unobstructed curve of the rail stretching out into the distance, the scenery drifting by and the clickety-clack of the rail beneath you. Spaced apart, groups of RailCruisers travel 10 kilometres together from Mamaku Railway Station to Tarukenga Railway Station. At Tarukenga, your Rail Cruisers then turns back to Mamaku.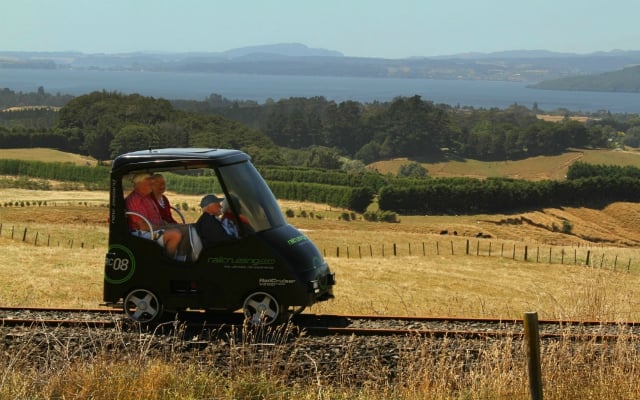 8. Waimangu Volcanic Valley
If hiking isn't your thing, you can still witness the geothermal activity up close by taking a tour through the
Waimangu Volcanic Valley
. This valley is home to a number of geothermal features, including hot springs, fumaroles, and geysers. You can explore the valley on foot or by boat, and learn about the history and geology of the area from knowledgeable guides. The full experience includes the walk and a 45 minute geothermal cruise on Lake Rotomahana to visit the sites of the lost Pink and White Terraces.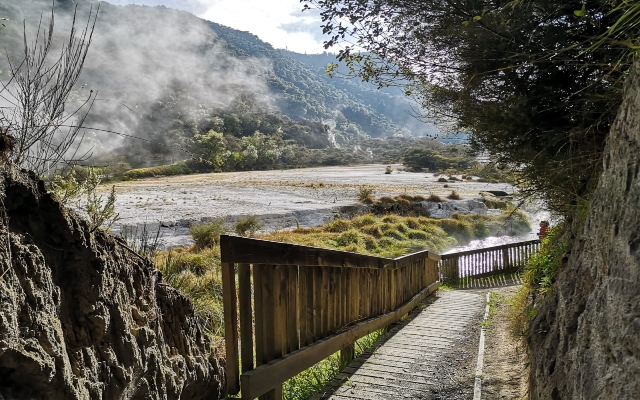 9. Te Puia and the New Zealand Māori Arts and Crafts Institute
Te Puia
is both a geothermal park and a cultural centre, celebrating Māori culture for over 170 years. Experience the awe-inspiring Pōhutu geyser and the traditional Māori welcome ceremony. You can also learn about Māori arts and crafts, including flax weaving and carving, at the New Zealand Māori Arts and Crafts Institute located within the park.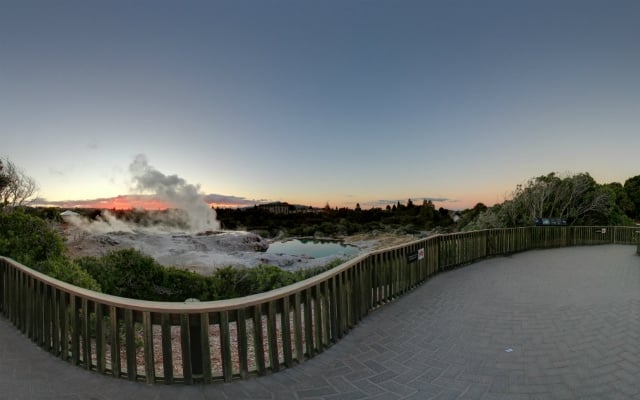 10. Māori Village Cultural Dinner
For an immersive Māori cultural experience, visit
Te Pa Tu
. Here you can learn about Māori food, song and dance, and enjoy a traditional hangi feast. With performances by talented Māori performers, this is a great way to learn about and appreciate the rich Māori culture. Watch the cultural performance and learn local indigenous customs under towering Tawa trees, surrounded by blazing bonfires and in a forest-formed amphitheater.
11. Whakarewarewa, The Living Māori Village
Whakarewarewa, The Living Māori Village
is a unique geothermal wonderland that is also home to a vibrant Māori community. Witness the impressive Pōhutu Geyser and take a guided tour of the village, where Māori families live and work amongst the geysers, mud pools and steam vents. You can also see traditional Māori weaving and carving demonstrations here.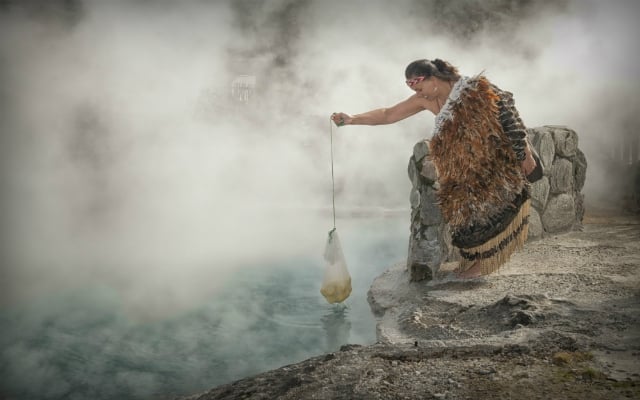 12. Government Gardens
Beautiful and spacious gardens conveniently located in the centre of Rotorua. Within
Government Gardens
, you'll also come across various points of interest that include the 1927 Arawa Soldiers Memorial, a number of geothermal features and the Kwaqiulth Totem Pole. The beauitfually maintained gardens are a short walk to Lake Rototura, the town centre and the wildlife refuge of Sulphur Bay.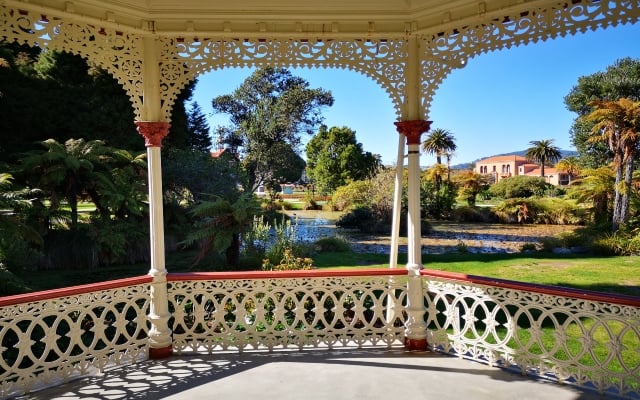 13. Rainbow Mountain Reserve Park
Rainbow Mountain Scenic Reserve
is a geothermal landscape containing rare plant species and a striking coloured terrain. Heading to, or from Taupo, the reserve is 26 kilometres to the south-east of Rotorua and just off State Highway 5.
From its volcanic origins, Rainbow Mountain (Maungakakaramea) has a smouldering landscape with brown, orange and red soils, and native vegetation that is regenerating. The reserve features a couple of walking tracks to explore the terrain. The Rainbow Mountain Crater Lake Trail is one kilometre long and will take approximately 30 minutes return. The longer Rainbow Mountain Summit Track is 2.5 kilometres and will take 1 hour 15 minutes one way. Check our '
Rainbow Summit Walk
' article for our guide to this rewarding hike.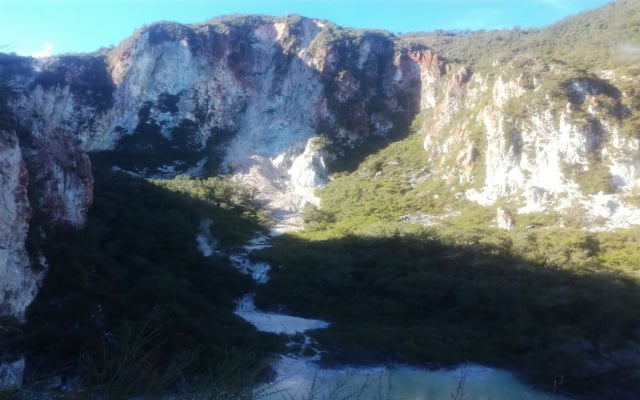 14. Paradise Valley Springs Park
Paradise Valley Springs
is a beautifully presented Wildlife park that features a pride of African Lions. The African Lions can be seen all day in an enclosure that allows visitors to get very close to these wild animals. The afternoon feeding show is a good time to see the lions active, and to learn more about the pride. Wild animals including goats, deers, tahr and wallabies, alpacas, emus and sheep can all be hand fed throughout the day.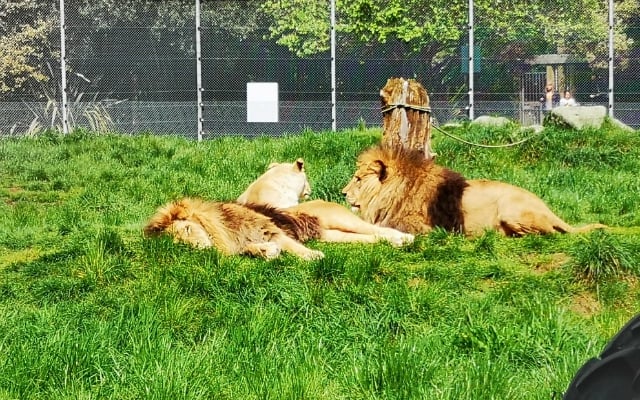 15. Skyline Rotorua Luge and Gondola
The
Skyline Rotorua Luge and Gondola
provides panoramic views of Rotorua and the surrounding countryside. After travelling to the top of the hill via gondola, you can race down the winding luge track. There are several different tracks to choose from, making this a fun activity for all ages. Head to the Market Kitchen or the Stratosfare Restaurant & Bar to fuel up again. While you're there, you can also pop into the
Volcanic Hills Wine Tasting Room
while the kids explore the Jelly Belly Gallery and Store.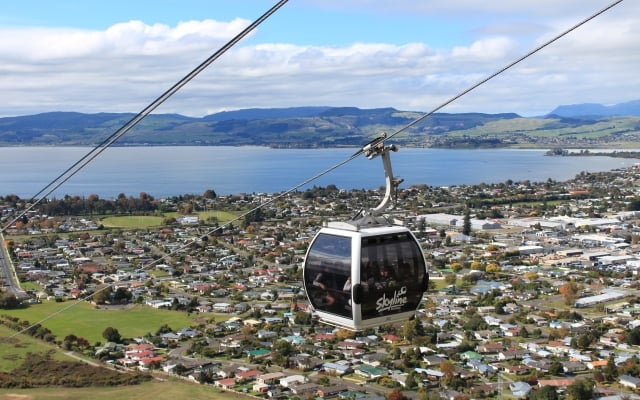 16. Mount Tarawera Guided Hike
For the adventurous, hiking to the top of the
Mount Tarawera Guided Walk
provides breathtaking panoramic views of the surrounding landscape. Infamous for its eruption on June 10th, 1886, the hike is challenging, but the reward is well worth it. From the summit, you'll be able to see all the way to the coast and even spot some of the other nearby volcanoes.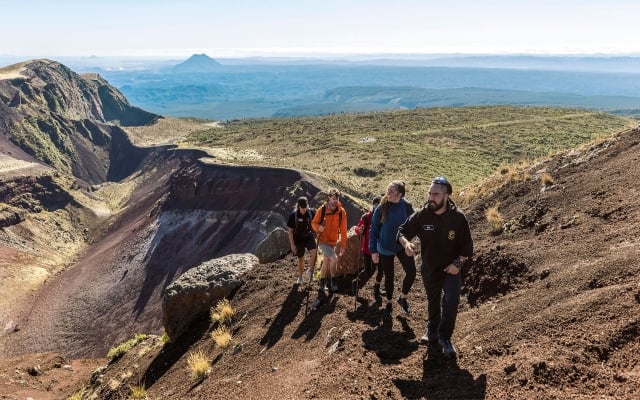 17. Zorbing
Looking for a unique way to experience the beautiful New Zealand countryside? The experience of rolling down a hill inside a giant inflatable ball has been an iconic adventure experience since Andrew and David Akers invented and developed the first ever
ZORB
site in the world back in 1997 at this very location! To this day, Rotorua is the ONLY location in New Zealand where you can experience this amazingly fun and bizarre bucket list activity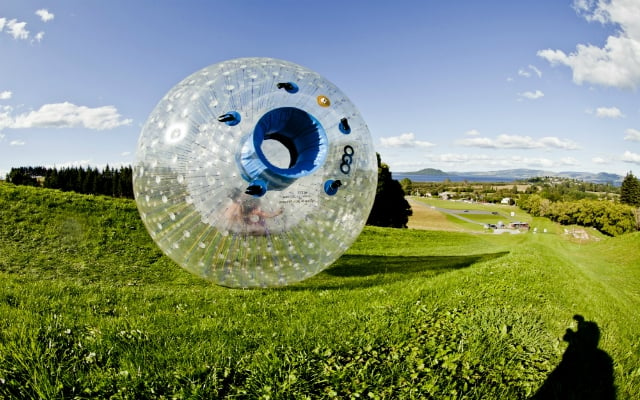 18. The Tarawera Trail
The 15km
Tarawera Trail
is a beautiful native bush walk that follows the edge of Lake Tarawera to Te Rātā Bay and Hot Water Beach. The trail begins with opening views of beautiful Lake Tarawera, through Kotukutuku Bay and Hawaiki Bay where there is a picnic area with access to the lakes. The walk then continues with steady climbs through lakeside bushland to reach the Lake Rotomahana lookout point, before descending into Rātā Bay for a well deserved geothermal soak at Hot Water Beach.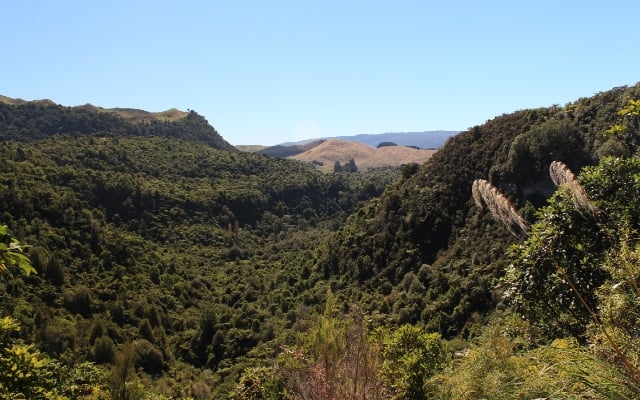 19. Mountain Biking Trails
With hills and forests surrounding the city, Rotorua is a mountain biker's paradise. For riders of all abilities there are a huge range of trails to enjoy including the epic two day '
Thermal By Bike Trail
', Skyline Mountain Bike Park, New Zealand's first gondola assisted mountain bike park and over 90km of trails through the Whakarewarewa Forest. Alternatively, take a guided e-biking tour if you're not quite up for the challenge. To help outline your biking trail options, our article picks out the '
Top 5 Rotorua Bike Trails
' that should be considered on your visit.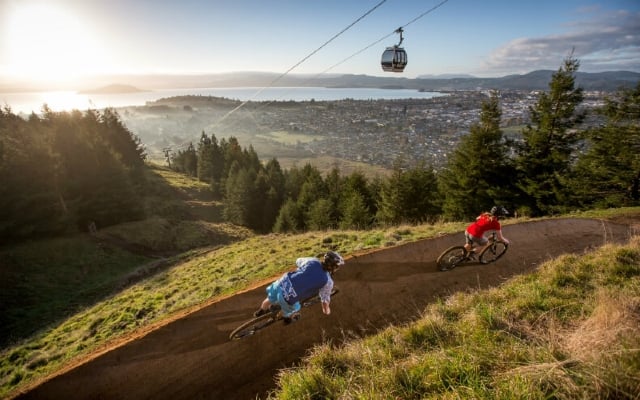 20. White Water Rafting
If you're looking for a wet and wild adventure, Rotorua offers white water rafting tours. A quick glimpse at the region's geography will explain why. Not only are there rivers aplenty but there are rivers of all varieties from the plunging and frothingly turbulent to calm, meandering waterways and everything in between. You can have white-water rafting experience which range from a chilled grade 2 rating right through to the highest commercially rafted grading of 5. Check our '
Rafting Guide
' article for more details.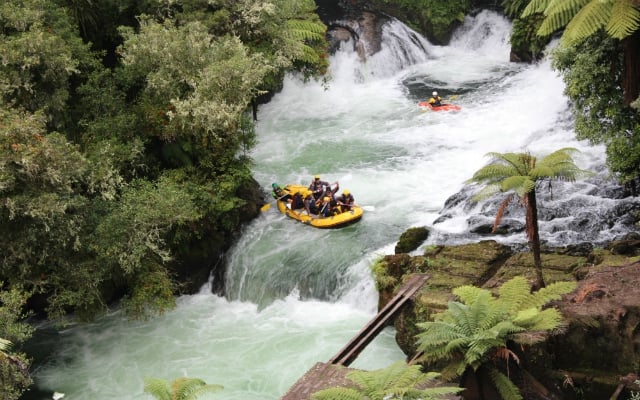 Summary:
With so much to see and do in Rotorua, it's impossible to fit everything into one trip. But by experiencing just some of these 20 attractions, you'll walk away with a deep appreciation for the natural beauty, unique culture and adventure that Rotorua has to offer.
Rotorua Activity Deals:
To get the best deals on activities in Rotorua check our
Rotorua Experiences
section and save some money.